The Dance Enthusiast Barefootnotes: more on Ana Maria Alavarez and a DISCOUNT TO PARSON'S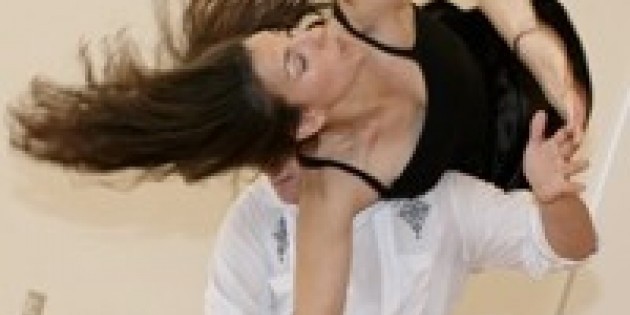 Featured Enthusiast Member, Ana Maria Alvarez, Parsons Discount Ends Sunday, and Make A Date with New York Live Arts!!!!
 Ana Maria Alverez
Dance Enthusiast Featured Member.
February's Featured Dance Enthusiast, Ana Maria Alvarez, Parsons Dance Discount Ends Sunday Feb 6th and Make a Date with New York Live Arts.... 
When the snow is out in abundance and I feel like I live in a refrigerator, I love to play Latin music on my ipod to warm things up a bit. In the spirit of keeping warm or, staying hot , The Dance Enthusiast has chosen to feature member Ana Maria Alvarez, Artistic Director of CONTRA-TIEMPO in Los Angeles. Every week we will feature a different video of her company, Contra-Tiempo, so our Enthusiastic Audience can learn more about Alvarez's works.
_________________________________________________________________________________
Ana Maria Alvarez is the Artistic Director and Choreographer of CONTRA-TIEMPO, LA′s top Urban Latin Dance company. She has been sharing her joy, love and obsession for moving in rhythm with others for over fifteen years. As a teacher, choreographer, and community arts activist, originally from the east coast, she moved to Los Angeles from NYC in 2002. Since then she has taught, choreographed and performed around the city including at UCLA, Highways Performing Arts Space, The KING KING, Summer Sounds at the Hollywood Bowl, Fowler Museum, REDCAT Disney Hall, Grand Performances, Carnival at The Key Club, and The Forum to name a few. While living in NY, Alvarez performed and taught all over the city, including Dixon Place, The Tribeca Performing Arts Center, The Brooklyn Arts Exchange, Red Hook Waterfront Festival, and Middle School 136, PS 1, PS 314 and the HEREArts Center. In March 2005, Alvarez received her MFA in Choreography at UCLA's Department of World Arts and Cultures.(continued after video)
CONTRA-TIEMPO  fuses Salsa, Afro-Cuban, West African, Hip-Hop, and abstract dance-theater, to create an invigorating blend  of physically intense and politically astute performance.
Currently Alvarez is teaching full time at Seeds University Elementary School where she has been creating a new Interdisciplinary Dance Program for ages 4-12. She also teaches weekly classes every Tuesday at the KING KING in Hollywood.She is a two time grant recipient from the Center for Creative Innovation, a three time grant recipient from the National Association for Latino Arts and Cultures and was recently awarded a grant from the NEA as part of the American Recovery and Reinvestment Act. In the last few years, Alvarez has been commissioned by Jamie Nichols' Celebrate Dance, St. Joseph's Ballet and most recently by CounterPULSE's Performing Diaspora Festival. In 2010, Alvarez was invited to speak at the DanceUSA Annual Conference in Washington DC, about "fusion and the use of traditional movement forms in contemporary dance". Recognized as a "Rising star of the dance world" (Backstage NY), Alvarez is inspired to continue to develop and share her artistic vision with the world through CONTRA-TIEMPO's dynamic work.

Parsons Code Word for 50% Discount at Joyce Box Office is BLOG... so check them out ( discount does not apply for Friday and Saturday Nights)
MAKE A DATE with NEW YORK LIVE ARTS COMMUNITY  at their WELCOME SESSION (must register)
Meet the staff of New York Live Arts and get answers to your questions about the organization.Sat, Feb 19th at 3pm
Dance Theater Workshop
Bessie Schonberg Theater
219 West 19th Street, between 7th and 8th Aves

Panel Discussion with
Jean Davidson, Executive Director, Bill T. Jones/Arnie Zane Dance Company and New York Live Arts
Andrea Scholler, Executive Director, Dance Theater Workshop
Bill T. Jones, Executive Artistic Director, New York Lives Arts
Carla Peterson, Artistic Director, New York Live Arts
Moderator TBA

Followed by open Q & A

Reception to follow in the Dance Theater Workshop Lobby

RSVP required: nyla.eventbrite.com

 
---
The Dance Enthusiast Enthusiast shares opinions, observations, and calls to action from our editors and special guests in BAREFOOTNOTES. For more BAREFOOTNOTES click here.
Interested in writing a guest editorial? For consideration, contact info@dance-enthusiast.com.
---
The Dance Enthusiast - News, Reviews, Interviews and an Open Invitation for YOU to join the Dance Conversation.