Things I am Learning About Engaging Dance
Once upon a time…
it was easy for dance artists to believe all they had to do was create performances and audiences would come. Today, with a difficult economy and a plethora of easy entertainment fixes at all fingertips, dance companies, presenters and service organizations realize that strengthening the commitment of audience members is vital to the arts' survival. Our work is not just about getting butts in seats, but keeping them coming back and hopefully transforming audiences into advocates for dance.
We need to create and connect to more dance enthusiasts. How?  Engaging Dance Audiences.
To address this important core relationship, Dance/USA, the national service organization for the professional dance field, funded by the Doris Duke Charitable Foundation (DDCF) launched the Engaging Dance Audiences program (EDA) in 2009.  The thought behind EDA is to significantly increase the dance field's capacity to engage audiences by researching, implementing and documenting effective and forward-thinking practices of engagement, then sharing them with the field.
---
**SAVE THE DATE Dance/USA is Partnering with Dance/NYC to Present an Engaging Dance Audiences (EDA) Event February 4th.** Tuesday, February 4th from 7-9 pm at The STREB Lab for Action Mechanics (SLAM) 51 North 1st Street, Brooklyn, NY 11249    RSVP here
---
Engaging Dance Audiences Round 1 and Round 2: Summary
The first iteration of EDA, or Round 1, which took place from 2009 to 2011, was a $2.1 million pilot program involving nine nationally recognized arts organizations with engagement projects funded upwards of $100,000. Among the organizations represented, Misnomer Dance Theater, in Brooklyn, created a web-based audience engagement project, "Go See Do," to facilitate interactions between dance audiences and artists - think dancers getting paid for offering online dance classes or facilitating flash mobs. STREB sponsored "SLAM Remote", a way to involve audiences in other cities, both families and children with live performances in Brooklyn through using satellite technology and djs in both locations. Oberlin Dance Collective, in San Francisco, created a program, "I Speak Dance," to involve Bay Area Students in ODC classes, ODC's dance center, and their way of creating. The idea here was to create passionate dancegoers and advocates for ODC from the tender college age. On The Boards, in Seattle, Washington, launched "OtBTV", an online programming series of full-length, high-definition contemporary dance made available on a pay per view basis for interested audiences unable to attend a performance in "real time."  (More About EDA Round 1 Click Dance/USA 1)
The second iteration of EDA, Round 2, which is still in progress, has a budget  $1.7 million including grants and related support to 19 organizations to continue the work begun in the original program. (The Dance Enthusiast is one of EDA's grant recipients, and the only dance journalism entity to be funded.) In order to receive funding, each of the organizations involved in Round 2 were required to propose a project that built on successful ideas and/or research discovered during Round 1. (More About EDA Round 2: overview, principles, grantees and learning Click Dance/USA)
---
The Dance Enthusiast's Engaging Project: Dance Up Close
The Dance Enthusiast chose to model ourselves as a mini-me version of "On the Boards TV" (another completely online project). We also implemented research findings from How Dance Audiences Engage: A Summary Report from a National Survey of Dance Audiences conducted for EDA by WolfBrown. One of the findings in this study revealed a great desire of dance audiences to be involved in the rehearsal process.
The New York Dance Community- Dance Up Close- Fall Season 2013 in Rehearsal
Like "OntheBoardsTV", we created a project specifically for the Internet to make dance accessible for everyone regardless of time or geography. Unlike "OtBTV", we weren't interested (or big enough budget-wise) to create feature-length performance experiences; rather, we aimed to create short, Internet friendly pieces to grab the attention of our fan base and entice online audiences to attend dance performances and learn about specific companies and artists.
The goal was and is to go the behind-the-scenes and demystify our abstract art form by showing dance artists as real people at work- creators who are accessible. We are proud that anyone, anywhere, anytime - from desktop, laptop or smart phone - can easily feel as if they are conversing with a dance artist in their studio. Our series is called  "Dance Up Close."
---
What I Have Learned About Dance Engagement (Thus Far)
Having recently completed our reportage of the Fall 2013 Dance Season, we are already setting up appointments to cover new artists this winter and spring. Last December we surveyed the artists covered and have received positive and helpful feedback.
I've learned our work is needed. Artists were delighted that we visited their studios. Some felt that having us in the room filled their artists with more energy. Some wished we were a bigger, more widely known about entity. ( Our best month during this campaign boasted over 10,000 unique viewers, and we are continually growing at 150 percent per year.) Others wished we would also review their finished work. (We don't have the staff to give a review to everyone we have previewed, but we do attempt this.)
I would like to share some of the typical comments from our survey:
I very much appreciate the quality & high energy of your dancer coverage. Thank you for the contribution you are making to our field.

We all need more writers and visibility within the Public.

Creating insightful previews and reviews that are smart and human, providing context of the artist/work.

It was a wonderful experience to speak about my work and it was also a great resource to have online that helps to share my work with others. I felt relaxed and prepared for what to expect during the interview.

The Dance Enthusiast is sensitive and respectful of the artist and aware of the artistry:therefore, is able to go behind the scenes in a way others don't, providing a unique view to their audience.I think behind-the-scenes with artists during the creative process is very valuable in opening the eyes of potential audiences, making them feel connected with the process, concept and performers.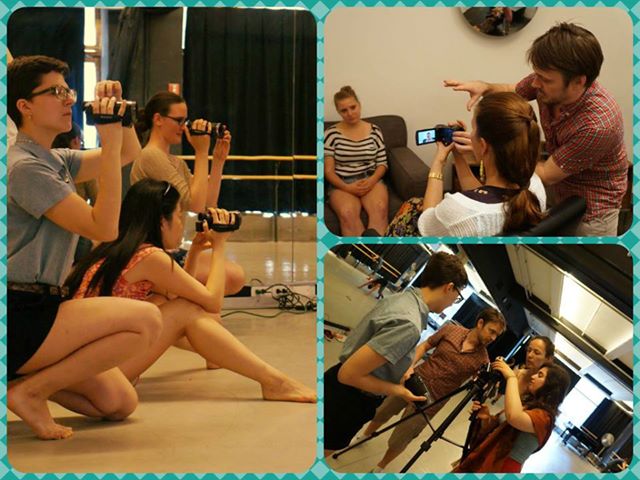 The Dance Enthusiast Dance Up Close Video Workshops- Guided by Brent Felker, Filmmaker .  Photo by Cory Nakasue
The Dance Enthusiast's contributors sense our subject's pleasure. It seems refreshing for many of them to have someone from the "outside" who is truly interested in their work and wants to be supportive. Our contributors have learned much about the dance field working on "Dance Up Close." It has been a pleasure to discover new facets to artists we have known, as well as to acquaint ourselves with unfamiliar creators.  We are more connected to the dance world because of this work.
New York Artists in Their Own Words: Dance Up Close-Fall 2013
---
Concerns and a Kick in the Pants
 It is nerve wracking to have a video camera in your face no matter how press-savvy you are.  Our policy is to thoroughly explain our intentions and answer frequently asked questions in official correspondence (intro letters, emails, and calls). Mindful of appearing as "invaders" we chose equipment for "Dance Up Close" that is small and unobtrusive. Our company axiom is to be completely attentive to what is happening in rehearsal, but quietly, like a fly on the wall (one that doesn't buzz). It is clear that we only show what the artist lets us see in rehearsal. We come when artists want us to visit. We record what they want us to record. We stop interviews if our subjects are uncomfortable or flub and want to begin again. (Most people realize from the onset that this is not a 60 Minutes expose, and that The Dance Enthusiast is enthusiastic and supportive of dance, dancers, and choreographers.)
While rare in our working experience, there have been moments when a palpable fear is present. This suggests that some artists have been seriously burned by press, or they don't care for Internet sites, or they really don't want to and perhaps shouldn't be involved in this audience engagement stuff. I find it extremely helpful when artists are candid.  It saves us a great deal of grief, for there is nothing worse then feeling like an uninvited guest when you are working on a preview article.
I don't believe engagement should be a priority for all. There are artists who prefer the safety of the world they create and control.  As one who deeply believes that dance should be less insular, I recommend that all artists, regardless of how intimidated they might be by "new media" (or media in general), develop a communications policy that makes sense to their company's mission. I personally would like to give "new media" reticent artists a gentle kick in the pants. It is a shame to miss opportunities to share the vitality of your art form.
Our reporters are not interested in, nor can we effectively reveal whole works of art in our articles. We don't have the equipment, budget, or mandate for that. We are interested in getting audiences to "live "shows and directing them to artists in a new way. We are interested that audiences learn more about people who make dance. What's most appealing in "Dance Up Close" is what artists have to say; the footage simply underscores their words and moves the story along.
---
Happily Ever After...Support and Change.
One of our biggest challenges is that we cannot cover more people. There are many fascinating artists in our community and multiple dance events occurring throughout the boroughs with few journalistic entities interested in or able to cover them. My deep respect for dancers in New York has grown since founding The Dance Enthusiast almost 7 years ago. I share my passion and respect through running The Dance Enthusiast and wish I could do more to help the community, but real help will involve more systemic change.
As a non-profit organization dedicated to communication about dance, we are extremely fortunate for the funding we've received from Dance/USA and the Doris Duke Charitable Foundation to be part of the Engaging Dance Audiences project. This money has been a boon to our efforts and the services we can offer. Most funding agencies and foundations that support dance don't seem to realize the necessity of dance writing/reporting/communication to a vibrant engaged dance culture - at least not in terms of granting money to that end. I know that one day they will figure it out. As for this dance enthusiast, I will always be engaged with dance and dancers.