Chicago Dancemakers Forum (CDF) Announces Recipients of its 2015 CDF Lab Artist Awards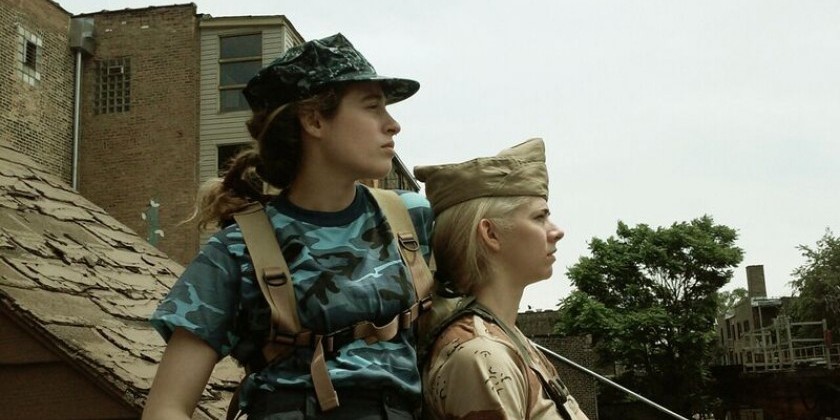 And Presents New Work by 2014 CDF Lab Artist Awardee, Adam Rose
The Chicago Dancemakers Forum (CDF) is delighted to announce the four recipients of its 2015 CDF Lab Artist Awards. Each Chicago-based artist will receive $15,000 as well as 12 months of mentorship and peer support. Choreographers Baraka de Soleil, Jamal "Litebulb" Oliver, Benjamin Holliday Wardell, and Sara Zalek were selected by an esteemed panel comprised of local and national dance leaders, artists, scholars and arts administrators, following a rigorous, two-round application process. Each grantee was identified as being within a key moment in their artistic development, demonstrated a clear vision, a solid body of work, a compelling line of inquiry, and a firmly grounded work ethic.
Under the leadership of Executive Director Ginger Farley, the Chicago Dancemakers Forum is in its second decade of supporting individual dancemakers as they explore and develop new work. CDF fosters dance excellence and innovation while building relationships among dance artists, audiences, and funders.

The four recipients of its 2015 CDF Lab Artist Awards.
 
A consortium of committed individuals founded CDF in 2003. They included representatives of Chicago's most innovative presenting and incubating institutions for dance: the Museum of Contemporary Art Chicago, the Dance Center of Columbia College Chicago, and Links Hall. In 2015 the founding consortium continues to lead the program while expanding to include leaders from Hubbard Street Dance Chicago, the University of Illinois at Chicago, and the City of Chicago's Department of Cultural Affairs and Special Events, as well as an independent arts advocate and a rotation of CDF Lab Artist program alumni.
CDF serves an ongoing need to support the research and development of new directions in dance. Its programs are designed to cultivate artistic exploration and growth by funding dance artists in their creative process. Throughout their year of support, CDF Lab Artists participate in regular roundtable meetings designed to strengthen relationships with their peers and people of influence in the field. Internal program evaluations reveal that the Lab Artists reply value the financial awards, lengthened time for artistic process, and interaction that CDF offers and find the program highly validating. In addition, they view the grants as essential ingredients in furthering their artistic development, as well as increasing prestige and visibility.
Says Zachary Whittenburg, a recent addition to CDF as Hubbard Street's representative on the consortium: "Either CDF is particularly adept at knowing which choreographers are poised on the cusp of breakthrough, or the award itself provides the fuel for its winners to jet toward thrilling creations. Regardless of which is the case — most likely both — CDF Lab Artists account for many of the most exciting and memorable performances of the last decade."
The four 2015 Lab Artists have been chosen for their outstanding creative vision and potential for artistic growth. Each artist has identified a unique path of creative investigation leading to a new public project.
Photo courtesy of Benjamin Holliday Wardell.
 
Baraka de Soleil is a creative practitioner, currently making dance, theater and performance art that engages diverse communities. His CDF-supported project, titled what the body knows, seeks to uncover nuances within intersections between race and disability, impacting how we move and are moved by the world we live in.
Jamal "Litebulb" Oliver is a dancer, choreographer, teacher and organizer from Chicago's footwork dance and DJ community. The focus of Oliver's CDF-supported project, titled 160, is a dance and media performance that uses footwork choreography and improvisation, visual projections and electronic dance music to depict Chicago from the perspective of a footwork dancer. 160 features The Era dance company, a group Oliver co-founded on Chicago's South Side in 2014.
Benjamin Holliday Wardell is a dancer, producer and choreographer. Continuing his exploration of complex collaborative processes and unconventional dancemaking hierarchies, his CDF-supported project, titled Origami, will bring together numerous performers and content generators in an attempt to explore topical art creation through collective, action-based processing.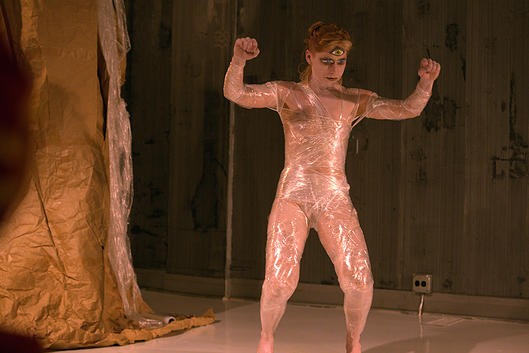 Formidable Dreams, 2013 © Sara Zalek.

 
Sara Zalek is a movement artist, choreographer, and curator. Zalek's work is rooted in Butoh training, teaching, and investigation into the rediscovery of self. Her CDF-supported project, titled Formidable Dreams, will begin a series of short films about herself as a trickster hero, often out of time with the rest of the society, moving in between conscious and subconscious states, often overstimulated and disillusioned by travel between memory and dream states and the present.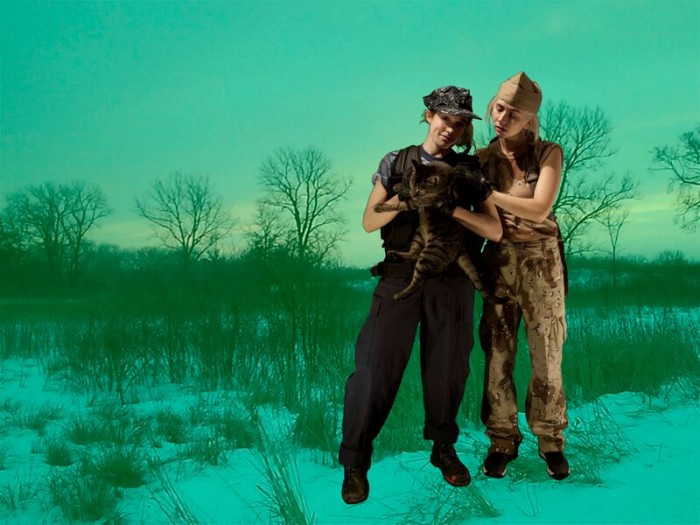 Against Being by Antobody Corporation. Photo © Stranghora and Antobody Corporation.

On a related note, Antibody Corporation, a mission-based organization specializing in mind-body integration, will present three premiere performances of Against Being from October 30 to November 1 at Links Hall. Against Being is a new project of Antibody Corporation artistic director Adam Rose, one of four recipients in 2014 of Lab Artist Awards from the Chicago Dancemakers Forum.
Against Being is "a dance about nothing and an exploration of space — the space between language and dance," says Adam Rose, who also directs the piece. "It places dance within the context of the philosophical debate between being and becoming." This new work features Eryka Dellenbach, Brooke Underwood and additional performers including Rose himself. The complete performance schedule can be found in The Dance Enthusiast's listing here.