Dance News: New York City Cultural Organizations Reignite "NYC Inspires" Campaign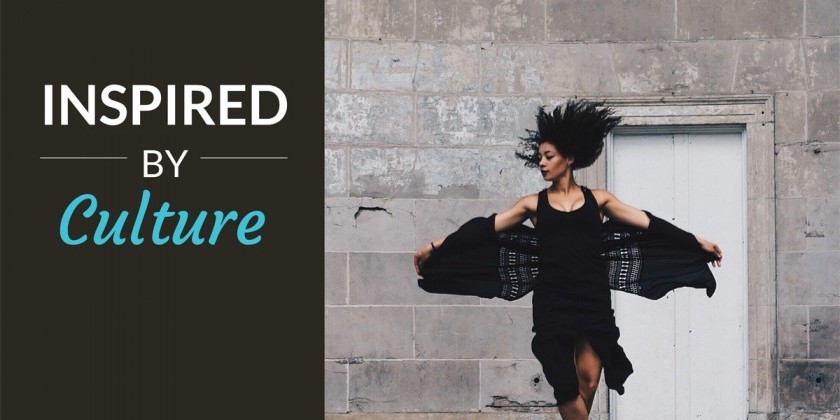 Take Action. Invest in Culture. Show Up on May 18th at City Hall. Share Stories and Inspiration on Social Media Using #NYCinspires
The Dance Enthusiast received a letter from dance and cultural mover and shaker, Lucy Sexton, who is now heading up the newly formed arts advocacy group New Yorkers for Culture & Arts, the result of the merger of two great arts orgs, New York City Art Coalition and One Percent for Culture. (Congrats Lucy!!!!)
Their goal is to develop an coalition of arts and culture groups across the five boroughs to engage in fighting for increased city funding and better public policy that will enable all New Yorkers to engage in the life transforming power of culture.
The group is  currently in the midst of a major campaign asking the city to increase funds for culture in the 2019 budget now being negotiated. In the article below, read  more about the campaign.
 FINALLY! Please spread the word.  Lucy Sexton asks all dance and culture enthusiasts to mark our calendars and let people know that we all need to turn up on the steps of City Hall on Friday, May 18th at 10am for a rally for arts and culture funding across all NYC boroughs! Be there!
---
---
New York City's culture and arts organizations have reignited the NYC Inspires Campaign asking City Hall for a $30 million increase to the Department of Cultural Affairs budget—this includes a reinstatement of the $10 million that the cultural community received last year. This funding will support more than 1,500 culture and arts organizations that serve as an educational and economic resource for New Yorkers in all five boroughs as well as continued efforts to enact the goals laid out by the City in the Cultural Plan.
New Yorkers and tourists alike are inspired every day by the city's cultural offerings. New York had a record number of tourists last year—62 million. 20 million went to a museum, 13 million people saw a Broadway show, and another 3 million spent time at a zoo or botanical garden. Culture and art is a draw for tourists, an educational resource for communities and schoolchildren, and an economic driver for local businesses.
Public can show support on social media by sharing stories of how they have been inspired by New York City culture on social media using the hashtag (#NYCInspires) and tagging the council member who represents their district.
NYC's cultural organizations are the heart and soul of the city. "I have been honored to teach a class in dance and storytelling to seniors in Chinatown through the Su Casa program. Last week, one of the participants cried as he told us he'd worked in factories since he was 15 and that his time taking arts classes in the center was the happiest time of his life; the first time he'd felt valued and part of a community." — Lucy Sexton, Su Casa teaching artist, choreographer.
"When the arts and culture thrive, New York City thrives," said Council Member Van Bramer, Chair of the City Council's Committee on Cultural Affairs and Libraries. "Arts and culture are the heart and soul of this city and are a vital part of our economy, employing 8 percent of the workforce and generating over $4 billion in revenue. I will fight for increased operational funding again this year to ensure that our arts and cultural organizations receive the funding they need."
The 1,500 culture and arts organizations – from the large cultural institutions, to the community art and culture programs – depend on robust financial support from the City through the Department of Cultural Affairs. They serve New Yorkers and their communities as well as the millions who visit from all over the world. An amazing 75 percent of international tourists come to New York for its cultural offerings, which support some 375,000 jobs locally and are an economic boon for countless local businesses.
Said John Calvelli, WCS Executive Vice President of Public Affairs; Co-Chair, New Yorkers for Culture and Arts; and Cultural Institutions Group Chair: "Culture is for everyone and accessible culture provides educational opportunities for families and communities. It opens the door to all New Yorkers and provides the opportunity to learn about and experience a vast array of cultural disciplines including dance, music, art, film, history, wildlife and more that serve as inspiration in life and career. A funding increase would help ensure New York's cultural community can provide continued, even increased, access and educational programing to all of the communities and neighborhoods they serve."
Said Pat Cruz, Executive Director, Harlem Stage: "I have been pleased to be a part of New Yorkers for Culture and Arts' NYC Inspires campaign to increase City funding for culture and arts and ensure that all New Yorkers have access to culture and the arts. Culture is for everyone. Through increased operating support for the many cultural groups across our city, the City can help ensure a diverse array of cultural opportunities reaches individuals and families in every neighborhood."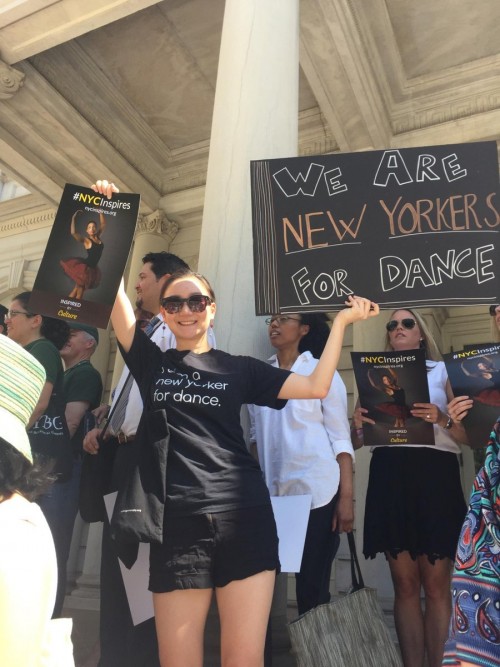 Image credit Dance/NYC. #NYCinspires.
The Mayor's preliminary budget for Fiscal Year 2019 did not include an increase in funding to the Department of Cultural Affairs, and the City Council's response included a reinstatement of the $10 million granted in Fiscal Year 2018 acknowledging the need for increased investment in culture.
An investment in culture is an investment in New Yorkers. New York City is home to more than 1,500 non-profit cultural organizations and millions of cultural audiences. The NYC Inspires Campaign is telling the stories of individuals who have been inspired by culture and New Yorkers who support culture and arts in their communities, and future generations of artists, musicians, performers, educators, curators, conservationists, scientists, and more.
Visit www.nycinspires.org for more information and to send a message of support.
---
The Dance Enthusiast Shares News From The Dance World And Creates Conversation!
For more FROM THE PRESS pieces, click here.
If you have important news to share, please send an announcement or press release to info@dance-enthusiast.com!