Dance News: Danspace Project Collaborates With Times Square Alliance This Fall 2018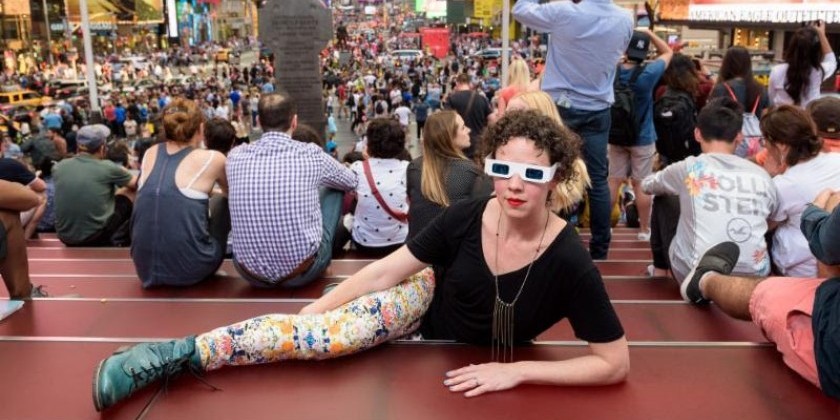 Danspace Project and Times Square Alliance To Co-curate Site-Specific Commissions by Luciana Aachugar, Laurie Berg, and Full Circle Souljah
The spirit of collaboration marks Danspace Project's fall season with a first-time partnership with Times Square Alliance, two co-presentations with FIAF's Crossing The Line Festival, the culmination of a year-long residency by the collective Skeleton Architecture, and a community collaboration to honor Sam Miller. "All of us engaged in dance and the performing arts understand the power of collaboration," says Judy Hussie-Taylor, Executive Director and Chief Curator of Danspace Project. "In these divisive times we bring to the fore our collectivity, our reliance on one another, and our ability to produce knowledge through care."
Full Circle Souljahs aka Rokafella and Kwikstep.

Danspace Project and Times Square Alliance are co-curating three site-specific commissions by artists luciana achugar, Laurie Berg, and Full Circle Souljahs (Ana "Rokafella" Garcia & Gabriel "Kwikstep" Dionisio) in Times Square.
 
As part of Crossing The Line Festival, Danspace Project and French Institute Alliance Française (FIAF) bring the powerful and timely collaboration between choreographer Will Rawls, poet and MacArthur fellow Claudia Rankine, and filmmaker John Lucas for its New York City premiere.
Together with FIAF, Danspace Project welcomes choreographer Nacera Belaza and her company for three evenings of group work and one solo that will illuminate the deep layers of the artistic process of Algerian-born/Paris-based Belaza.
 
NYC-based performance artist Sacha Yanow and Stockholm-based American choreographer Eleanor Bauer each present compelling new solo works for their first-ever Danspace Project commissions.

Emmanuèle Phuon and Emily Coates (with Josiah McElheney) share an evening in which they each create individual pieces referencing their shared artistic lineages via Yvonne Rainer and Mikhail Baryshnikov's White Oak Dance Project.
 
The Skeleton Architecture collective, formed during Danspace's Platform 2016: Lost & Found in an evening curated by Eva Yaa Asantewaa, culminate their year-long Danspace Project Research Residency. Three offerings by the collective include improvisation, movement, fellowship, music, and discussion.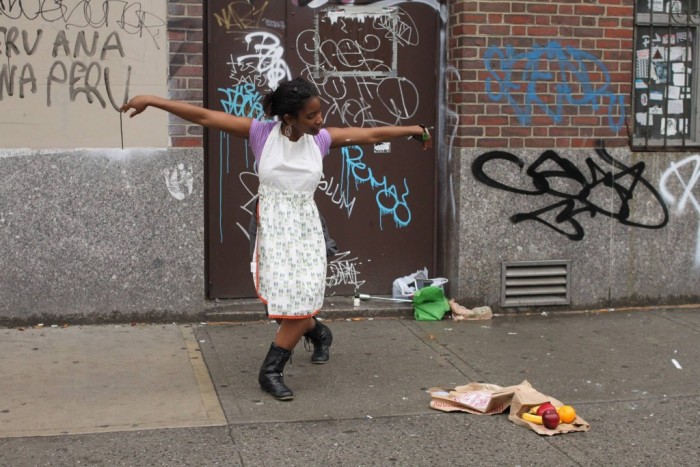 Melanie Greene. Photo courtesy of EmergeNYC.
Looking ahead to Winter 2019, Danspace Project is thrilled to announce that we will partner with Abrons Arts Center to co-commission and present the evening-length premiere of Ni'Ja Whitson's Oba Qween Baba King Baba, which was initiated during Danspace Project's Platform 2018 curated by Reggie Wilson.

Danspace hosts three free work-in-progress afternoon showings of work by choreographers Meira Goldberg, Melanie Greene, Millie Kapp & Matt Shalzi, Anna Kroll & Stuart Shugg, Jordan Morley, and Jess Pretty, through our long-running DraftWork series curated by Ishmael Houston-Jones.
 
Danspace Project's fall season opens on September 15 when friends and artists from across the globe gather to celebrate the life of a beloved friend and mentor, cultural leader, Sam Miller (1952-2018).
 
A full schedule for Danspace's Fall 2018 season can be found in our LISTINGS.
 
Advance tickets, unless otherwise noted, are priced at $22 ($15 members) and can be purchased by visiting danspaceproject.org or by calling (866) 811.4111. When available, tickets can be purchased at the door on the night of the performance for $25 (cash or check only).
 
Danspace Project is located inside St. Mark's Church in-the-Bowery at 131 East 10thStreet (near 2nd Avenue) in Manhattan's East Village. Danspace Project's main entrance is fully accessible via ramp.
---
The Dance Enthusiast Shares News From The Dance World And Creates Conversation!
For more FROM THE PRESS pieces, click here.
If you have important news to share, please send an announcement or press release to info@dance-enthusiast.com!