DANCE NEWS: Directed by Alla Kovgan, PEAK Performances Releases Five Film Premieres on PEAK Plus Streaming Platform
DANCE NEWS: Up-Close Captures of Major Productions by Donald Byrd and Spectrum Dance Theater, Netta Yerushalmy, Gandini Juggling, Familie Flöz, and Bill T. Jones/Arnie Zane Company
PEAK Performances announces the release of Alla Kovgan's five films on PEAK Plus Streaming that features works by Donald Byrd and Spectrum Dance Theater, Netta Yerushalmy, Gandini Juggling, Familie Flöz and Bill T. Jones / Arnie Zane Company. Each performance was presented at the Alexander Kasser Theater, Montclair State University, in the 2021-22 season. PEAK Performances began collaborating with Kovgan in 2021.
Directed by Kovgan, creator of the celebrated 3D dance movie, Cunningham (2019), and filmed by Director of Photography Mia Cioffi Henry, the films represent an exciting evolution of PEAK Plus. PEAK installed state-of-the-art HD performance capture technology using 4K robotic video cameras and steadicams in the Kasser Theater before the COVID-19 pandemic to create exhilarating up-close live performance films.
Director Alla Kovgan; photo courtesy of the Zurich Film Festival
Jedediah Wheeler, who conceived PEAK Plus and retired from Montclair State University at the end of 2022, said, "Alla Kovgan has a genius for live performance capture. The five films she directed and edited illustrate her remarkable intuitive and technical skills. Audiences worldwide will be able to experience these singular artists with visceral authenticity."
HD Plus continues to develop, driven by PEAK's belief that film, approached with the level of artistry audiences  expect from the organization's live shows, contributes culturally while urgently responding to the needs of the moment. PEAK HD offers a vital alternative to live performance during significant and overdue change surrounding questions of accessibility in the industry, catalyzed by the ongoing public health threats.
About the PEAK Plus Live Performance Films
Donald Byrd and Spectrum Dance Theater, Strange Fruit
From Tony-nominated and Bessie-winning choreographer Donald Byrd and his Seattle-based company Spectrum Dance Theater, Strange Fruit draws its title from the 1937 poem and song of the same name by Abel Meeropol and made famous by the great jazz singer Billie Holiday that metaphorically addresses lynching as a tool of racial terrorism during the Jim Crow Era. For this dance/theater work, Byrd transforms these brutal facts into abstract, expressionist vignettes set to a score that samples music ranging from Negro spirituals to Alva Noto and Ryuichi Sakamoto's haunting Attack/Transition. Choreographer Pearl Primus premiered her searing social justice dance, Strange Fruit, in 1945.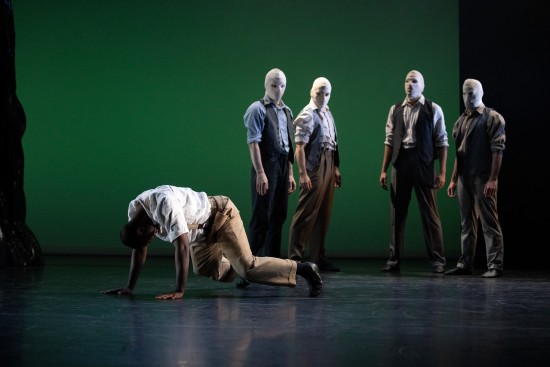 Donald Byrd's Strange Fruit; photo by Maria Baranova
Netta Yerushalmy, Movement
In Movement, celebrated choreographer Netta Yerushalmy intricately quilts together quotations from various sources: folk dances, traditional dances and ceremonies, modern and contemporary concert dance, commercial dance, sports, and contemporary life. The work draws from over 100 existing dances, stretching the idea of pluralism until it almost snaps. Movement features a new score by award-winning composer Paula Matthusen and is performed by dancers from Korea, Senegal, Israel, Taiwan, and across the U.S.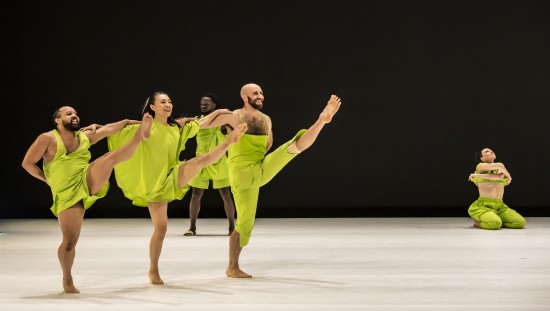 Netta Yerushalmy's Movement; photo by Maria Baranova
Gandini Juggling, Smashed2
Gandini Juggling's hit Smashed, made its US Premiere at PEAK Performances, where the manipulation of forbidden fruit shrewdly explored the strained relations between seven men and two women, while kindly flaying traditions of juggling and circus. Performed with meticulous unison and split-second timing, Smashed2, with seven women and two men, continues this exploration of the dark art of juggling: lightly disrupting the rigid conventions of etiquette, dress, gender, and body language. In this work, partners and Gandini Juggling co-founders Sean Gandini and Kati Ylä-Hokkala (respectively, director and assistant director of Smashed2) again borrow elements of Pina Bausch's gestural choreography and combine them with the intricate patterns of solo and ensemble juggling.
Gandini Juggling, Sean Gandini and Kati Ylä-Hokkala's Smashed2; photo by Maria Baranova
Familie Flöz, Hotel Paradiso
Strange things happen in Hotel Paradiso, a comedic thriller from Berlin-based mask theater company Familie Flöz, chock full of eccentric characters including a pajama-wearing front-desk clerk, a kleptomaniacal maid, and a cook who chops up more than just pork. Set in a family-run Alpine resort where a struggle of the new against the old unfolds, this fairy tale full of secrets is created by a troupe known worldwide for works that are "wordless and yet somehow so expressive, full of yearning and yet also filled with joy." (The Guardian)
Familie Flöz' Hotel Paradiso; photo by Maria Baranova
Bill T. Jones/Arnie Zane Company, Curriculum II
Conceived and directed by the iconic, Tony-winning Bill T. Jones and choreographed by Jones with Janet Wong and the Bill T. Jones/Arnie Zane Company, Curriculum II continues a series of works juxtaposing formal exploration with a range of today's urgent topics as expansive as Jones's artistry. Applying the ideas of Cameroonian historian and political theorist Achille Mbembe, Nigerian-born Afrofuturism scholar Louis Chude-Sokei, and Jamaican writer and cultural theorist Sylvia Wynter, Curriculum II explores the historical and persistent connection between race and technology and the pursuit of what it means to be human.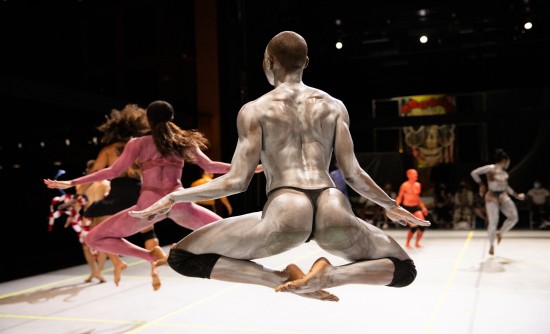 Bill T. Jones with Janet Wong and Company's Curriculum II; photo by Maria Baranova
---
The Dance Enthusiast Shares news from the dance world and creates conversation.
For more Dance News pieces, click here.
If you have important news to share, please send announcements or press release to info@dance-enthusiast.com!
---
The Dance Enthusiast - News, Reviews, Interviews and an Open Invitation for YOU to join the Dance Conversation.