A DAY IN THE LIFE OF NYC DANCE- Briana Blasko, Photographer, with Dancers Julie Atlas Muz; Sallie Wilson and the New York Theatre Ballet, Artists at the 92Y, and Larissa Velez
Four Dancers from Different Parts of the NYC Dance Community at Work
Photography by Briana Blasko/Words  by Christine Jowers
Every day countless dance artists go to work: creating, rehearsing, reviewing, studying, perfecting,  and playing, all virtually unnoticed until they are up on stage. What is that time off stage like? Who are these people that dedicate their lives to dance?
The Dance Enthusiast asked photographer Briana Blasko to wander Manhattan (downtown and uptown and downtown again) in order to give us a glimpse of a work day in the dancing city. Sometimes I got to go with her.  Christine Jowers Editor/Contributor
Special Thanks to the Artists and Organizations that let us look in on their preparations: (click their names to be directed to their stories and photos)  Julie Atlas Muz at the Slipper Room; New York Theatre Ballet with Sallie Wilson; Phillipa Kaye, Carrey Ott, Adam Scher Rehearsing for  92Y at Noon Series   and Larissa Velez as she prepared for a show at Dixon Place
---
Julie Atlas Muz - From Arty Goddess to Cabaret Darling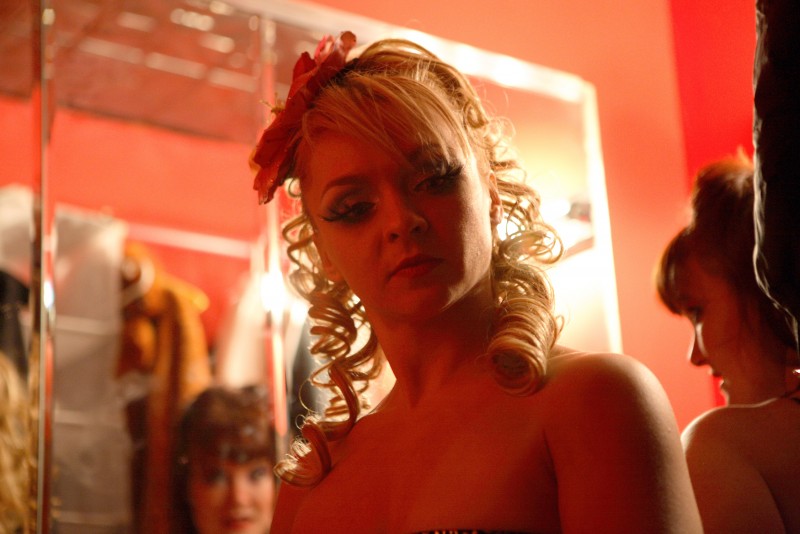 Julie Atlas Muz Back Stage at The Slipper Room  Photo by Briana Blasko for The Dance Enthusiast
What is interesting about Julie Atlas Muz is her shifting performance personalities: from the arty goddess who was invited to participate in the 2004 Whitney Biennial, to the cabaret darling crowned Miss Exotic World 2006. She is always gorgeously turned out, creating her own universes to play in through movement, character, and costumes.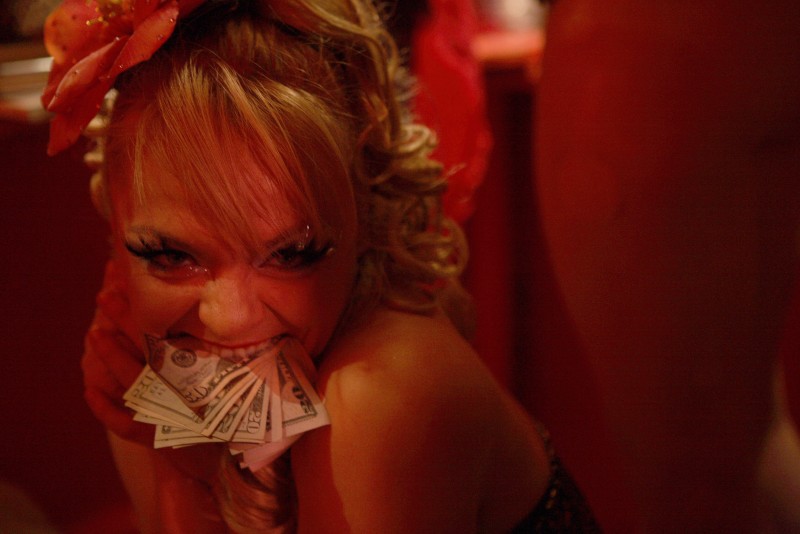 Julie Atlas Muz Back Stage at The Slipper Room  Photo by Briana Blasko for The Dance Enthusiast
This is from her website:
"I consider myself a renegade performer whose work reaches across genres, venues, demographics and tax brackets to champion the notion that performance in any context can challenge beliefs and change behavior."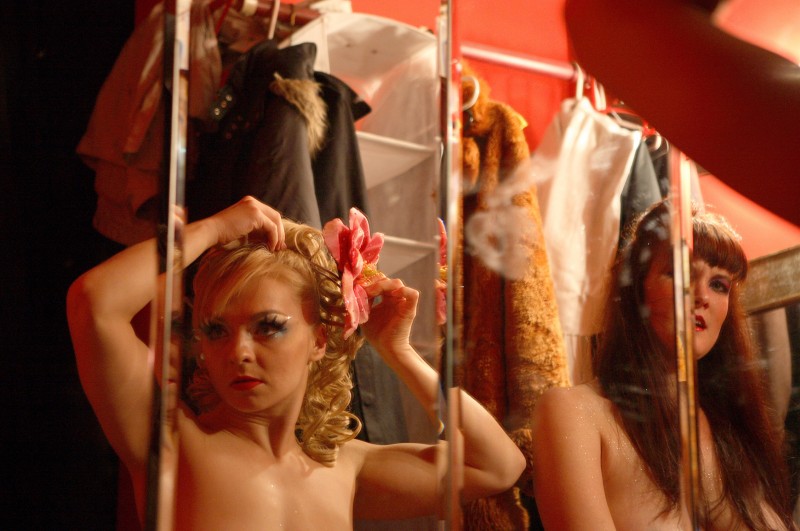 Julie Atlas Muz Back Stage at The Slipper Room  Photo by Briana Blasko for The Dance Enthusiast
I didn't get to go backstage with Briana on this assignment ; however, I don't think I would have fit. According to our intrepid photographer, she had to glue herself to a wall and shoot what she could as the dressing area in the Slipper Room is the size of a small cocktail table. Julie was there, along with Run Around Sue (who you can also see in some of these photos) and two other women, preparing. The day after this show, Julie was leaving for a world tour and was so hectic and crazed that she almost nixed the idea of the shoot. We are happy she changed her mind.
Julie Atlas Muz Back Stage at The Slipper Room  Photo by Briana Blasko for The Dance Enthusiast
Julie will be performing at Joe's Pub on November 20th. http://www.julieatlasmuz.com/
---
The New York Theatre Ballet- Sallie Wilson, Tudor Ballerina, Rehearses The Company in "Jardin aux Lilas"
Sallie Wilson and Elena Zahlmann of New York Theatre Ballet; Photo by Briana Blasko
"It is not a ballet, and not just steps, it is a whole world" says Sallie Wilson as she describes her work setting Anthony Tudor's Jardin aux Lilas" (Lilac Garden) on the dancers of the New York Theatre Ballet. " Details are extremely important. They are the words, the language, that create the characters. The dancers can't just do as they please."

Throughout rehearsal there are many stops and starts to refine the elements of "Jardin." The dancers work on their relationship to one another, to the music, and to their character. " This is the way it has to be, " Wilson says of the repetition.

She chooses her words and images with care and specificity as she watches the dancers perform.

"It is not a jump- it is a dart." she coaches Kyle Coffman.
Kyle Coffman. Sallie Wilson, Elena Zahlmann; Photo by Briana Blasko
As she observes Elena Zahlmann repeating a phrase of movement "Don't make that arabesque so established, just levitate, just float."

Later, when Zahlmann makes an entrance from stage left, Wilson shares an inner dialogue to describe a moment when the dancer must open her arms out horizontally. But she is not merely opening her arms.
"Oh, fresh air. I am alone. (pause) I am not alone." Wilson urges her to imagine. "You are going away from a room that is hot and smoky. There is not enough air. You are escaping. Can you hear the sound of the oboe? That is your attitude."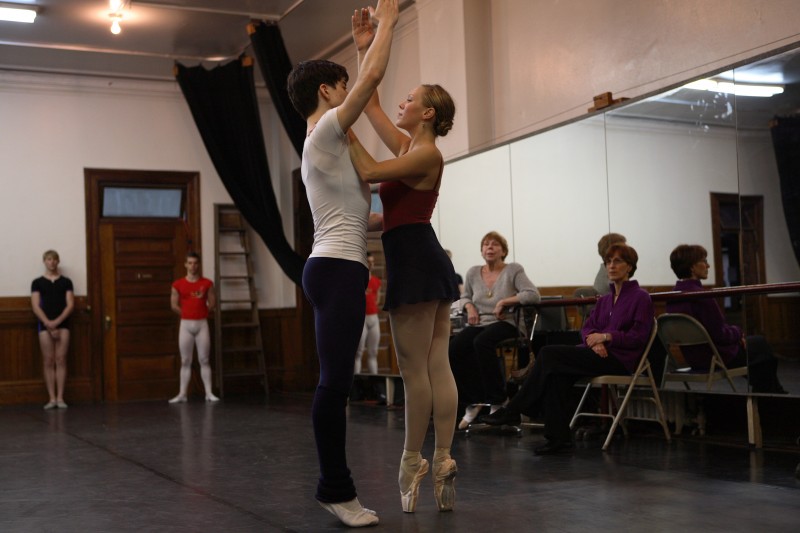 Kyle Coffman, Elena Zahlmann with Sallie Wilson and Diana Byer of the New York Theatre Ballet; Photo by Briana Blasko
It is as fascinating to watch Wilson at work, as it is to listen to her. She constantly shifts positions from a tall stool in front of the mirror (to get the big picture) to center stage among the dancers to share more clarifying notes. She strokes Terence Duncan's arm to remind him that he is not working on a classroom port de bras: it is a subtle brush.
I marvel that she knows everybody's parts. " Getting better. Starts to tell a story." she nods after the final run of the day.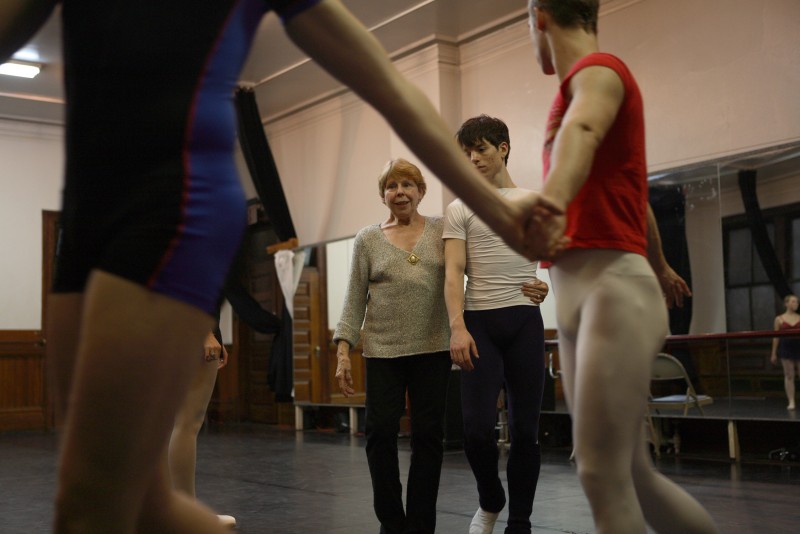 Sallie Wilson with Kyle Coffman and the New York Theatre Ballet Cast
Rehearsal ends five minutes early and I take the opportunity to say thanks and to ask Ms. Wilson how she manages to keep the entire ballet in her body. She danced both of the women's roles she informs me and simply knows all the rest, as well as the lighting cues and how to make the costumes. She explains that that's just how her mind works. She has a gift for memory.

"It is like the movie Fahrenheit 451," she tells me as she pulls a packet of cigarettes from her purse preparing for break, "Did you see it? Great movie."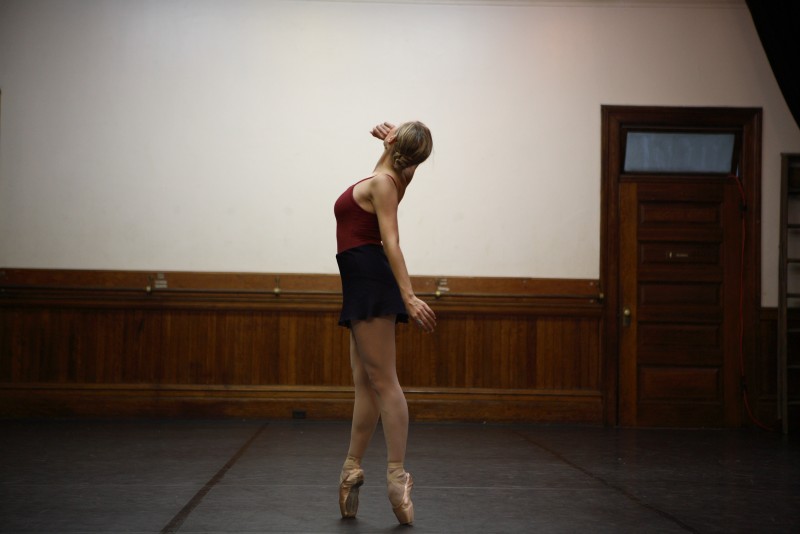 Elana Zahlmann; Photo by Briana Blasko
I had not seen it, so she synopsized.

The story (by Ray Bradbury and movie by Francois Truffaut) is about a city of the future where the powers that be don't want the citizens to read and think, so books are burned. (The temperature at which books burn is 451 degrees F.) A subversive group decides to save the ideas of books by reading them before they are destroyed-each person becoming a book in order to preserve it.

"Like me," she smiles, "I have become this ballet."
---
This February 8th and 9th, The New York Theatre Ballet will be performing Tudor's Jardin aux Lilas, Little Improvisations and Judgment of Paris, staged by Sallie Wilson, as well as Jose Limon's Mazurkas staged by Sarah Stackhouse for a Centennial Celebration of both choreographers.
For More Information contact: The New York Theatre Ballet at www.nytb.org or 212-679-0401
All Performances are at Florence Gould Hall , 55 East 59th Street , NYC
Box Office:212-355-6160
Ticket Master: 212-307-4100
---
Prepping for Fridays at Noon at the 92nd St Y, Choreographers Phillipa Kaye, Carrey Ott,  and  Adam Scher
Christine Jowers THE DANCE ENTHUSIAST : DID YOU ENJOY BEING INVOLVED IN THE PERFORMANCE?
Adam Scher (AS): Very much so. The combination of different artists, and the relaxed informality of the entire experience was fantastic. There was no pressure, which helps to make everything run smoother.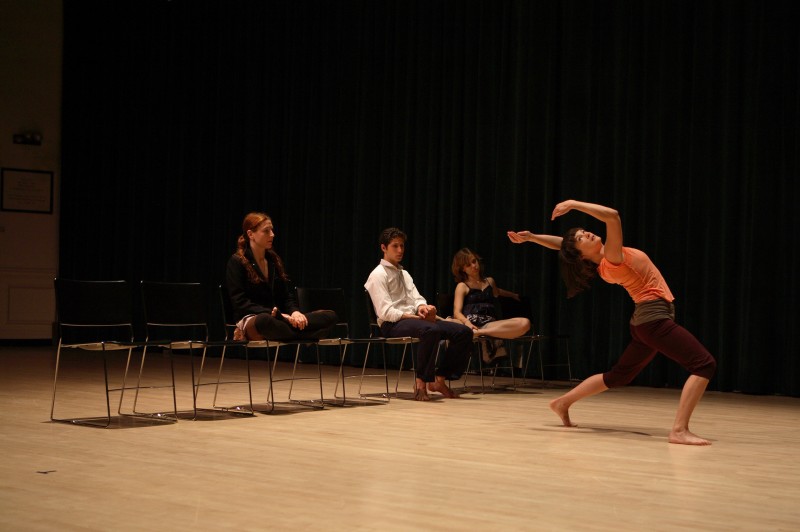 Dancers Rehearsing 92Y; Photo Briana Blasko
Catey Ott (CO): I have a history of rehearsing and performing at 92Y with Heidi Latsky and had a space grant there in 2003 for my own work. So when the space grant in 2007 and performance opportunity opened up for me I was overjoyed. It feels like being home. The performance was an honor to be involved in. I respect the other choreographers involved a great deal, and enjoy showing work in the same show as them. Performing is always a pleasure, and showing a work in progress is wonderfully unnerving. This was the first time I showed the piece to an audience. I found the audience to be very open and attentive which helps.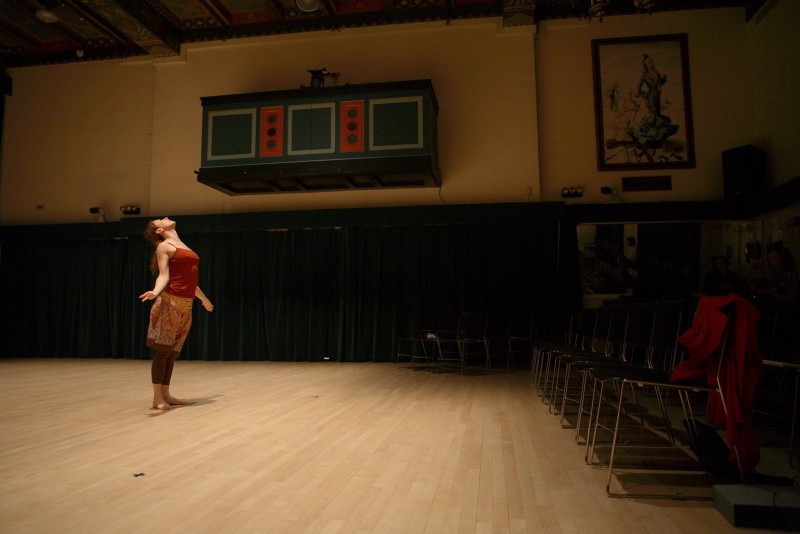 92Y; Briana Blasko
HOW HAS BEING INVOLVED IN THE SHOW THIS AFTERNOON HELP YOU WITH YOUR WORK.
Phillipa Kaye (PK): DEADLINES deadlines deadlines. It is so important to have something to be working towards. I showed a brand new solo (for Storme Sundberg) and the showing forced me to make decisions. In making decisions things come into existence.
Always helpful to have a venue to show new work to a new audience, and especially to an audience with low expectations; it is a free event, the kids were brought on a school trip, most of the audience does not know the artists' work.
It creates a lovely openness.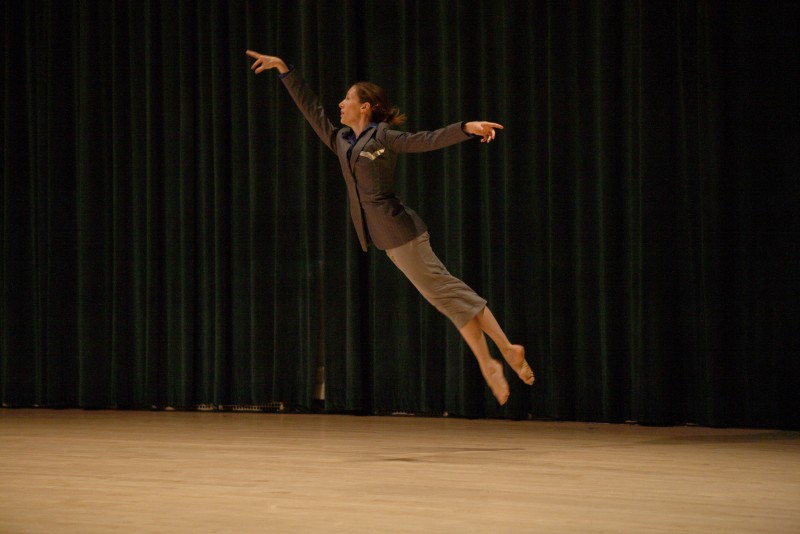 92Y; Photo Briana Blasko
DID YOU LEARN ANYTHING FROM THE PEOPLE WHO ATTENDED? GOOD FEEDBACK? ANY SPECIFIC THINGS THAT THEY SAID? WILL YOUR WORK CHANGE BECAUSE OF FEEDBACK YOU RECIEVED HERE.
Phillipa Kaye (PK): It was not a satisfying feedback session for me. We (the choreographers) had already spoken, expressed ourselves, through the dances. But we were asked to speak about our process in general first. It was framed mostly as an information session for the audience rather than a forum for us (the choreographers) to hear comments and questions from the audience. The audience was full of questions (the nine-year olds hands all shot up), but there was little time to hear or answer any.
92 Y; Photo Briana Blasko
[I wish all feedback sessions would be run like Fieldwork Feedback, during which the artist says nothing and just listens to the audience's questions and comments. What is said or not said is usually telling.]
Adam Scher (AS):The majority of the audience was grade school students. They have a very different perspective of dance, and for my work specifically, were looking for literal meanings. They asked if the narrative dance was about me, why we did certain moves, and how I learned to lift my partner. It was fascinating to see this from their perspective.
CJ: DID YOU LEARN SOMETHING?
Phillipa Kaye: Yes, that 9-yr olds make a great audience.
That my work is funny, even when I'm sure it won't be, and that that is something I can trust. And that I can tweek something out of the question of narrative-that it would probably answer some of my own questions about my work to answer the question of narrative. Do I think narratively? What are the strongest aspects of my work?
Adam Scher : I learned that everybody reads dance differently. Again, this was enforced when comparing the adults and the children's reaction to my work.
Catey Ott: Yes!!! And I put the lessons into play immediately since I performed the piece again at Wax Works that Sunday. I transformed the piece in terms of spacing, costume, and energy and the received even more feedback that evening.
Adam Scher warming up in the 92nd Street Y; Photo Briana Blasko
CJ: HOW DO YOU LIKE PERFORMING IN BUTTENWEISER HALL?
Phillipa Kaye: It's huge. For a solo it is a physical challenge.
Adam Scher: The space is magnificent. There are few performance spaces in NYC that offer such a large surface area with such a beautiful floor. The Hall itself, with all of its detail and the chandeliers creates a really magical environment to perform in!
DO YOU HAVE ANY PERFORMANCES COMING UP?
Phillipa Kaye: Yes, Nov 30th and Dec 1 will be intimate and interesting
Adam Sher: Soon, soon, soon...will keep you updated. I am in the process of making a new work, so I have put my performing on hold for a while.
Cate Ott: Yes...November at Green Space Fertile Ground Series November 11 at 7pm
At Dance New Amsterdam on Dect 8th at 5:30 pm
And other showcases coming up in the spring.
---
INFORMATION ABOUT THE CHOREOGRAPHERS AND SPACES-
PHILLIPA KAYE COMPANY has a Field Artist Residency: two weekends at the FAR space
These nights are experiments within the limits of a small studio. We invite you to be part of it. FOR MORE INFO CONTACT: Phillipa Kaye pkc@philippakayecompany.org
Friday Nov 30th at 9pm & Saturday Dec 1st at 7pm AND 9pm
At 521 West 26th (between 10th and 11th Aves) NEAR FAR NIGHT (S)Due to specifics of the space and the performance only 14 people can experience each showing. Reservations necessary. Send an email to this address with your full name, or names of your party and the dates and times you would like to come. Your reservation will be confirmed. 5-35 fundraising donation at the door
Adam Scher –in rehearsals for next project www.adamscher.com
Carey Ott- check out Green Space : www.greenspacestudio.org/performance.html Dance New Amsterdam www.dnadance.org/performances.html
Doug Varone and Dancers in Residence at the 92nd Street Y Harkness Dance Center.
This is the first time in 30 years that a dance company has been in residence at the 92nd Y.
It is an exciting time.
For more info see links below...
http://blog.92y.org/index.php/weblog/item/doug_varone_and_dancers_steeping_into_history
http://www.92y.org/shop/category.asp?category=School+of+the+Arts888Harkness+Dance+Center888
 Larissa Velez, The Anti- Burlesque Burlesque Performer
Christine Jowers (CJ): Can you tell me a bit about the rehearsal that Briana shot you for?
Larissa Velez (LV): I performed in the Brink series curated by Michael Helland at Dixon Place. In Brink, the artist gets two nights to perform a half evening length work. The artist also receives an allotment of free space at Dixon Place to rehearse. The rehearsal Briana shot was my last rehearsal before my performance, the day before the show. I was solidifying a section of the piece that is a structured movement improvisation. I did a lot of movement- based and character- based improv that day. I was also getting myself intimately familiar with the space itself. In the beginning of the piece I welcome each audience member, prowling through the audience, kind of like an usher, but with a secret agenda. There are also surprises in that section. So I was gearing myself up for that section of the piece. It was nice to have Briana as a kind of audience member for that process.
CJ: What were you working on? What were you playing with? Qualities? Space? Emotions?
Larissa Velez: I consider this piece a lot more than one isolated event of performance. I like to consider this piece a system that can house all the content I obsessively create on a daily basis. This content can be a movement phrase, a song I've written, video footage, projected photographs, and sound bites I've manufactured on the computer, vocal improvisation, etc. I am obsessed with homemade celebrity and the act of broadcasting my own homemade creations.

In this piece I create a loose and ever changing narrative that gives reason for the content to exist next to each other. I like to shepherd the audience through a collection of meanings. As soon as they know where they are, that piece of meaning is destroyed and a new thing is born.
CJ: Did you were the tiger pants in the show?
Larissa Velez: I contemplated wearing the tiger pants in the show. They got too dirty in rehearsal and I decided on other skintight Lycra pants.
CJ: Is this an example of how you are moving on from your cabaret characters? Was your work mainly cabaret before?
Larissa Velez: For a year I performed in the neo-burlesque scene under the name El Teresa. Burlesque was a great way to perform quick vignettes that for me fulfilled my need to be on sexual display, but to also comedic ally comment on that. I was, you could say, an anti-burlesque burlesque performer. It also provided me a nice opportunity to interface with a broad audience and keep my comedic skills up. I found after a time that I longed for a broader range of experience in performance and an audience that welcomed a broader range. My work now has some of the same elements, with a lot more abstraction and a lot less time constraints. This more open spectrum allows for me to go to many other emotional realms in the performance. My work now comments on the great complex layers of meaning that make up our experience of art and life.
CJ: Can you describe your artwork? What do you call yourself when you describe what you do...a performance artist? Contemporary dancer? Graphic designer...musician. In which job does your passion lie?
Larissa Velez : I call myself a choreographer/ performance artist. I feel only in the past two years have I settled into merging all my passions and making pieces that house all the content. In years past, my passions were all very separated. When I made my album "Astral Quirk in Newark" in 2000, I felt as though I was only an electronic musician. After that, I was a web artist. Today I really have settled into the idea that performance is the vehicle for reaching an audience. Within performance I share all the other digital content.
My passion today exists in going through physical and emotional trauma in front of others- i.e. my idea of good performance.

http://elteresa.com/ and http://www.dixonplace.org/index2.html