Eryc Taylor's Choreographer Grant gives Opportunity to Emerging Choreographers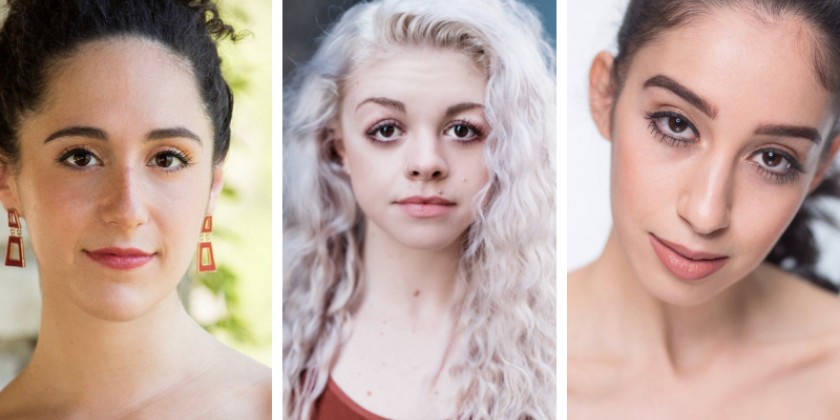 Don't Miss the 2018 New Choreographer Grant Awardees Showcase at the Martha Graham Studio Theater on October 13th
Eryc Taylor Dance/New Choregrapher Grant program (made possible by the Marta Heflin Foundation)
Martha Graham Studio Theater at 55 Bethune Street 
October 13, 7pm and 8:30pm 
$20 Suggested Donation
Pictured above: Grantees Jordan Ryder, Kanon Sapp, and Melanie Ramos
---
No artist succeeds alone. Choreographer Eryc Taylor acknowledges this wholeheartedly. Without personal and corporate supporters, he would never have been able to turn his early aspirations into what is now the twelve-year-old Eryc Taylor Dance company.  While teaching corporate Pilates classes to fund his new company, for example, Taylor met attorney Marsena Farris, who took interest in his performances and provided free consultation as he applied for nonprofit status. "They [interested people like Farris] were my launching pad," says Taylor.
In the spirit of those who supported his early career, Taylor created the Eryc Taylor Dance/ New Choreographer Grant program in 2013. ETD/NCG offers financial backing, exposure, and mentorship to emerging choreographers. Each grantee has the opportunity to premiere a fifteen to twenty-minute group work in a combined studio showing. Five hundred dollars is given to grantees to cover initial rehearsal costs, and another five hundred dollars is awarded  after the showcase to further develop and show the choreography. Past awardees, including Gierre Godley and Aaron McGloin, who used this opportunity to build strong samples of their work and eventually launch successful companies. 
Eryc Taylor with grantee Melanie Ramos and her dancers at SUNY Purchase
In reviewing submissions, Taylor looked for original ideas, a desire to work with new music, and "passion". This year the work of three powerful young women — Jordan Ryder, Melanie Ramos, and Kanon Sapp — will be featured.
Jordan Ryder, a recent graduate of Tisch School of the Arts, began her choreographic career when she was required to submit a piece for her high school dance company. She took that early challenge and  jumped into something that terrified her — improv. Ryder sees choreography as "a way to stretch limits." Her new piece, Railways pairs her for the first time with composer Rob Neubauer.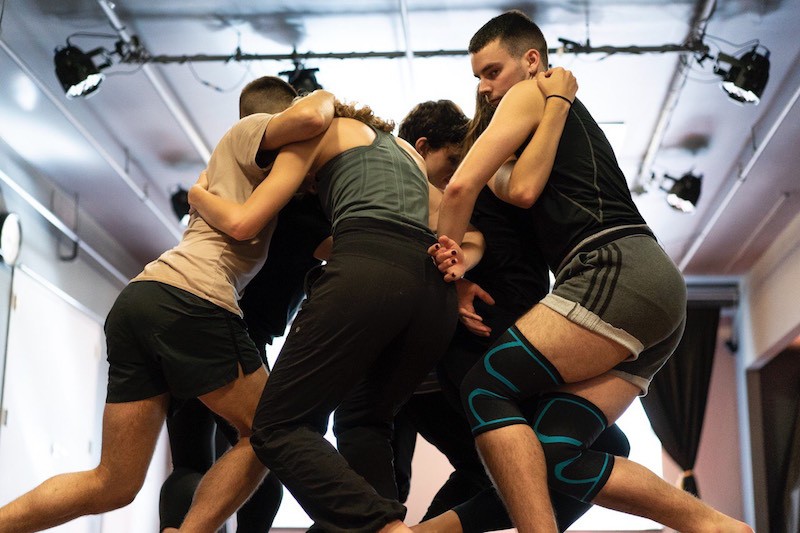 Grantee Jordan Ryder's dancersin rehearsal; Photo: Meghann Padgett
Melanie Ramos, a graduate of SUNY Purchase, originally from Miami, fell in love with contemporary ballet choreography after she attended Joffrey Ballet's Jazz and Contemporary Program in Los Angeles in 2012. "I could see myself doing this forever," she realized. Her new contemporary ballet work draws on her love of "people watching" and her experiences of adjusting to new environments.
Kanon Sapp, who graduated from East Carolina University in 2016, founded looseKANON Dance Company in 2017 and has been presenting work at festivals throughout NYC. Her piece Veil, inspired by Giovanni Straza's "Veiled Virgin" statue, uses layers of netted veils as a metaphor for social expectations of women.
Grantee Kanon Sapp's Veiled
Taylor visits rehearsals to give feedback and hold one-on-one consultations with the choreographers to discuss the business and legal aspects of running a dance company. Understanding that an online presence is crucial today, he also encourages the choreographers to document and promote their work on social media. Taylor insists on respecting the individual voices of these three artists saying, "I'm always there for advice, but the work is their own."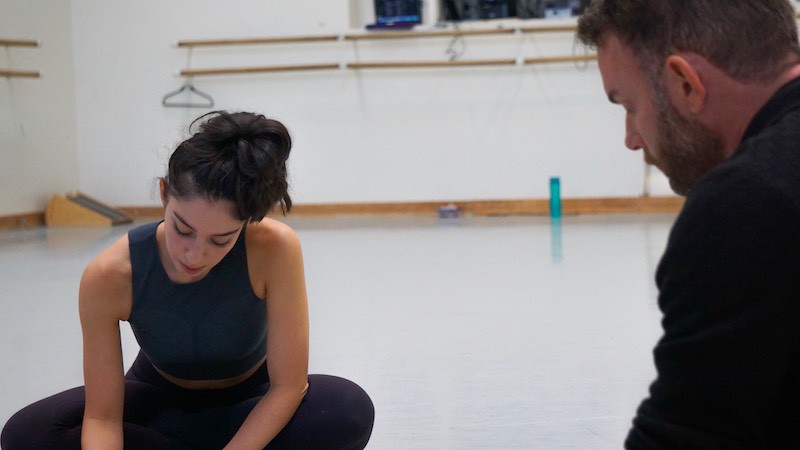 Grantee Melanie Ramos and Eryc Taylor; Photo: Bailey Mutschler
Ryder emphasizes Taylor's all-around support. "Eryc has been tremendously helpful in keeping me aware of all the steps — that it's not just about creating a piece, but about every aspect of building a choreographic career."
Ultimately, Taylor sees his program as both a "pay it forward" and investment in the field, "The community is small, and if we don't support each other, especially fledging dancers and choreographers, what hope do we have for the future?"
Interested in applying for next year's New Choreographer Grant program? Applications will be available on the company's website, on April 1, 2019.
---
The Dance Enthusiast Covers The Stories Behind Dance Performance, Speaking with Artists and Creating Conversation
For more Behind-the-Scenes Stories of the NYC Dance World Click on our Day In The Life of Dance Section.