Bill Shannon on His Upcoming Premiere "Touch Update" at New York Live Arts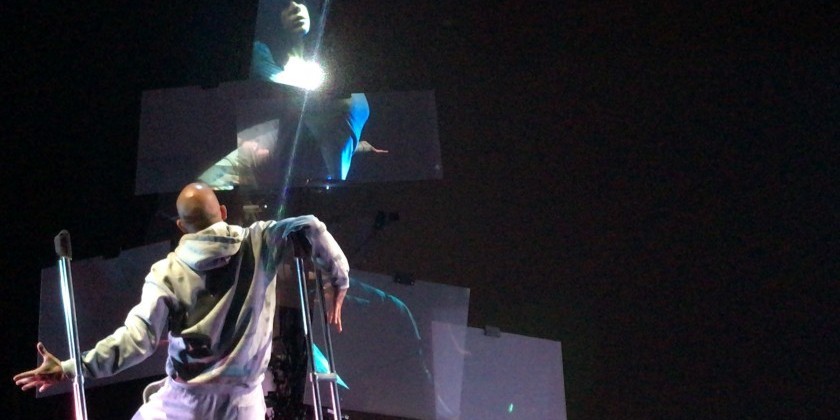 NOV 14-17, 7:30pm
New York Live Arts Theater
Tickets start at $15/$20
Nov 15 Stay Late Conversation moderated by Jennifer Edwards
Nov 17, 5-6:30pm The Condition Arriving Lecture, $10 / $5 with ticket purchase
---
"I find it very difficult… to fit into categories of art making, as the connective element of my work is not medium based, but idea driven. I use drawings, sculpture, video, writing, performance, acting, clowning, skating, dancing and speaking to express one idea. The freestyler that is at the core of my practice is suffocated by the mechinations of the profession. I am here for the future. I am dancing to share the love of humanity. I want peace on earth and an end to the permanent state of War. That's it." - Bill Shannon, from his artist's statement on his website
Touch Update, is a live, embodied amalgam of Bill Shannon's artist's statement, and more. Running at New York Live Arts from November 14-17, 2018, Touch Update is a visual art, performance art, dance piece that layers statements, about Shannon's relationship to the disabled dance movement with the politics of our current time.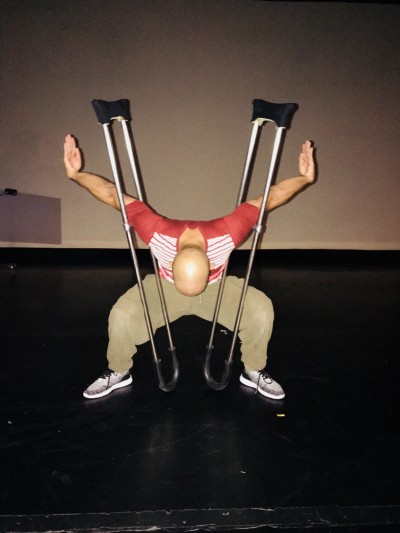 Photo courtesy of Bill Shannon
On Saturday as part of his engagement at New York Live Arts, Shannon will give a lecture titled, "Condition Arriving." In discussing this talk, Shannon shares his passion for disabled artists controlling their own narrative. Authorship is important and the lineage and visibility of disabled work is vital to the field. Yet the overarching arts and culture community does not necessarily know or have access to this lineage, nor do they have the tools to navigate the conditions that disabled artists add to a creative process.
Shannon says that disabled individuals are the most vulnerable when it comes to climate change, war, lack of health care, and economic disparity. Disability is often a product of poverty, of war, of disease born of poverty, and poor access to care. Shannon highlights the stories streaming from Gaza — stories of soldiers targeting protester's legs when shooting. The goal is to maim, not kill, to disable and make life harder. This is woven into the work.
From an early age, Shannon learned to step outside of himself  in order to watch his interactions with others. The movement in Touch Update is based on patterns that came from his play on crutches while a child.
At 12 when his condition, Perthes disease, which effects the strength and stability of the hips, went into remission, Shannon got off his crutches and became an avid skate boarder, hip hop and street dancer. Then in his 20s, with the reemergence of his disability, Shannon began combining modified crutches into his street dance and hip hop work, creating a new hybrid form — "Shannon technique."
"You are forced to see my body movements without crutches in the piece," he says. "You're looking at the choreographic choices of my body, without being given the visual presence of the disability, which is constantly given credit for the impetus for creating the dance in the first place."
Photo courtesy of Bill Shannon
Touch Update fully embraces Shannon's distancing of the self. He has chosen not to appear in his work, and instead puts his disabled dance form on a cast of able-bodied people. He centralizes the technique rather than the disability. Similarly, by offering snapshots of natural disaster, protest, tools of war, and stripped-down humanness, Shannon presents windows into his research on the political nature of all bodies, particularly those who live with disabilities.
The phenomenon of translating movement from one body to another is common practice. Movement crosses gender, size, and technical training lines daily.
Examples of able-bodied dancers teaching disabled dancers, or mixed ability casts adapting, movement exist. Pure disabled dance forms are also growing. But, Shannon's practice of training abled-bodied dancers to perform his specific crutch-based technique, without the crutches, is truly unique.
---
Touch Update has been created in collaboration with dancers of slowdanger, Get Down Gang, and VJ / Mapper Projectile Objects.
Bill Shannon has been a Guggenheim Fellow for dance and a Foundation for Contemporary Art Award Fellow for Performance, as well as an aerial choreographer for Cirque du Soleil. His video installations have been show at galleries and museums. The wearable masks used in Touch Update were developed we he was a fellow of the Frank-Ratchye Studio For Creative Inquiry at Carnegie Mellon University.
---
The Dance Enthusiast Covers The Stories Behind Dance Performance, Speaking with Artists and Creating Conversation
For more Behind-the-Scenes Stories of the NYC Dance World Click on our Day In The Life of Dance Section.