Dancing with Jacqulyn Buglisi in the "9/11 Table of Silence Project"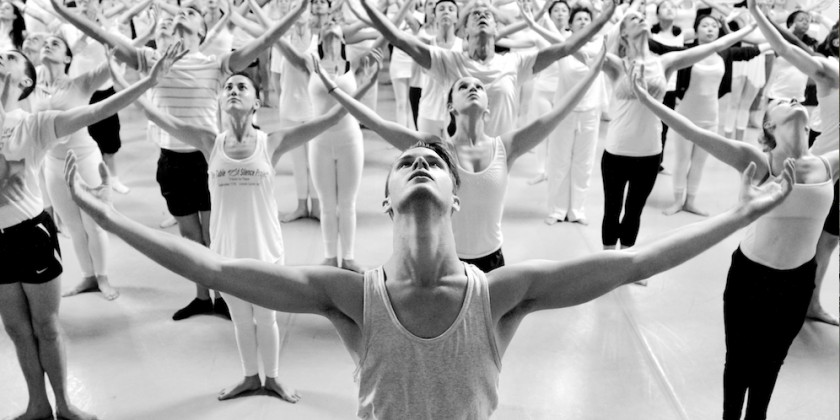 Things I am Learning About Walking, Standing, and Dancing Together

The Table of Silence Project 9/11, A Performance Ritual for Peace conceived and choreographed by Jacqulyn Buglisi
on Wednesday September 11, 2019 , 8:15 AM to 8:46 AM  
at Revson Fountain, Josie Robertson Plaza, Lincoln Center 64th Street and Columbus 
FREE ADMISSION 
The Performance will be LIVE STREAMED at 8:15 AM, for more information click here
---
Every September 11th since the dreadful one in 2001, it's been my meditative ritual to walk from my apartment on Bleecker Street to lower Manhattan.
My two-year-old son and the three-months pregnant me watched the horrifying events of 9/11 unfold like a surreal movie from our living room window. On my walks, I recall the stunned people covered in ash moving slowly up Lafayette Street from the Trade Center. I remember what a clear day it was, a perfect Tuesday in September. I remember not believing what was happening. Would we have to escape the city? Would it be safe to take Tommy out in his stroller? Surely I would need to cook, people would be staying at our apartment. (I made 12 lasagnas.)
I can still see the imploring notices posted by family and friends at Union Square Park and Grand Central Station, "Did you see my___? Please, please call this number." The few-surviving first responders at our fire station, who always let my son sit in the cab of their truck to play fireman, bawled when they saw our family later that week. They fed my toddler more candy than I had ever given him…ever.  I didn't get upset. They needed the normalcy, to feel life.
For the first five years after the planes hit, I couldn't bring myself to walk meditatively, or in any other manner, near Ground Zero. Yet today, strangely enough, I am temporarily living only steps away.
World Trade Center NYC, collapsed  in 2001 after terrorist attack; Photo Wiki ommons
It's hard to believe that this area, FiDi, was one of tragedy and devastation. Instead of scorched earth, and rubble and that awful burning smell that hung around lower Manhattan for months, I am struck by the energy of children playing, the rush of business people, shoppers, lunch crowds, families, pets, tourists, and the natural life force of the trees and vivid flowers planted everywhere. The grace of the eternal flowing water from the 9/11 Memorial calms the space.
Rehearsal Table of Silence; Photo : Paul B. Goode
This year a surprise invitation encouraged me to change my September 11th walking routine and stand with my artistic community in Jacqulyn Buglisi's 9/11 Table of Silence Project. Returning to a high artistic level of work after 10 years of not dancing is a gift, but  to be able to make a positive contribution to such a meaningful project for our city and the world is an honor. I am humbled to pay homage to the solemnity of this day and to the power of peace through dance.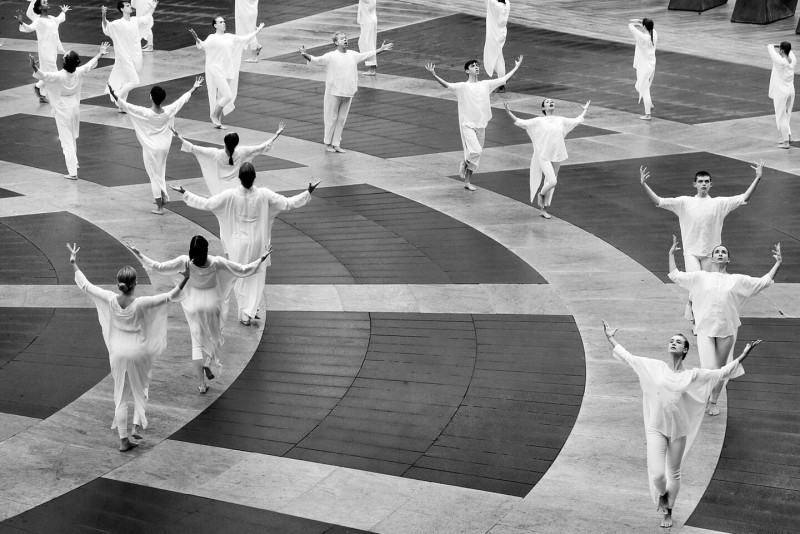 Table of Silence on the Plaza, Photo Paul B. Goode 
Last Sunday afternoon, I found myself with 100+ fellow dancers, a corps of singers, musicians, stage managers, and I am sure  other helpers I know nothing about, trekking from The Juilliard School onto the Josie Robertson Plaza for one of the final rehearsals of this massive ceremonial ritual. How beautiful to see everyone dressed in white, rehearsing with deep concentration on the plaza of one of the most important, artistic centers in the world. How unusual, at least for me, to have my  choreographer on a balcony above me giving directions by megaphone. I felt like I was in Cecil B. DeMille's The Ten Commandments.
Did I mention this project is massively beautiful and an organizational feat?
In fact, perhaps because of its sheer size, people told Buglisi she was crazy to even attempt The Table of Silence, saying it could never be done.
"Why shouldn't we be the ones to change the world?" Buglisi will say in rehearsal.
Well, something like that is what she'll say, as she reminds us that this is the 9th year of Table, — and that we should never give up on what we believe.
Table of Silence on the Plaza; Photo; Paul B. Goode.
Buglisi produces so many inspiring verbal gems in the course of an afternoon it's hard to keep up, especially when you are moving, breathing, transcending, reaching your heart up to the heavens, or your legs down through the earth to its magma, as you step. Poetic imagery is everywhere. We embrace it.
With dancers and students from NYC's finest conservatories and colleges like The Juilliard School, The Ailey School, Conservatory of Dance at Purchase College, Marymount Manhattan College, The Martha Graham School, and with professional dancers from the Graham Dance Company, Limón Dance, Buglisi Dance Theatre, plus talented freelancers, artistic directors, choreographers, arts administrators, dancing filmmakers, yoga teachers, and ballet, modern, and musical theater artists, of all colors, shapes, sizes, and abilities in the mix, the question is, "What unites us?"
"Oxygen," Buglisi reminds the dancers at every rehearsal — that, and the miracle of life.
Dancers at the Fountain in The Table of Silence; Photo Terri Gold
We are miracles.
Rehearsal begins with us breathing together, walking together, standing together, and being aware of one another. There really is nothing quite as miraculous as feeling so many bodies moving in cooperative unison. To take that power out into the Lincoln Center plaza —out of the studio and into the world — well, who knows what could happen?
We could become what I've learned Jacqulyn Buglisi is — a force of nature.
---
The Dance Enthusiast Covers The Stories Behind Dance Performance and Creates Conversation
For more Behind-the-Scenes Stories of the NYC Dance World Click on our Day In The Life of Dance Section.
---
The Dance Enthusiast- News, Reviews, Interviews and an Open Invitation for YOU to join in the Dance Conversation.
---
The Table of Silence Project 9/11, A Performance Ritual for Peace conceived and choreographed by Jacqulyn Buglisi
The Table of Silence Project represents the common threads of humanity which unite all mankind into a single force with common goals and aspirations regardless of race, culture, or religion. Through this event, we wish to achieve the dual purpose of celebrating and honoring peace, through listening, a united moment of silence - a call to action for Peace in our world."  Jacqulyn Buglisi, choreographer 
When: Wednesday September 11, 2019 , 8:15 AM to 8:46 AM 
Where: Revson Fountain, Josie Robertson Plaza, Lincoln Center 64th Street and Columbus 
FREE ADMISSION