The Dance Enthusiast Hits the Streets: Adrienne Truscott in "Sorry I Missed Your Show" at Gibney
September 18, 2019, at 6:30 p.m
Created by Adrienne Truscott with Melanie George and David Thomson
"Walls Down!" season curated by Eva Yaa Asantewaa
---
Failure comes in different sizes. At one extreme are heart failure—that's pretty bad—and metal fatigue leading to the abrupt structural failure of a bridge, or of an airplane flying at 40,000 feet. Oops!
At the other extreme, or perhaps somewhere in the middle, stands Adrienne Truscott, self-styled as a transgressive performance artist, whose show One Trick Pony bombed at the Edinburgh Festival in 2015. Truscott remains undimmed, however, and even loyal to her wayward Pony. Instead of wishing she had gone down with that ill-fated bridge, she has picked herself up, dusted herself off, and is now inviting colleagues and audience members to join her in discussing what went wrong. This intriguing conversation continued on Wednesday, at Gibney, as part of an ongoing series titled Sorry I Missed Your Show.
Photo by Dani Cole.
Sorry seems like the ultimate post-modern dodge, in which the artist's performance has devolved into a discussion of another, remote event, and of her creative process. Perhaps ironically, in spite of this displacement the evening still functions as a good ol' work of theater might, arousing empathy in audience members and nurturing awareness of our shared human condition. Truscott has created a safe space where we can all gather to console ourselves over our own failures, and the general misery of living in a world where you can try your best and still be misunderstood. She even treats her guests to cups of wine; and the atmosphere is gently melancholy, not sepulchral, as we listen to Truscott wrestle, wrestle, wrestle with her angels.
Truscott is naturally a bit touchy about Pony, willing to make confessions and show us certain portions of the piece in video excerpts—but unwilling to show other parts, as if stirring up hostility were a fresh possibility. The small clutch of performance addicts in this crowd are unlikely to throw anything, but you never know. According to her, some jokes in the 2015 show fell flat. The music she had chosen, by Snow Patrol, made sophisticates roll their eyes. Instead of having their consciences pricked, some audience members grew angry. And, naturally, some critics misunderstood her with violent consequences. Among other things, Truscott subsequently lost a teaching job because she had crossed lines that even transgressive artists are not supposed to cross. As Jean Cocteau once said, the artist must know how far to go too far. He might have added, "and whom it is safe to insult." One of the many things to be learned from Truscott's experience is how a certain kind of performance art functions, and how work that appears to thumb its nose at conventions still depends, desperately, on alternative sets of shared values. Work like this would not be possible without the bravery and unique talents of the individual artist, but theater always remains a social act.
Adrienne Truscott; Photo by Richard Hardcastle
Questions abound here, including questions about the artist's state of mind and about her own complicity in her failure. The overwhelming success of her previous piece—a show about rape that she felt certain would offend everybody—had left her feeling even more exposed and vulnerable than when she had performed bottomless. Maybe success even made her feel guilty. Wasn't a big disappointment now inevitable? Wouldn't Fate, not to mention her dear colleagues, be jealous? Almost superstitiously, Truscott decided to mine her next show, Pony, with awkward silences, repetitions, and corny music—she KNEW that Snow Patrol might not be to her audience's taste. She then sat down to an unexpectedly rich banquet of consequences. Ah, but doesn't true mastery lie in overcoming risks, and escaping from the traps we set for ourselves? Hmnnnnn…..
Here's another question, and another. In the context of outsider art, is failure really failure? Or is it the ultimate badge of success? Where would avant-garde artists be without the Guardians of Taste, those philistines who seem ever ready to seize a pen and damn offending players in a blood-speckled froth of invective? If they didn't exist, we'd have to invent them. We can take this theme back as far as you like, placing Truscott in a long line of disappointed clowns including Watteau's Gilles, and the pathetic antics of the fairground performers in Diaghilev's Parade.In other words, she's in good company.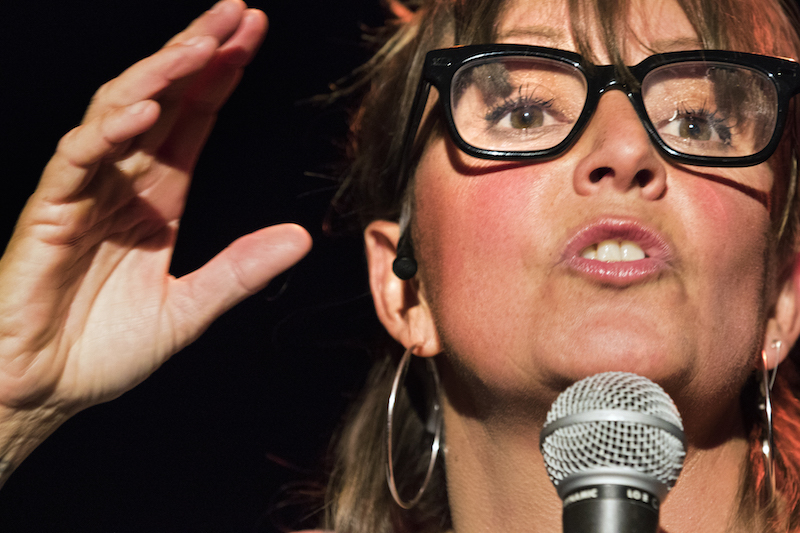 Photo by Paul Goode.
After showing snippets of her work, Truscott invites a pair of interlocutors to share their thoughts with her; and they, too, have interesting things to say. Melanie George, the dramaturg at The Lumberyard, says she has become indifferent to her own likes and dislikes, and no longer believes that failure exists. She lives in a beautiful world. Choreographer David Thomson, on the other hand, thinks that failure is built into the structure of the dance scene, because the creators of short-lived dances never have enough time to observe their work in performance and make improvements to it. He has a point.
Truscott wants this to be a feminist story, and there is some discussion near the end about the parts that distinguish little boys from little girls, which turn into metaphors both for space and for the expectations we bring to performances; but I think the topic is bigger than that. Everyone knows failure; and every failure anticipates the moment, coming to each of us, when the pilot comes on the intercom to say, "Prepare for a hard landing."
Truscott asks whether persisting in spite of mediocrity can be considered a feminist act, implying that merely staying alive is a form of resistance. The really good news at the heart of Sorry I Missed Your Show is that Truscott is still at it, still working, a tough little blossom clinging to her patch of soil in a hostile world.
---
The Dance Enthusiast Covers The Stories Behind Dance Performance and Creates Conversation
For more Behind-the-Scenes Stories of the NYC Dance World Click on our Day In The Life of Dance Section.