Margie Gillis on her "Rewilding" and its Lincoln Center Premiere with the Paul Taylor American Modern Dance at David H. Koch Theater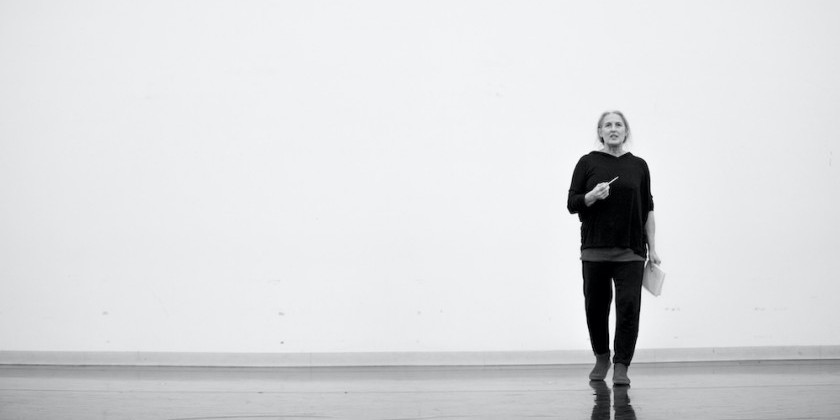 Paul Taylor American Modern Dance at the David H. Koch Theater at Lincoln Center
October 29 to November 17 
featuring the Paul Taylor Dance Company in a tribute to its founder, who died in 2018.
---
The engagement marks PTAMD's first Lincoln Center Season under Artistic Director Michael Novak.
Highlights include 19 Taylor masterworks, and commissioned works created on PTDC by:  Kyle Abraham (World Premiere) and Guest Resident Choreographers, Margie Gillis and Pam Tanowitz (Lincoln Center Premieres). 
Margie Gillis' Rewilding will be danced on November 1,  November 7th, and November 13th:   For ticketing information, Click here.
---
Margie Gillis floats into the Upper Westside restaurant for our lunchtime interview and I'm reminded of Billy Burke's entrance as "Glinda the Good Witch" into the Land of Oz. Glinda appears as a wondrous ball of energy arriving from somewhere up North. Gillis, whose glow precedes her, hails from Montreal (with dual citizenship in Canada and U.S., she reminds me).  I think the analogy works.
For decades the international dance-going public has appreciated Gillis' poetic, full-hearted performances.  A pioneer choreographer/performer in the solo realm, she's had an illustrious 46-year dancing career.  But today we're talking about the choreography she's created for the Paul Taylor Dance Company, Rewilding.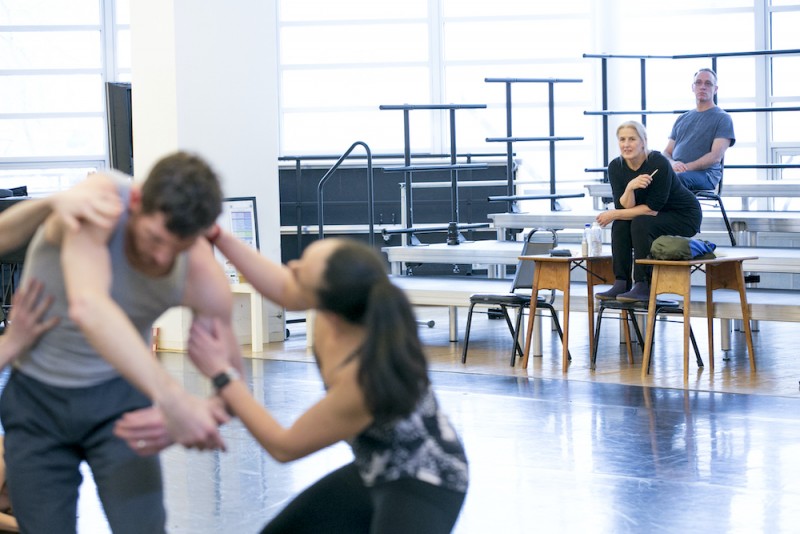 Margie Gillis in Studio working on Rewilding  with PTAMD; Photo by Whitney Browne
Gillis has had a special relationship with the Taylor Company ever since her brother Chris joined the group in 1976. (Christopher Gillis, a brilliant Taylor dancer, died in 1993 of complications from AIDS—a tragic loss for the dance world.)
Gillis remembers:
"When Chris first got in the company, I also moved to New York to study, with a grant from the Canada Council. Chris would come home at night and do everything he'd learned that day for me.  He'd say, 'Do you believe it?  I am so exhausted, I can't even think straight.' Then he would do the movement all over again. And again.
I asked to watch rehearsal one day. It was Cloven Kingdom, and Chris put me back-against-the-wall in that old, little grungy studio on Broadway.  As I sat there watching Paul choreograph, I was overwhelmed.  I started falling forward until I ended up sitting right next to Paul's chair watching everything. What I didn't realize then, was that that was the place reserved for pet dogs.  
At the end of the rehearsal, Paul looked down at me and said, 'so you're the little sister.'  And it stuck. I may be 66 now, but I'm still the little sister.
Before he died, Paul asked me to create something for the company. I was the last person he asked, which was touching to me."
Margie Gillis in the Studio with PTAMD, rehearsing Rewilding: Photo by Whitney Browne
Gillis is excited about seeing her work in Lincoln Center's vast space. In June of this year, when the dance debuted, at Manhattan School of Music, some of the 17 dancers in the company had to take their bows in the wings: there simply wasn't enough room.
But more than the luxurious space, it's the current crop of Taylor artists that she raves about, calling them, "brave dancers, pouring themselves into work."
"In the company that Chris got into," says Gillis, "absolutely every body type was different and that was thrilling for me to watch. I took that as a real crystal. I love it that the company now is starting to look really varied again."  
And, according to Gillis, they are not afraid to show vulnerability and throw themselves into a way of rehearsing completely different from Taylor's. Where Taylor was explicit, requiring the dancers to perform steps exactly as taught, Gillis guides the company to "... a wilder way" in her work.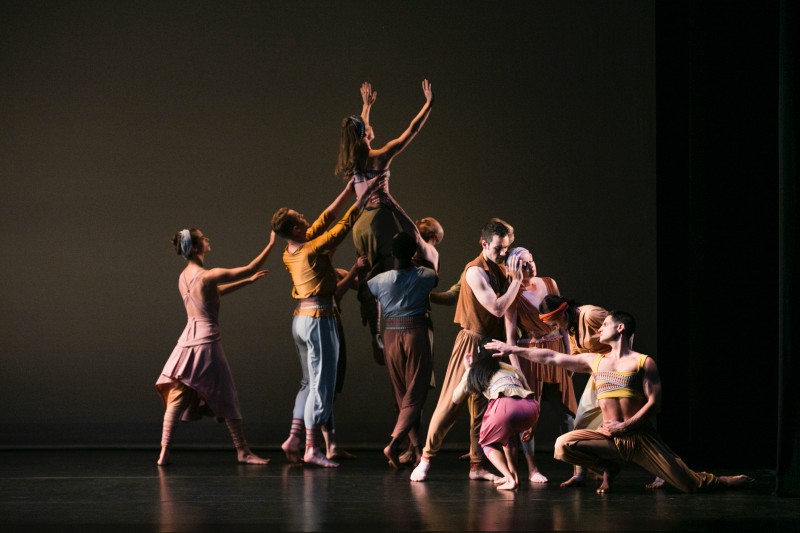 Paul Taylor Dance Company in Margie Gillis' Rewilding: Photo by Whitney Browne
 She asks the artists to embrace all the vocabulary that's lived in their bodies through their years of working with Taylor. Then, combined with her round, lush movement and pointed improvisations, they must take it out for an adventure.  So, she says, "it becomes rivers, and streams, and fields, and people searching." 
In other words, Taylor all over, mixed with Gillis, the dancers, and the untamed world.  It's a new approach to the legacy of Taylor, a  foray towards a new understanding.
Ever since she was a young artist, Margie Gillis has been exploring.  She investigates movement and creates rituals of improvisation to discover the natural architecture, the inherent geometry of a work. She looks for the organic path that a dance needs to take.
"You never get bored, do you?" I ask.
"I am not bored. If anything... I'm always  thinking. There's always some plan or methodology that I'm eager to test, shape, or see how it moves in dance—how it can transform. Looking at ways to express things that are honest and vulnerable…How do we work in a manner that engages spirt, emotion, intellect and corporal intellect, body wisdom?"
Margie Gillis in the Studio with PTAMD, rehearsing Rewilding: Photo by Whitney Browne
"You have a passion… this idea pushing up … and suddenly, like a plant, it pushes out in the world and grows out into its manifestation. Then off it goes."
---
The Dance Enthusiast's DAY IN THE LIFE covers the stories behind dance/performance and creates conversation. For more behind-the-scenes stories from NYC and beyond, click here.
---
The Dance Enthusiast - News, Reviews, Interviews and an Open Invitation for YOU to join the Dance Conversation.