Related Features
Advertise With Us
Make an impression — place an ad on The Dance Enthusiast and receive thousands of eyes on your work every week. Learn more. 
Contribute
Your support helps us cover dance in New York City and beyond! Donate now.
The Dance Enthusiast Takes Class (...and Writes About It)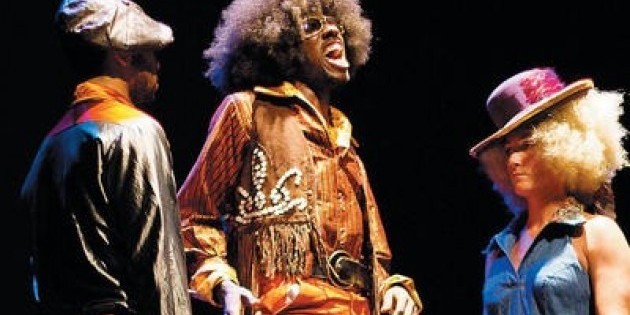 Tara Sheena Takes Class with Raja Feather Kelly
The Dance Enthusiast Takes Class and Writes About It
Dancing, class-taking writer ,Tara Sheena for The Dance Enthusiast
---
The Class: Raja Feather Kelly's Modern Class
Location: Dance New Amsterdam
280 Broadway, 2nd Floor (entrance on Chambers St.)
212.625.8369

The Days and Times: Varied
The Cost: $6.50/class ($5.50 for DNA members)
What You Should Bring: Your biceps, quick thinking, and willingness to use your mind as much as your body

Why Tara Attended:
Raja Feather Kelly, a fellow contributor to The Dance Enthusiast, keeps busy as a bi-coastal boy. As a member of Seattle-based zoe I juniper and New York-based David Dorfman Dance, he is constantly on the move and juggling the companies' respective styles and demands (see, "My Own Private Black Swan" http://www.dance-enthusiast.com/features/view/224). Naturally, I was interested to see how Raja would synthesize all his current work into one cohesive class.
---
Raja In Action



The quickest two hours of my life!
Upon entering the studio at Dance New Amsterdam, I couldn't help but notice Kelly's frame. He is strikingly lean. Imposing. Instantly, I was anxious. What havoc can this stretched-out-skeleton of a dancer wreak on my 5 foot 2 inch frame? I didn't have to wait long for my fears to be put to rest.
Kelly seamlessly eases the class into work by guiding us with images of sensation and direction. He constantly encourages, "remember how this feels" and urges us to find our own way of doing. This individualistic mindset feeds into the extended final combination. Kelly dances--sometimes improvised, sometimes not—and we collect whatever information we choose from his phrases. No surprise that his movement encourages sweeping passes, large extensions, and larger-than-life lunges: he uses those long-limbs to their fullest extent (and then some.)

By the end, I had created about four or five different versions of the final combination. The goals were my own. I never felt like there was anything I couldn't
accomplish. Kelly says it best," You know what to fill in, be confident in that."

And, I was. I left the class feeling empowered, refreshed, oh, and just a tad exhausted.
---