EMBODIED LIFE: Stanton Jacinto on Transitioning from Dancer to Social Worker and the Role Improvisation Plays in Both
Martha Graham once opined, "A dancer, more than any other human being, dies two deaths: the first, the physical when the powerfully trained body will no longer respond as you would wish." Yet a vast expanse lies between those two deaths. While some may never leave dance's thrall, going on to careers in education, administration, academia, or directorship, others chart an entirely new path that, at first glance, may seem far from the studio and stage.
But can one ever stop dancing? Not really. The Dance Enthusiast's EMBODIED LIFE tells the stories of those who've segued to new ventures and how dance continues to inform their lives. 
Video: Callie Hatchett Dance's And Then with performances by Heather Conn, Stanton Jacinto, and Raella Rayside
---
Communication and building relationships are ongoing leitmotifs in Stanton Jacinto's life. They've held fast from when he was a budding dancer in Hawaii to his time as a freelance, New York City-based artist. Now, he's a social worker at the Children's Hospital of Philadelphia's Adolescent Initiative, and these themes are more important than ever as he works with HIV-positive adolescents and young adults. Although Jacinto's current life may unfold in sites that seem far from the stage and the studio, the lessons he learned as a dancer inform him every day. "To me, many parts of my dancer-self continue to live each day . . . the non-physical aspects of dance never truly goes away — being creative, visceral responses to music and space, having compassion, commitment, and hard work," he says.
Stanton Jacinto and Heather Conn; photo by Callie Hatchett
Jacinto started dancing in seventh grade as part of his school's arts program. "At first, I was attracted to the athleticism. As I took dance more seriously, I became attracted to the aspect of communicating and emoting through movement." Tenth grade proved to be a literal turning point; he saw Alonzo King/LINES Ballet and thought, "Wow, I NEED to keep dancing! My body might not look like the dancers on stage, but if I can find a way to dance and move in a way that feels great to me, then why not?!"
That's exactly what he did, moving to New York, first as a student at New York University's Tisch School of the Arts and later as a dance artist managing the neverending hustle of gigs and rent. A glimmer of his future career occurred when he visited Lafayette, Louisiana, to perform a contemporary version of The Firebird with Clare Cook Dance Theatre. There, Jacinto taught dance and creative movement at the local schools, which kindled a desire to continue his education. "Teaching in schools and working with youths added to the spark in thinking about applying to graduate school more seriously."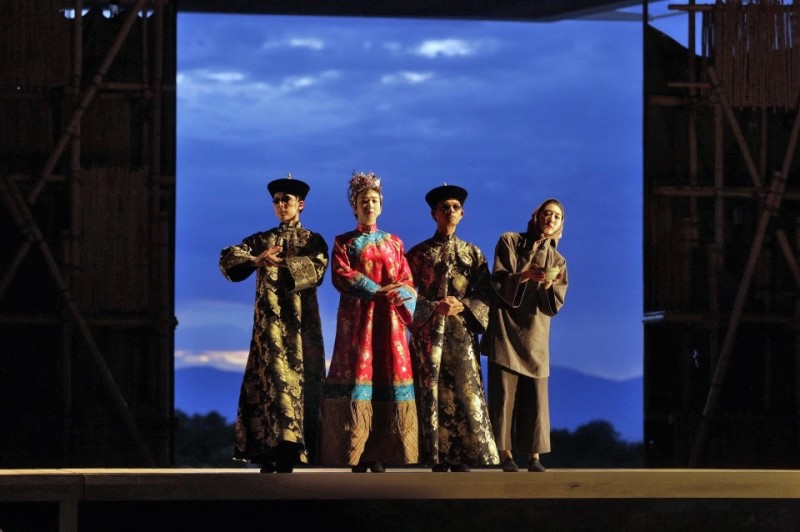 Stanton Jacinto performing with the Santa Fe Opera; photo by Ken Howard/Santa Fe Opera
After a half-dozen intense years, it was time to move on. "I reached a point where I began to feel exhausted — emotionally, financially, physically — having lived in New York for six years and needed a change." His next step, pursuing a Master of Social Work at the University of Pennsylvania, had been brewing for some time. "While freelancing dancing and living in New York, I also volunteered as an arts mentor teaching visual art to elementary students. This experience, alongside my time in Lafayette, solidified my interests in wanting to work with children and youth," he explains.
In social work, Jacinto identifies core values that overlap with dance, specifically the significance of relationships and the intrinsic dignity of humans. He clarifies: "Dance offers endless opportunities for relationship-making. Be it the relationships among a cast, with choreographers, with the audience, with the music, with the physical space. Dance also stresses the importance of the individual. Whether said 'individual' is the dancer themself, the choreographer, the audience, you name it, there is always an element of humanism that serves as a foundation for dance." For Jacinto, building community is at the root of both dance and social work.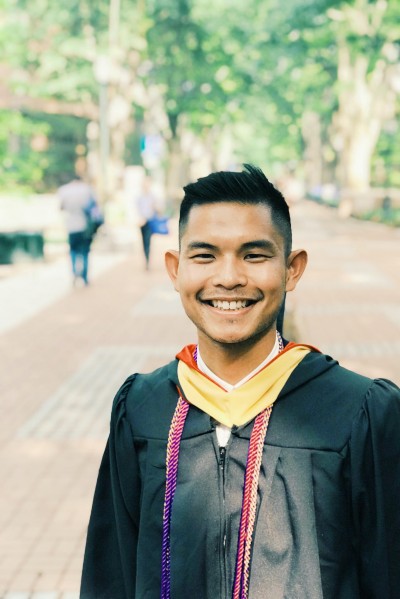 Stanton Jacinto graduating from University of Pennsylvania; photo by Shelly Hong
Improvisation is a dance tool that he wields regularly in his job. "Social work entails a lot of creative problem-solving and improvising. Sometimes things work, and oftentimes, things don't. But the main tenet is that improvising, in the context of dance and social work, involves elements of exploring, assessing, and collaborating to reach some kind of solution or response," he says. 
For instance, at the beginning of a session with a patient, he'll use a framework of questions to check-in. It can go to plan — or not. Because he works with adolescents and young adults, their original concerns may need to be re-prioritized or they may have pressing issues that exist outside the check-in. "And this is where improvisation comes in — working to meet the patient where they're at in order to address and support needs and concerns that are of utmost importance to them. It very much has an aspect of partnering and being able to follow their lead and consistently listening to and finding ways where I, as their social worker, can offer a sense of guidance and support," Jacinto clarifies. 
Stanton Jacinto and Caroline Dietz; photo by David Hatchett
To those who are on the fence about leaving dance for another career, Jacinto counsels, "My biggest advice is to go for it! In the last few years, I've learned to accept and appreciate that being a 'dancer' or even an 'artist' is more than just being able to perform in front of an audience or choreograph in a studio. It may sound cheesy, but to me, life is one big dance, the music is your heartbeat, and the world is your stage . . ."

---
The Dance Enthusiast's DAY IN THE LIFE covers the stories behind dance/performance and creates conversation. For more behind-the-scenes stories from NYC and beyond, click here.
---
The Dance Enthusiast - News, Reviews, Interviews and an Open Invitation for YOU to join the Dance Conversation.