DAY IN THE LIFE OF DANCE: Farewells at New York City Ballet, Featuring Ask la Cour, Lauren Lovette, and Maria Kowroski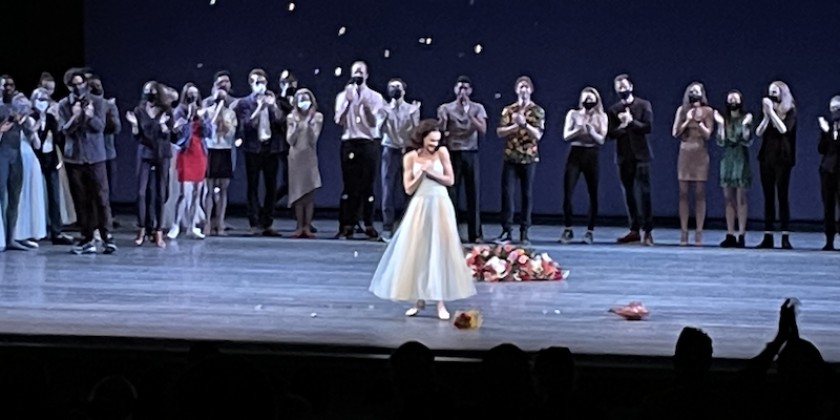 Opus 19/The Dreamer, Amaria, Serenade
Monumentum pro Gesualdo, Movements for Piano and Orchestra, Rotunda, Chaconne, After the Rain
Chaconne, Opus 19/The Dreamer, DGV: Danse à Grande Vitesse, Amaria, Slaughter On Tenth Avenue
---
The tradition of New York City Ballet Farewells is well-honored. When principal dancers reach their 40s or have danced in the company for 20 years, give or take, it's time to go. A few at the pinnacle may dance 30 years and longer. 
The principal is lauded in a final weekend performance. Fans and fellow dancers rightfully celebrate illustrious careers. Deeply felt hugs and an abundance of flowers presented by colleagues, accompanied by streamers, confetti, and numerous ovations are bestowed upon the leave taker. While no one wishes a principal to leave, their special day is worth attending.
Ask la Cour during his farewell curtain call; Photo by Catherine Tharin
It is no wonder that there is overwhelming nostalgia for the departing dancer. Audience members follow dancers' careers for years, and these dancers become part of the fabric of a balletomane's life. Dancers are admired and tracked similarly to sports stars. Unlike watching your favorite team on TV, to see the ballet, one must attend the ballet. This aliveness in the theater defines an ineffable rapport between the audience and the performer. With few exceptions, dancers grow up before the audience's eyes by taking on new roles and perfecting old ones. Dancers rise through the ranks of apprentice, corps de ballet, soloist, and finally, if they're fortunate, to principal. Night after night, they prove themselves in challenging roles.
And what of the retiree? After years "at the office," where do they go?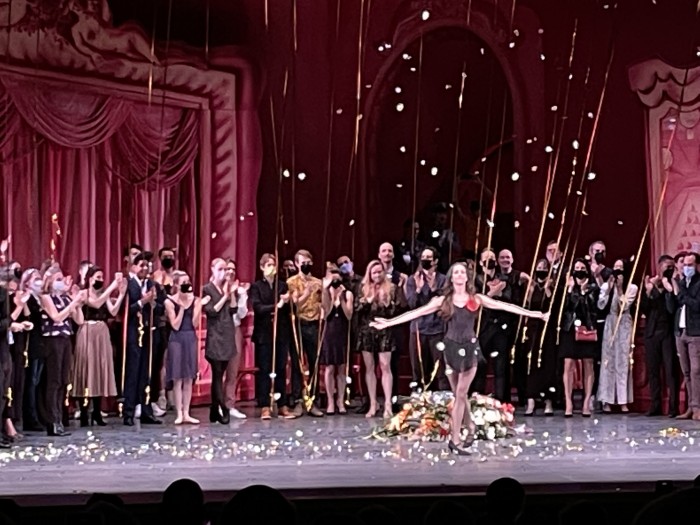 Maria Kowroski during her farewell curtain call; Photo by Catherine Tharin
The life of a dancer is brief. Extraordinary commitment is required. There are years of training, rehearsing, performing, and often contending with injury. Retiring from dancing causes what-happens-next anxiety. The transition is huge, and each must make their own way. The daily trek to Lincoln Center and dancing with a company that, for many, remains a life-long aspiration, is over. No more daily company classes, no more rehearsals, no more ovations, and no more press clippings. In addition, unlike other countries that offer benefits to retiring dancers, the U.S. offers no monetary support.
Former principal Heléne Alexopoulos, whose lush dancing is notable, shares, "The reality is that, as your artistry deepens over the years, oftentimes, your athletic (physical) prowess does not. It's terribly hard to stop dancing, but ideally, you want to be asked why you're retiring and not when."
Roles that were yours are presented to younger dancers. You are overlooked for casting in new ballets. There is always a dancer ready to replace you, fast on your heels. Even though the inevitable is nigh, no dancer wants to be called into the director's office and told, "It's time."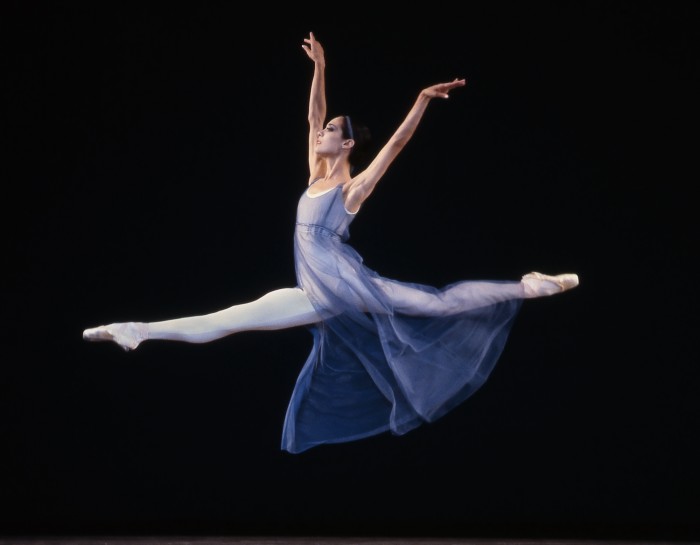 Heléne Alexopoulos; Photo by Paul Kolnik
"Retiring is one of the few decisions that a dancer has the ability to control," says Alexopoulos, "I can't control a lot, but I can control this, and in your heart of hearts, you know. There are the conflicting emotions of grief and relief." 
When did the tradition of the Farewells begin? Hard to say, according to NYCB. There were onstage acknowledgments of final performances dating to the 1980s, but no record of Farewells exists prior. George Balanchine, the world-renowned choreographer and co-founder of NYCB, was unattached to farewells. He did, for instance, honor 50-year-old Melissa Hayden's final season with a new ballet choreographed for her and a bouquet at the premiere. Perhaps, he found Farewells – regard of the final day - trivial when dancer and choreographer were devoted to one another for decades. 
There are currently 19 NYCB principals in a company of 90. Six will retire in the 2021-22 season, including Abi Stafford, Lauren Lovette, Ask la Cour, and Maria Kowroski in October. Gonzalo Garcia departs in the winter, and Amar Ramasar, in the spring. Due to the pandemic, Farewells planned for the past two years were shifted to this year.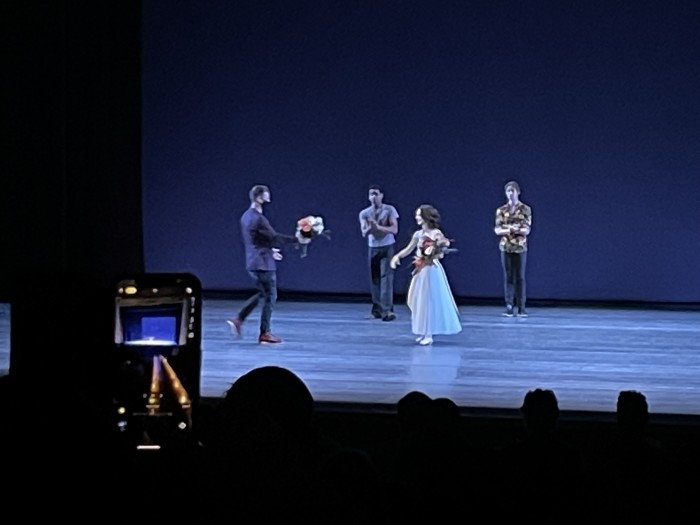 Lauren Lovette during her farewell curtain call; Photo by Catherine Tharin
The four who retired in October have plans. Stafford, mother and law student, is slated to become a criminal defense attorney. Lovette will continue to develop her choreographic and dancing career. La Cour will return to the Royal Danish Ballet to teach and coach the apprentices. Kowroski, also a mother, presumably will keep her doors open to opportunity.
Kowroski, noted for her long and esteemed career, planned this retirement before the pandemic. Her fully realized Sunday matinee performance emphasized her notable characteristics from sultry to abstract to humorous to tutu roles.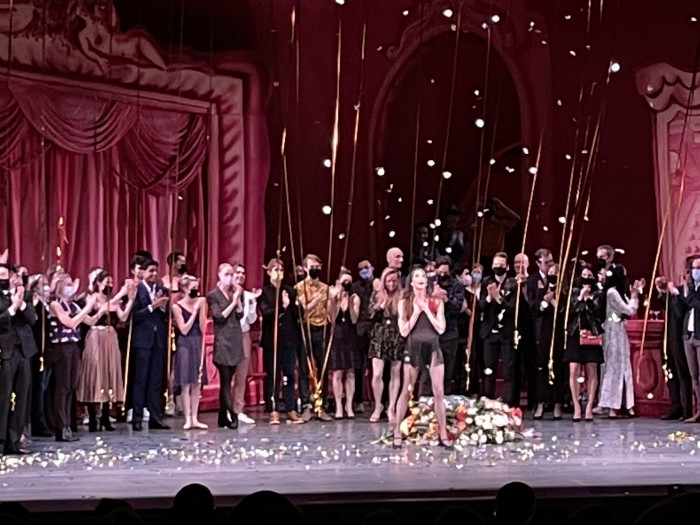 Maria Kowroski during her farewell curtain call; Photo by Catherine Tharin
Of the Farewells I attended, Kowroski, tall and lanky, has garnered the most serious fan base. The man sitting next to me raised his binoculars each time she appeared and clapped exuberantly after her every appearance. He seemed to represent the sold-out Koch Theater. 
Kowroski was featured in four of five dances on this Sunday matinee. She danced on each October Farewell program, as well. Most engaged in the duet, Amaria, sensitively partnered by Ramasar, Kowroski explores extreme angularity with choreographer Mauro Bigonzetti. This movement vocabulary goes beyond Kowroski's legendary go-to high kicks and leg extensions. To me, who often found her performances at arm's length, she felt revealed.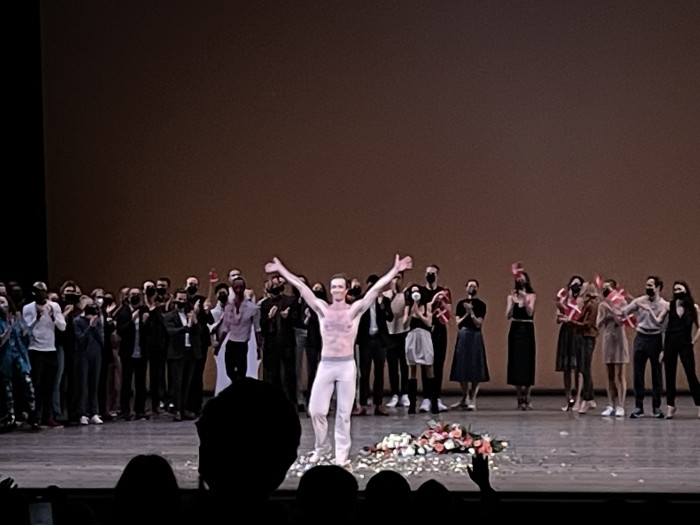 Ask la Cour during his farewell curtain call; Photo by Catherine Tharin
In contrast to Kowroski's aloofness, 29-year-old Lovette is warm and accessible. Because Lovette decided to leave NYCB precipitously, it seems she chose from an already-programmed repertory. The ballets on this Saturday matinee program never gave us an unimpeded view of her strengths. In Jerome Robbins' Opus 19/The Dreamer, Lovette appeared and disappeared as the misty vision of the excellent protagonist, Joseph Gordon. Kowroski, headlining Amaria, upstaged Lovette on this and Stafford's program. The final work, Serenade, Balanchine's first dance for the company in 1948, now for a cast of 26, saw Lovette as one of three women soloists. 
However little featured, Lovette's charms shine through, as evidenced by 32 dancers individually walking from the wings to offer well wishes. Damian Woetzel, a well-known male principal and now the President of the Juilliard School, bounded downstage to toss a bouquet at her feet.
Ask la Cour and Maria Kowroski in Monumentum pro Gesualdo and Movements for Piano and Orchestra; Photo by Paul Kolnik of a previous performance
"Ballet is Woman," stated Balanchine. In his oeuvre, male dancers accompany and present ballerinas to the woman's best advantage. La Cour, considered a debonair and sensitive partner, partnered two ballerinas on his final Saturday evening program: Teresa Reichlen in two Balanchine duets, Monumentum pro Gesualdo and Movements for Piano and Orchestra, and Christopher Wheeldon's duet After the Rain with Kowroski. Despite mostly a secondary role, one is drawn to la Cour's stateliness, beautiful lines, and easy, full movement. This dancer never fails to please.
Farewells are considered high points in the season, given the production values. Ultimately, though, the performer, basking in acclaim, stands alone. Heather Watts, the vivacious prima ballerina exemplar who took her final bow in 1995, rhapsodizes, "A once in a lifetime night. With so many memories and people surrounding me. I distinctly remember tying my pointe shoes for my last Valse Triste. It felt completely surreal."  
Once the curtain falls, the role of principal ends, and life, in whatever guise, begins anew.
---
The Dance Enthusiast's DAY IN THE LIFE covers the stories behind dance/performance and creates conversation. For more behind-the-scenes stories from NYC and beyond, click here.
---
The Dance Enthusiast - News, Reviews, Interviews and an Open Invitation for YOU to join the Dance Conversation.