DAY IN THE LIFE OF DANCE : Pentacle Looks Back On 45 Years of Arts Management in "Four Artists' Movement Through Time"
Gus Solomons, Jr., Surupa Sen, Davalois Fearon and Ephrat "Bounce" Asherie, Show and Tell
When we attend a performance of any sort, rarely do we wonder how the artists' management  is set up. "I'm  sooo curious, who do ya think does their books?" is not an often asked, or particularly sexy question. "Direct deposit, or mailed paper checks? Hmmm."
We might want to know who runs press so we can send fan mail, get an autographed picture, or in my case, write an article. The play and the players are the thing, after all. And, if you started asking me about accounts at a show, I might just have to switch seats.
The practical aspects of performance careers are largely invisible. Yet without the nuts-and bolts support provided by managers  of tours, press, schedules, finances, and contracts etc., many of the great people  we flock to see onstage might never have arrived there.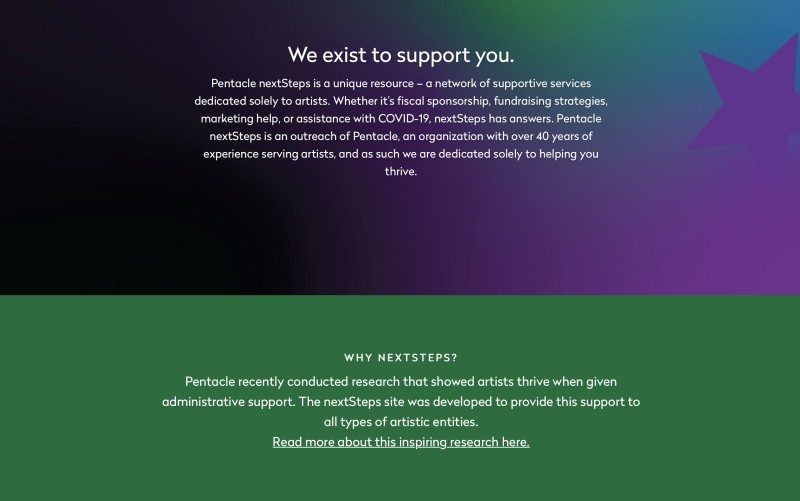 NEXTSTEPS, one of Pentacle's Newest Programs.
Nobody knows this better than the team of artist/administrators who work at Pentacle.  Atypical of most commercial arts managing organizations, this group is not-for-profit and somewhat of a hybrid. Their offerings not only include traditional management and booking, but also support services and community education programs. Artists at every stage of their career stand to benefit from working with them. Since 1976, Pentacle has listened to the needs of performance artists and helped them to do what they do best — create.
In honor of their 45-year legacy of artistic support, Pentacle invited audiences to a free, live-streamed presentation on Monday, November 29th at 7pm. ( it is still online and able to be viewed on YouTube here.) Four Artists' Movement Through Time  features excerpts of past and present works by world-acclaimed and dance-community-beloved Pentacle artists: Gus Solomon's, Jr., Surupa Sen, Davalois Fearon, and Ephrat "Bounce" Asherie.  Anna Brady Marcus, a dancer/filmmaker/writer, who currently works as a grant writing consultant at Pentacle, will lead the conversation with these inspiring individuals.
Brady Marcus, who started out as Pentacle's booking assistant in 2001, is enthused about the diverse line up. "We really wanted to have representation from different years of Pentacle's history, and we also wanted to speak with artists whom we're still working with. With that in mind, one of the first artists we thought of was our oldest, longest-running artist, Gus, Solomons, Jr."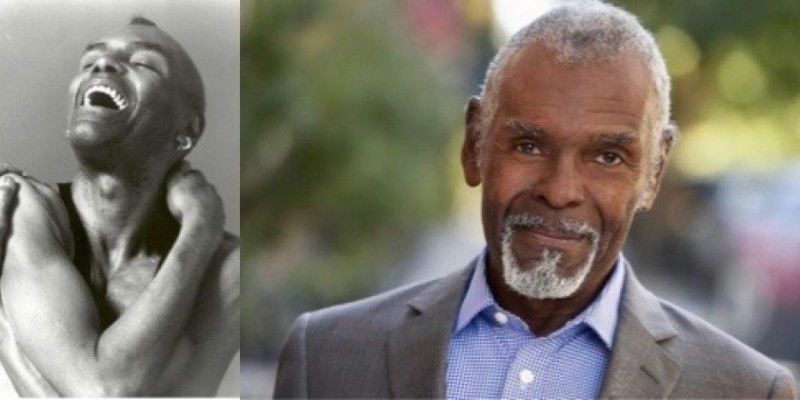 As it turns out, the indefatigable octogenarian, Solomons, Jr., — known for his notable dancing career with Martha Graham and Merce Cunningham, as well as his post-modern choreography, and his paradigm shifting company, PARADIGM — joined Pentacle the year it was inaugurated.
"He's been with us ever since 1976," says Brady Marcus. "Of course he's a legend, a wonderful artist who's been involved with the dance community for decades. And he's still out there performing. I mean, Gus was one of the hardest ones to nail down to a time for this program because he was like, "I'm in rehearsals. I can't.'"
Surupa Sen, artistic director of Nrityagram Dance Ensemble, a company dedicated to the art of Odissi dance, came to Pentacle in the 1990's. She credits the agency with her group's robust US following and with helping her expand her exploration of contemporary dance, which she incorporates in her traditional work.  
Screenshot of Surupa Sen of Nyritagram Ensemble from their
website
.
One of Brady Marcus' first memories as a newbie Pentacle employee, was being awestruck by Nrityagram's unique press kit (you may remember pre-digital times when all press kits were on paper?) "We had a whole shelf at Pentacle that just had press kits on it. And I would have to make more if we ran out, get them printed, and put them together. It was really, really important. Nrityagam's kits were shipped from India. Everything was individually wrapped in handmade paper with ties you'd open up. They unfolded in this amazing way, and were filled with gorgeous photos and bright colors. So beautiful. I thought, wow, this company is incredible."
A highlight of the evening's conversation will be learning about the village in India where Sen and and Nrityagram Ensemble dances. "They have this incredible retreat center where they live and work communally. Dance is the way of life there. They live, breathe and eat it. It's beautiful too, very spiritual and holistic."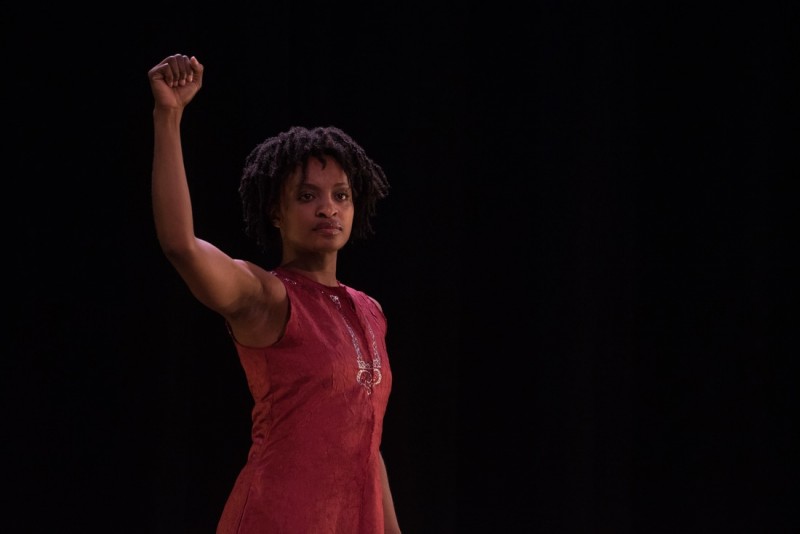 Davalois Fearon performing her own choreography in A Time to Talk; photo by Mark Frohna.
Davalois Fearon, famous for her powerful work with Stephen Petronio, joined Pentacle as an intern. She was dancing with Petronio and had just started to choreograph when she realized she knew nothing about running a company. Brady Marcus recalls Fearon saying, "Okay, I want to do this right. If I'm going to be a choreographer and start my own company, I want to know how to make a budget, how to write a grant. I don't want my dancers to suffer under some, ill-equipped leader who doesn't know how to manage anything."
"She joined our internship program as one of the oldest interns in her cohort.  With ten years of professional dance experience, she was working with all these young college students. But she learned a lot. And then, her work started take off." The team at Pentacle describes Fearon, now the artistic director of Davlois Fearon Dance,  as the model person to work with because of her curiosity and hunger for knowledge.
Ephrat Asherie Dance (EAD) in
Odeon; s
creen shot from the artist's 
website
.
Of the four artists chosen to participate in "…Movement Through Time," Ephrat Asherie, the polyrhythmic b-girl dancer and choreographer, is Pentacle's most recent connection. Asherie's career has ascended rapidly. Back in 2018 she won a coveted National Dance Project grant for Odeon, her collaboration with her pianist brother Ehud, plus seven dancers and four musicians. While the huge financial support and presenter interest that came with the grant was amazing, it was almost too much good fortune too fast.
"Ephrat didn't have the capacity to handle all of it. With all this new work coming in, she really needed help to professionalize everything and make it run smoothly. Now she is part of the roster of artists whose booking is taken care of by Pentacle and she talks about how her dancers are so impressed that they get their paychecks as direct deposits. So far, it feels like we've really helped stabilize her world."
"It was so special to bring the four of them together," says Brady Marcus, recounting the experience.  "What we've never quite done before is tell the story of Pentacle through the perspective of the artists we work with."
Perhaps the best people to speak with about the vital importance and "sexiness" of administration are performers themselves. In short, while we  look to artists to fly us to ideas beyond the confines of our day-to-day, they require ballast  to soar.
---
The Dance Enthusiast's DAY IN THE LIFE covers the stories behind dance/performance and creates conversation. For more behind-the-scenes stories from NYC and beyond, click here.
---
The Dance Enthusiast - News, Reviews, Interviews and an Open Invitation for YOU to join the Dance Conversation.