Alicia Graf Mack and Daisha Graf are "Made to Move"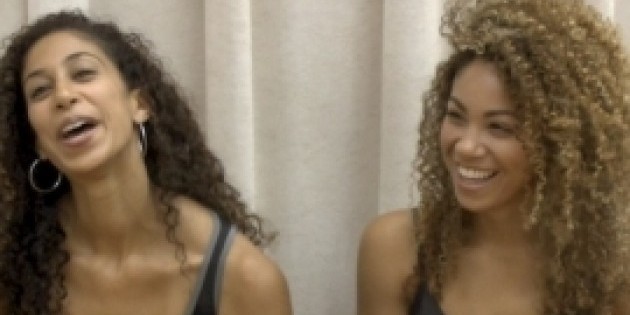 The Graf Sisters Talk About Beginnings, Teachers, Challenges, and Working Together as they Prepare for their First Joint Venture.
Dancing Up Close to the Sisters Graf
Video and Q+A
Christine Jowers for The Dance Enthusiast
---
Made to Move
- A Day of Dance created by Daisha Graf and Alicia Graf Mack
If you would like to be part of an amazing dance-learning opportunity, you will have your chance on
August 31, 2013
. On that day, Alicia Graf Mack, otherwise known as the face, or rather, the flying leap of the Alvin Ailey American Dance Theater (you can see her tilted, aerial side -split on posters all around the city), and her sister Daisha Graf, an up-and-coming, dancing, acting, recording artist, will offer
intensive classes from 9am to 5pm at New York City's City Center Studios, 130 West 56th Street
. This effort called
Made to Move
, marks the beginning of the D(n)A Arts Collective's creative activities ( by the way, that's D for Daisha and A for Alicia.)
The Graf sisters,whose movement experiences bring the concert dance and commercial world together, have created a rich extravaganza chock full of teaching stars. In addition to themselves, guest master instructors will be Renee Robinson of Alvin Ailey American Dance Theater, Ronald K. Brown, the Artistic Director of Evidence, Rhapsody James, choreographer for Beyonce, the Pussy Cat Dolls,and the Jonas Brothers, as well as celebrity voice coach, Ankh Ra Amenhetep, from MTV's,
Making the Band
.
The busy workshop will calm down for a lunchtime panel set up specifically to discuss the ins and outs of the professional artists' life and allow for students ask questions."This is not the easiest profession; so it's good to have some positive reinforcement, remarks Daisha Graf, "I think (we) should share knowledge and spark flames. It's important. We are all in it together."
FOR REQUIREMENTS AND HOW TO APPLY TO CLASSES,CLICK THIS TEXT)
---
Sisters in Movement and Words
Alicia and Daisha Graf Talk About Their Very Different Careers and Share Some Dance Improvisations
Christine Jowers for The Dance Enthusiast: How did you get involved in the arts?
Alicia Graf Mack: Ever since we were little we listened to music and we (were exposed to) art appreciation. Our mother (Marcia Graf) is a Renaissance woman. She is a professor by trade (of Social Work at Howard University) and she was always singing and making costumes. She ran a modeling school which was in the same building as a dance school, and she took me there in the evenings when she taught. I would look on and watch the little girls take ballet. Eventually the teacher said, "This kid is always outside imitating...just let her in." I was still in diapers.
Daisha Graf: I remember being in class around four or five. Our parents were just amazing, allowing us to be involved in any creative thing we wanted to be involved in: theatre camps in the summer, dance camps, we were both in piano lessons, choir, recorder - anything and everything.
DE: How did you decide to create D (n) A Arts Collective and this first workshop?
AGM: Both of us have had such amazing experiences with various teachers who have pulled things out of us. I would have never thought that I could do hip-hop, but I had a teacher who said, " No, you can do this. You have a natural sense of rhythm and you can move. You can do this."
I think a lot of dancers can get stuck in a certain style, so we wanted to reach out to dancers and let them know that the sky is the limit....
Our workshop is for people who are transitioning into the professional world or who have established their place but are trying to reinforce their sense of who they are. We are hoping to make transitions easier...to answer questions
DG: I find there is a weird separation of teacher and student or choreographer student... It's good to create a community. Who are you going to talk to when you have questions? This is not the easiest profession; so it's good to have some positive reinforcement...I think (we) should share knowledge and spark flames. It's important.
AGM: And I think it will be good to hear the challenges we've all been through. Many of the people teaching and sitting on the panel, and of course, the two of us, have had major challenges and major obstacles, and that's part of the story that people need to hear.
DG: ...We are all in it together. That's the bottom line.
Alicia Graf Mack Discusses Her Challenges with Arthritis.
DE: Tell me about your retiring from Dance:
AGM: ...I left dance twice... (First because of problems related to arthritis.) During this time, I received a BA from Columbia University. I studied history there and loved that major because I love to read and write... When I applied to Columbia, I had no idea what my other talents, strengths or passions were because I had been studying dance for so long and then went right into the professional world. I loved my professors. Thy honed my talents and encouraged me. My time at Columbia was a healing time.
I wrote my senior thesis on the first ten years history of the Dance Theatre of Harlem from a financial perspective. I also worked at JP Morgan doing corporate marketing, so my mind was already starting to transition. It was all new. I could leave the dancing behind and not be so depressed. I was moving in a different direction. At the same time, I knew something was missing, and as soon as my body started to heal, I wanted to move...
DG: teases, imitating, "I wanna go to class."
AGM: First it was a choreography class. I figured I could choreograph on someone else, so I attended a choreography class at Columbia. The next semester it was modern, then it was ballet and it snowballed... I'm very grateful.
I left dancing twice, first it was for Columbia, the second time I moved to St. Louis (Alicia informs us the second move was also "about a boy" her then fianc, now, husband) and got an MA in non-profit management. So I have an administrative side and an artistic side.
DE: Who were some of your most influential teachers, I know we can't mention all of them.
Alicia Graf Mack on Her Early Training at the Dance Theatre of Harlem
She discusses Arthur Mitchell , Virginia Johnson, Donald Williams, and Lorraine Graves


DG: Kevin Malone used to dance with Philadanco and started teaching at the school that we grew up in, the Ballet Royale Institute of Maryland. I was at a point in my dance training where I knew I wasn't going to be a ballet dancer. I knew I needed ballet to be a foundation, but I wasn't going to be in New York City Ballet. And I was really over it.

 

It wasn't until Kevin came, when I was 13 or 14, (that things changed). He introduced me to modern dance, and he said, "Don't let anyone tell you can't do anything. You have a raw talent, I see it."

 

He encouraged me to go and audition for the Ailey Summer Intensive. I came to New York and (studied) African dance (and other forms) I wasn't exposed to all those styles before, but I saw, "Wow I can still dance and use what I learned, but move into a different field." I studied hip-hop and it spiraled. Kevin Malone was really a key key mentor in my life. A person who said, "Stick with it." I needed that mentor and that positive figure.

 
Daisha Graf Dancing
Rhapsody James is also mentor of mine. She was the one commercial teacher and choreographer that took me in when I started with hip-hop and street jazz classes. I was in her class twice a week every week. I would ask her, "How do I do this? Get an agent? Get seen?"

She said, "Just keep coming to class."

So I just kept going to class.
AGM: (When I was dancing for) Complexions, I met Carmen de Lavallade who was on the board. She is a woman who is an absolute beauty. She has so much information and is one of my biggest idols... She encouraged me when I wasn't going to dance anymore. "You have a special talent, you can work in corporate America any time, but the time is now and you should really explore your artistry."
I took it to heart. When someone like Carmen de Lavallade says that to you, you say, "OK."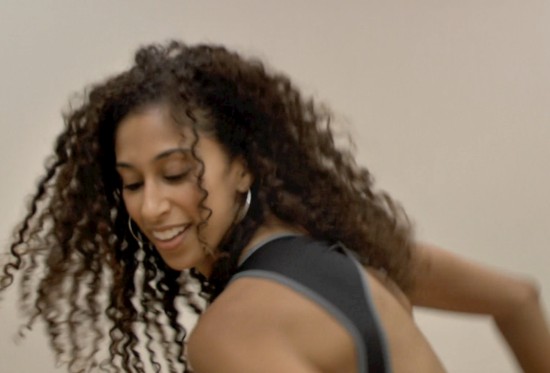 Alicia Graf Mack Dancing
 
DE: We know that teachers have helped you but what about being sisters in the same business? Has that helped?
AGM: I talk to my good friends who are not in the dance world and tell them about my fears, challenges, pressures and anxieties. They kind of understand it, but no one understands like your sister who thinks like you, knows you, and knows your background. And, who is also in the dance world, in the arts world - this competitive field.
We have lived the same experiences at one time or another. We have the same sensibilities. We are not highly competitive dancers. We like to challenge ourselves... but we are not the (putting) glass in shoes type.
Working with Daisha on this project has allowed us to spend more time together. We talk to each other everyday...What has been so beautiful for me is ,as the big sister, I have seen Daisha grow up to be this beautiful, talented, very strong aware woman. I remember Daisha has always had an inner fire, like a quiet storm. When she was growing up people wondered if she had a personality. I would say, "oh yeah, she's just not ready to share it." Now, seeing her tap into every aspect of herself, it has been an amazing experience for me.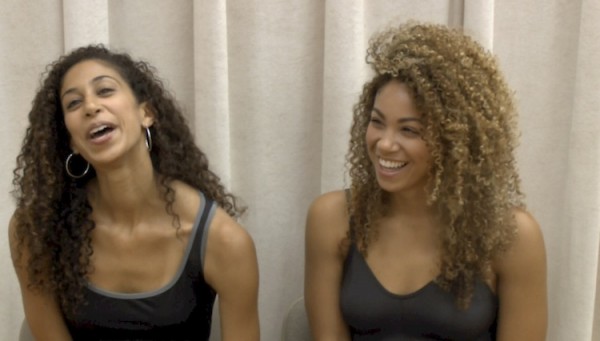 Alicia Graf Mack and Daisha Graf During Our Dance Enthusiast Interview
DG. The way I express myself on stage is how I get everything out. People would say, "There are two different people here. You're scared to talk, but then you go out on stage your'e like a lion or something." Growing up I had the best role model. She was always on it. There are certain people in life that are born to do what they do, and I really feel like Alicia was born to dance and to move and to inspire people. She knew that. It was instilled in her in the womb. She came out dancing. What an honor for me to have that person to look up to.
---
The Dance Enthusiast Footnotes:
Requirements for Made to Move:
*Open to Male and Female Dancers age 16 and above
*Must be an advanced level or professional dancer
*25.00 Fee( lunch will be provided during the panel discussion)
How to Apply ( Space is Limited)
1.Create a 1 to 2 minute video showcasing your talent. Be fun and creative.
2.Upload your video to YouTube and send the link to DNAARTSCOLLECTIVE@gmail.com
3.Include in the email the link to your video, your full name, age, phone number, email address, and the place where you dance or train
4.One full scholarship will be awarded based on video submission.
---