Dance Up Close to Artists of the Rhythm in Motion Festival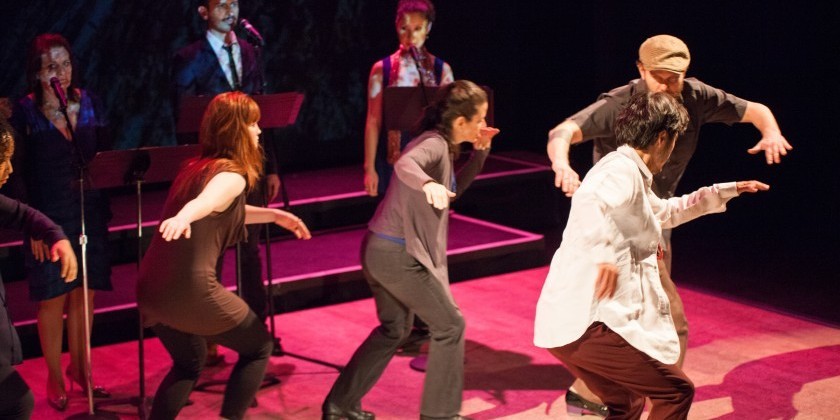 Presented by the American Tap Dance Foundation
Directed and curated by Tony Waag
The Theater at the 14th St. Y
344 East 14th St and 1st Ave, Manhattan 
Shows run April 8th-12th (for time and program information, click here)
Go to Brown Paper tickets, for ticket information on Program A and Program B.
---
From April 8 through 12, the American Tap Dance Foundation (ATDF) will present Rhythm in Motion, its annual showcase of new work by New York City tap dancers. Rhythm in Motion includes works by emerging and established tappers alike, and aims to highlight the rich diversity of contemporary tap dance.
Originally called the American Tap Dance Orchestra, ATDF was conceived by master tapper Brenda Bufalino, and founded with the help of Tony Waag and Charles "Honi" Coles. Tony Waag now serves as ATDF's artistic director, and he is also the director and curator of Rhythm in Motion.
The Dance Enthusiast spoke to Lisa La Touche and Cartier Williams, two of the choreographers whose work will be featured in Rhythm in Motion. Both La Touche and Williams will be showing excerpts from longer pieces they are working on.
Rhythm in Motion/Tap Poetry, Stories and Style
---
Both choreographers spoke fondly of dancing with tap dance greats like Gregory Hines, Brenda Bufalino, and Jimmy Slyde. They emphasized the sense of community and family they feel within the world of tap dance. Williams and La Touche also shared their thoughts about tap dance's dual status as a music and dance form.
Family and Legacy in Tap Dance
---
"The rhythm, the beat, is my number one thing," said Williams. "But, at the same time, I also like to dance. I like to use my whole body, I like to tell stories with my body." Williams also studied ballet for several years, which he said is something that "always stays with you."
"Music is first for me, but we happen to be in a dance art form," said La Touche. "I try not to put too many restrictions on lines and shapes in the body, but I love the option that we have to create a shape or an image. We can play with the visual we're creating, but it's still inside the music."
Improvisation Vs. Choreography
---
Rhythm in Motion will also feature ATDF's Tap City Youth Ensemble, furthering the sense of legacy and community expressed by Williams and La Touche. Performances will take place at the Theater at the 14th St. Y, and a special Tap Talk Back is planned to follow the 3p.m. show on Saturday, April 12.
A Minute of Feet/American Tap Dance Foundation
---
Rhythm in Motion - Program A
Chloe Arnold, Michelle Dorrance, Derick Grant, Lisa La Touche, Jason Samuels Smith, and Nicholas Young 
Tuesday, April 8th (7pm & 9:30pm)
Wednesday, April 9th (7pm & 9:30pm)
Thursday, April 10th (7pm)
Rhythm in Motion - Program B
Brenda Bufalino, Felipe Galganni, Susan Hebach, Michela Marino Lerman, Max Pollak, Tap City Youth Ensemble, and Cartier Williams
Thursday, April 10th (9:30pm)
Friday, April 11th (7pm & 9:30pm)
Saturday, April 12th (3pm & 7pm)