IMPRESSIONS OF: koosil-ja in "I am capitalism"
at The Kitchen

koosil-ja/danceKUMIKO
Dance, Music and Song: koosil-ja and Geoff Matters
Percussion: Brian Chase
Video: Geoff Matters
Dancers: koosil-ja, Geoff Matters, Melissa Guerrero
Lighting design: Ryan Seelig
Costume: koosil-ja
Production and Stage manager: Nick Bixby
Administration Support: David Or
Organized by Matthew Lyons
---

Unexpected transformations jostle with familiar images in I am capitalism, which choreographer and dancer Koosil-ja Hwang (now simply "koosil-ja") and her company danceKUMIKO unveiled on Thursday, at The Kitchen. Who could foresee the startling ways she evolves as the soloist in this two-hour-long performance piece?
The new work begins with a spare, post-modern reduction of The Rite of Spring, in which a plainly dressed koosil-ja assumes the role of The Chosen One, the ballet's sacrificial victim. Then she passes through an ecstatic Candomblé ritual. She reinvents herself as an elegant trend-setter; and ultimately she joins two other dancers in a futuristic locale, where with shuffling steps they trace the outline of a mysterious triangle glowing on the floor.
The familiar, if still surprising, parts of I am capitalism belong to the other dances koosil-ja incorporates as she meditates audibly in voice-overs, quoting from French philosopher Gilles Deleuze and agonizing over the misery she encounters daily while out walking through the city. The choreographic texts she samples include Millicent Hodson's imaginative re-creation of Vaslav Nijinsky's Rite of Spring for the Joffrey Ballet; Martha Graham's Appalachian Spring; and the swirling dances of an Afro-Brazilian religious ceremony. Video screens stationed at the corners of the performance space, a blank square of linoleum with the audience seated on all sides, allow us to compare these borrowings with the originals.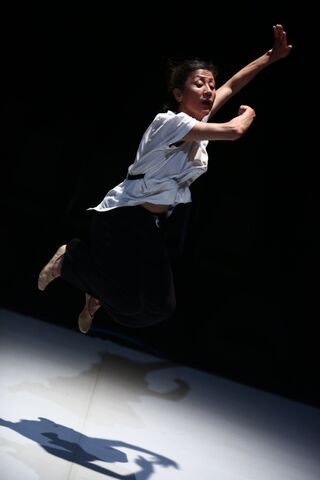 Photo: Paula Court
Mixing these dances amounts to a provocation, since they have different---even contradictory---purposes.  I am capitalism does not aim to soothe, however. Adding to the charivari of impressions is Brian Chase's finicky and grating electronic music, which comes to the fore in interludes accompanied by reedy singing; the peculiar costumes koosil-ja designed for herself; and Brian Seelig's lighting plot, which imprisons the dancer within a shrinking environment.
There's a lot to take in, for sure. But as a counterpoint to the accumulation of images and ideas in I am capitalism, we have the naturalness and simplicity of the dancer's body.
Koosil-ja describes herself as a "machine," born into our capitalist system and a cog in this vast engine. Yet especially in the first part of her dance we see something else---not a machine at all, but the compact figure of a woman approaching middle age, struggling as she leaps and twists repeatedly to make the scything gesture of The Chosen One. The leap completed, she lifts her face as if searching for a reprieve that never comes. Similarly when she stands in place and flexes her hands, stretching her fingers and balling them into a fist, or when she lies face-down on the floor and pounds it in despair, we can see and feel her humanity. This empathy makes the exhausting drill of the "danse sacrale" vivid and terrible. Koosil-ja pauses to catch her breath, but those who know The Rite of Spring understand that a council of elders has ordered her to destroy herself. Capitalism, koosil-ja implies, is also a dance of death that those in power have foisted upon us cruelly and stupidly. For the elders clad in bear-skins, merely substitute economics professor Lawrence Summers or British PM David Cameron. The list of grotesque and implacable public figures is a long one, so take your pick.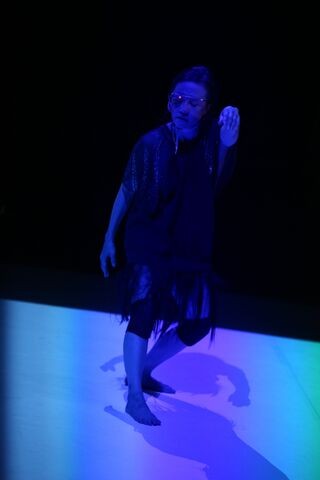 Photo: Paula Court
The reality of the body offers an antidote to airy philosophizing, and that goes for Deleuze's theories, too.  It feels nifty to equate what Deleuze calls the "delirium" of capitalism with the throes of Nijinsky's mesmerized and helpless victim, but a personal story that viewers are sure to recognize is even more compelling. Outraged Koosil-ja recalls the foul odor of the homeless person she encounters on the street, and the sight---particularly upsetting to a dancer---of the indigent's swollen and untended feet. This pungent memory of injustice follows us as we navigate I am capitalism's twists and turns.
Koosil-ja hopes to free herself by recasting her body in another image; and this is where the Candomblé comes in. As an alternative to the ritual of death, she offers a ritual that symbolizes cultural survival and at least a partial victory over the economic system that once enslaved millions (and would relish the opportunity to do so again).  Returning to the stage clad in a yellow smock and fringed headpiece, koosil-ja swishes, prances and points a finger at her cheek. She appears young and lovely again, and as she spins her face glistens with sweat. When steps from Appalachian Spring join the Afro-Brazilian moves in a mashup, the dancer comes even closer to transcendence. No longer reverential, she breaks through the fourth wall touching audience members seated in the front rows.
Photo: Paula Court
Having just seen the consequences of blind adherence to tradition in Rite, surrendering to Candomblé may not be for everyone, however. The rhythm of the drums is seductive, but driving out one magic ritual only to replace it with another feels suspiciously like a cop-out.
The dance isn't over yet, furthermore; and koosil-ja's enemy proves relentless.
Returning to the scene after another costume change, she is now attired in a sparkling black ensemble. Not only that, she's wearing Google glass. She looks wealthy and successful, but will her trendy accessories save her? Soon koosil-ja is hopscotching from one elusive square of light to the next. When she dances in the center of the floor, the light and space contract around her until she barely has room to move. In the darkness, she releases a handful of coins that scatter and roll away; then she follows a single token with her finger chasing it around the floor in a small spotlight until that light tarnishes and becomes a shadow. Still in her lovely outfit, she has to scrub the stage on hands and knees. She toils at it, until she grows so weary that she falls asleep still scrubbing. The legions of the over-worked will understand.
Photo: Paula Court
The final episode of I am capitalism feels like an epilogue set in the future. By now koosil-ja has become thoroughly mechanized and has lost the use of her arms. Paradoxically here she wears a cassock with three sleeves, not two, but the sleeves are empty and the garment binds her like a straightjacket. Two additional dancers, Geoff Matters and Melissa Guerrero, precede her similarly attired. Together they march along the edges of a three-pointed floor plan, and trail along the interior lines that divide this diagram into sections, looping around a circle in the middle. The action is monotonous and dehumanized, but as they march the rattling percussion grows louder and louder until some internal malfunction sends the dancers careening off their track in separate directions.
Capitalism may appear omnipotent and unassailable, but never mind, this dance seems to say. The "delirious" economic machine, internally logical but utterly mad when regarded from outside, is fated to destroy itself in the end.
---
Share Your Audience Review. Your Words Are Valuable to Dance.
Are you going to see this show, or have you seen it? Share "your" review here on The Dance Enthusiast. Your words are valuable. They help artists, educate audiences, and support the dance field in general. There is no need to be a professional critic. Just click through to our Audience Review Section and you will have the option to write free-form, or answer our helpful Enthusiast Review Questionnaire, or if you feel creative, even write a haiku review. So join the conversation.