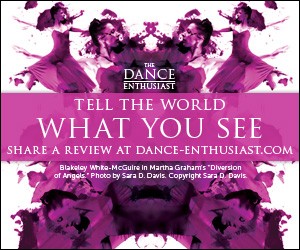 Related Features
Impressions of Gina Gibney's "Folding In" at Gibney Dance Agnes Varis Performing Arts Center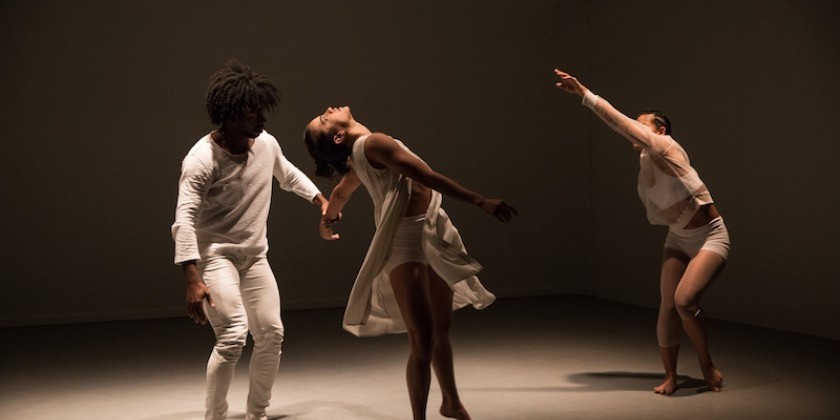 November 3, 2016
Choreography by Gina Gibney in collaboration with Nigel Campbell, Kassandra Cruz, Amy Miller, Devin Oshiro and Brandon Welch
Music by Hildur Guðnadóttir
Lighting Design by Asami Morita
Costume Design and Styling by Felicity Sargent
---
Gina Gibney's Folding In marks several important milestones. It's the first work she's made on the new Gibney Dance Company, it's the first work she's presented at the new Agnes Varis Performing Arts Center, and it's the first work she's made since 2013. It's also Gibney's first collaboration with lighting designer Asami Morita — the most auspicious of these milestones. 
The company performed in Studio C in clean, white costumes by Felicity Sargent. Folding In was smooth and swift — a pleasure to watch but ultimately forgettable. Based on the kind of work that's normally presented in Gibney Dance's programs, I'd expected something more experimental. Instead, the work is technical, and performed almost too easily by Gibney's solid company. She takes few risks, and instead relies on steps that look beautiful on the dancers. Without Morita's evocative lighting the evening would have been dull. 
Such unaffected choreography could be considered a bold choice, especially since Gibney's work hasn't been seen in a while. It doesn't rely on theatrical contemporary dance trends, like spoken text, to carry it forward. In its best, most straightforward moments, Folding In exposes the dancers as humans. But the choreography often swerves from simple to simplistic: a reach or a glance becomes trite because there's no relationship among the dancers to give it meaning.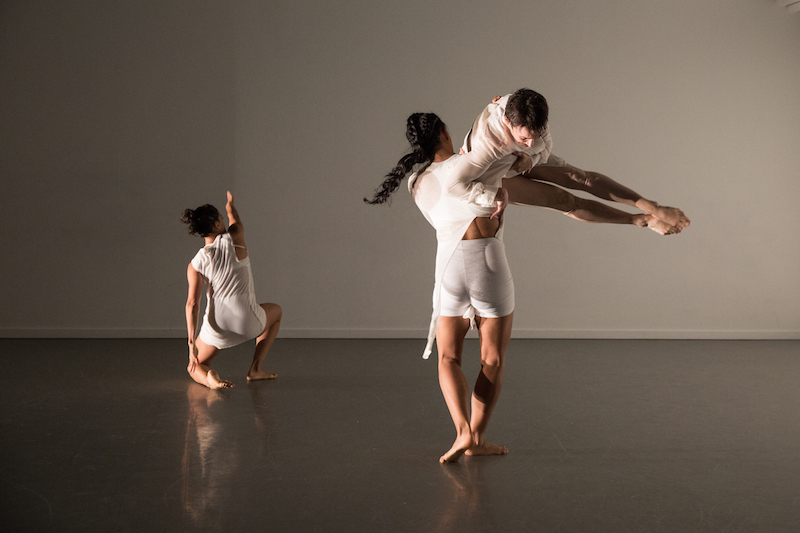 Kassandra Cruz, Devin Oshiro and Amy Miller. Photo: Scott Shaw.
The show is performed by three women and two men, all dynamic in their own right. The choreography makes use of the upstage wall, as the dancers pull themselves up, or dive down in a series of repeated penchés. There are many solos and duets, but little group work outside of the opening scene. After too many repeated formations and partnerships, the piece loses momentum. 
In one memorable moment, Brandon Welch lifts Amy Miller, so that she sprawls upside down or over his shoulder, unable — or perhaps unwilling — to touch the ground. Eventually, she slides down his body to balance on one of his feet, clinging to his side, as if a storm whips around them. In another moment, Kassandra Cruz repeatedly leaps sideways across Nigel Campbell's back, only to balance there, suspended. In the only all-female trio, Miller, Cruz and Oshiro move with blade-like arms and legs, a pleasing counterpoint to the rest of the work's flow.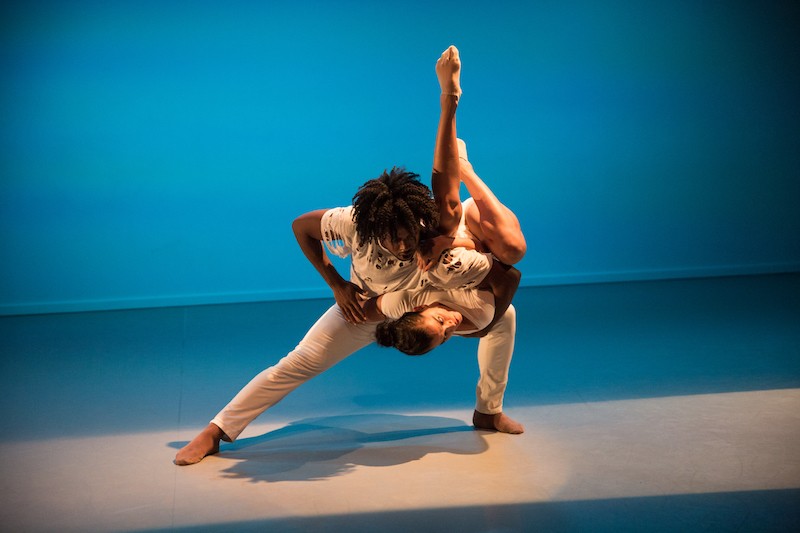 Nigel Campbell and Kassandra Cruz. Photo by Scott Shaw.
Morita's lighting deserves special recognition. Because the costumes are white, and there's no set, the mostly cool light dictates much of the Folding In's personality. It feels elemental, fresh and clean, like the morning after a storm. Lights brush the upstage wall with pastels that mimic an arctic sunrise and later shift to intensely saturated blues and pinks or a beam of yellow light, as if emanating from a doorway.  
This work could be longer, if only to give more time to the transitions. Technical duets and solos are interspersed with more gesture and, generally, interactions between dancers that feel like they live inside the world of Folding In, rather than as steps that could exist anywhere. 
---
The Dance Enthusiast Shares IMPRESSIONS/ our brand of review and Creates Conversation.
Check out our other IMPRESSIONS here and for more on Gibney Dance read here.
Share your #AudienceReview of this show or others for a chance to win a limited edition of Jordan Matter's book Dancers After Dark