A Dance Date Night with Brenda Bufalino: Dorrance Dance's "The Blues Project" Featuring Toshi Reagon & BIGlovely
Featuring Derick K. Grant and Dormeshia Sumbry-Edwards
Dancers: Michelle Dorrance, Derick K. Grant, Dormeshia Sumbry-Edwards, Christopher Broughton, Elizabeth Burke, Karida Griffith, Claudia Rahardjanoto, Byron Tittle and Nicholas Van Young
The Joyce Theater
November 15, 2016
Pictured above: Elizabeth Burke, Byron Tittle, Michelle Dorrance and Christopher Broughton in The Blues Project at The Joyce Theater.
---
In The Blues Project, Michelle Dorrance's eponymous tap ensemble (with choreographic contributions by Derick K. Grant, Dormeshia Sumbry-Edwards and Dorrance) performs alongside the uplifting Toshi Reagon, a folk and blues musician, and her five-person band BIGlovely. Together, in equal measure, they deliver a delightful, celebratory performance. It's especially enjoyable — and illuminating — with legendary tap artist Brenda Bufalino as my date, whom I talked to about the performance and tap's rich history.
Brenda Bufalino
In the opening section, Dorrance and her dynamic cast don't waste any time reaching a frenetic pace. Their furiously fast footwork ends quickly, oftentimes with a staccato pose that makes the dancers look frozen in time. The phrases may be brief, but these moments are short lines of poetry. Each packs a punch that sears into your brain. Bufalino says the trend of dancing short phrases is influenced in part by the late Gregory Hines' signature style and the prominence of improvisation in performance.
In the sections that demand unison, the ensemble punches out crisp rhythms even as they ratchet up their speed and energy. Bufalino appreciates these complex rhythms that develop into powerful counterpoint. Yet not one person embodies the steps the same way. Derick K. Grant hunches over while Dormeshia Sumbry-Edwards stands upright, her feet light and airy. Their contrast reveals each of their captivating personalities and their individual connection to the music.
Byron Tittle (foreground) with Elizabeth Burke, Christopher Broughton, Nicholas Young and Karida Griffith in The Blues Project at The Joyce Theater. Photo by Em Watson.
Sometimes, the dancers take a supporting role to BIGlovely. Violinist Juliette Jones stands center stage in a country-sounding tune. Later, drummer Allison Miller has the floor while the dancers walk at a trance-like pace — a simple yet beautiful scene.
These sparser episodes transition into ones that highlight Dorrance's wild approach to movement. Entering and exiting in an overlapping effect, the dancers, like pinballs, ping across the stage. They often slide backwards, narrowly missing one another in seamless fury.
Dorrance's improvised solo displays the power of her magnetism. She looks out into the crowd and makes the softest of hand gestures, signifying for us to echo Reagon. Yeah yeah yeah, we sing. "She's such a strong performer that she barely had to indicate that," says Bufalino. "All she had to do was look up, and they knew what to do."
Bufalino has watched Dorrance blossom into one of today's most sought-after choreographers. They met when Dorrance was only a teen studying in North Carolina under Gene Medler. She praises Dorrance's tap education, noting that not only were the students in Medler's youth ensemble exposed to exceptional choreography and technique, they also developed a deep understanding of dance's place in American history.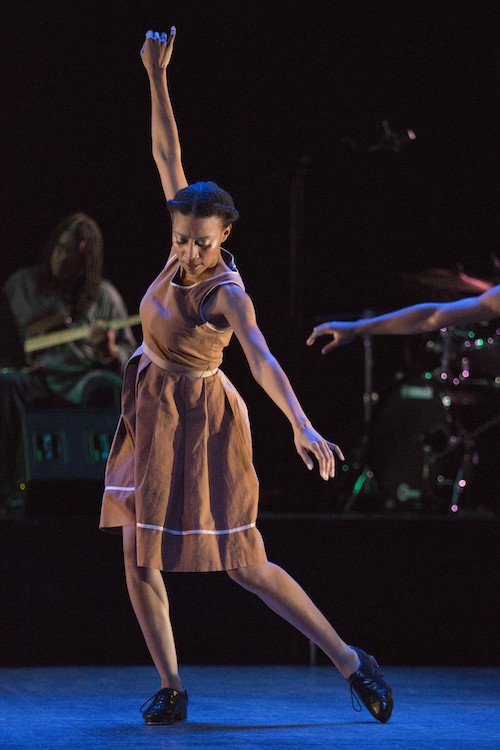 Karida Griffith in The Blues Project at The Joyce Theater. Photo by Em Watson.
Dorrance carries this knowledge with her as a choreographer. In The Blues Project, vernacular dances and steps abound. Some of these references are sadly lost to me, but Bufalino is quick to point them out. There's an energetic swing section where the dancers hop over one another and click their heels together. Musicians and dancers gather in a tight-knit circle as Karida Griffith performs a weighted African dance, her arms sumptuous undulating ribbons. The Charleston; Appalachian Flatfooting (looser and more physically expressive than traditional clogging, according to Bufalino); precarious falling off the logs (the dancers look like they're trying to kick their feet out from underneath them); and the shim sham all make appearances.
These moments and steps aren't arranged in an academic or pastiche way. Rather they meld together and reside comfortably in Reagon's music, which makes for an artful and masterful work. In a time when our country seems severely fractured, The Blue Projects celebrates individuality while reminding us of the rich and multicultural history of our country.
More about Brenda Bufalino:
Recognized throughout the world as a leading exponent and innovator in the tap world, Brenda Bufalino performs, lectures, and teaches master classes and workshops throughout the United States, Germany, Italy, England, France, Israel and Australia. She has appeared as a guest soloist in such prestigious arenas as Carnegie Hall, Avery Fisher Hall, The Apollo Theater, The Brooklyn Academy of Music, The Smithsonian Institute and the Kennedy Center. Ms. Bufalino performed in concert with the late Charles "Honi" Coles, touring America, England and France. A trailblazer in the renaissance of jazz and tap dance, she has been one of the guiding forces in the creation of numerous Tap Festivals, Summits, and Reunions. In 1986, in order to develop her choreographic concepts of tap fugues and counter rhythms, she created The American Tap Dance Orchestra. She has been awarded numerous National Endowment Fellowships and is a NYFA Fellow. Ms. Bufalino has been honored by the Tap Community in New York City and Boston with the prestigious "Flobert Award" for outstanding achievement, the  "The Tapestry Award" for her contributions to the field of tap dance, and a Bessies Lifetime Achievement Award.
To learn more about the history of tap
: check out Brenda Bufalino's
Screens Great Feats of Feet
, Documentary of Early 20th Century Tap Dancers that Launched an Astonishing Artistic Change of Course. The 1977 documentary film that she directed and produced, on
Sunday, December 11 at 3:00 pm at Rosendale Theatre
.  An extraordinary record of classic American jazz and tap routines from the 1930s and 40s--performance traditions which had been lovingly preserved by the Copasetics Club.  Admission is $10 for members, $12 for non-members and $6 for children 12 and under.  For directions or more information go to
www.rosendaletheatre.org
or call (845) 658-8989.
---
The Dance Enthusiast Shares IMPRESSIONS/ our brand of review and Creates Conversation.
Check out our other IMPRESSIONS here.
Share your #AudienceReview of this show or others for a chance to win a limited edition of Jordan Matter's book Dancers After Dark