Impressions of: Andrea Kleine's "My Dinner with Andrea: the piece formerly known as Torture Playlist" at New York Live Arts
February 9-11
Choreography by Andrea Kleine
Performed by Alison Ingelstrom, Michael Kammers, Neal Kirkwood, Andrea Kleine, Anya Liftig, Bobby Previte
Original score by Bobby Previte
Lighting Design by Madeline Best
---
After trekking through the freshly fallen snow, it's pleasant to enter New York Live Arts' lobby, which bubbles with warmth and anticipation. Unbeknownst to many, Andrea Kleine's My Dinner with Andrea: the piece formerly known as Torture Playlist has begun. Next to the bar, musician Michael Kammers croons on a saxophone. Composer Bobby Previte accompanies Kammers with the raspy vocals of Frankie Laine's "Rawhide"; his wooden clapper cracks the air with a whipping sound. The men decrescendo into silence as Carly Rae Jepsen's "Call Me Maybe" thumps into the forefront. Dancer Alison Ingelstrom struts through the standing audience with unflappable demure. Wearing skinny jeans and heels, she whips her ponytail, flirts with the audience, and punctuates swiveling hips with foot flicks.
"Call Me Maybe" remains on a tyrannical loop, much like Ingelstrom's movements, which coaxes us into the theater. You can't help but bounce along behind her. Increasingly, what we imagine to be the last remnants of Torture Playlist (as the work's title suggests) pelvic thrusts itself into exhaustion. Previte lays a white cloth over Ingelstrom's lifeless form, and My Dinner with Andrea is born.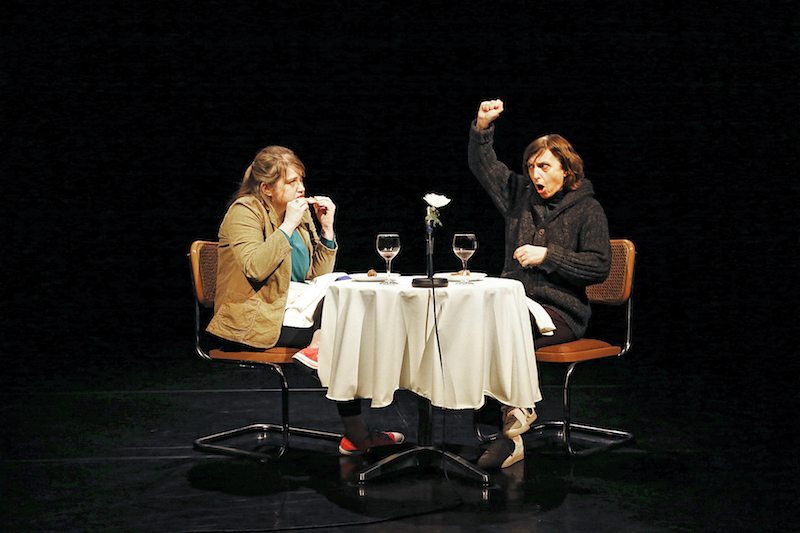 Andrea Kleine's My Dinner with Andrea: the piece formerly known as Torture Playlist; Photo: Paul B. Goode
The stage is preset with potted green ferns and a grand piano. Previte assists a stagehand in preparing an elegant table setting. Pianist Neal Kirkwood quietly glides to the piano. His musical serenade complements the restaurant scene for the evening.
Anya Liftig casually joins the performance from the audience. Legs crossed, holding a microphone, she shares a story mired in divorce, low-paid residencies, and the value of performance art. Soon our protagonist, Andrea Kleine, emerges from the opposite side of the audience to interrupt Liftig's confession. Together they journey to the table where they pensively sip red wine and eat quail. 
Kleine delivers a dry account of her capricious contemplations. She confesses her abandonment of Torture Playlist, a piece about exposing music deployed in the CIA's torture program. From there, down the rabbit hole we go to ponder the poignant, preposterous, pretentious, and pointless. She recalls Netflix, YouTube videos of school plays about Pocahontas, faux animal sanctuaries, and her affinity to Andre Gregory (one of the stars and writers of the 1981 film My Dinner with André). Connecting the not easily connected, she guides us to her to current work unfolding in the present.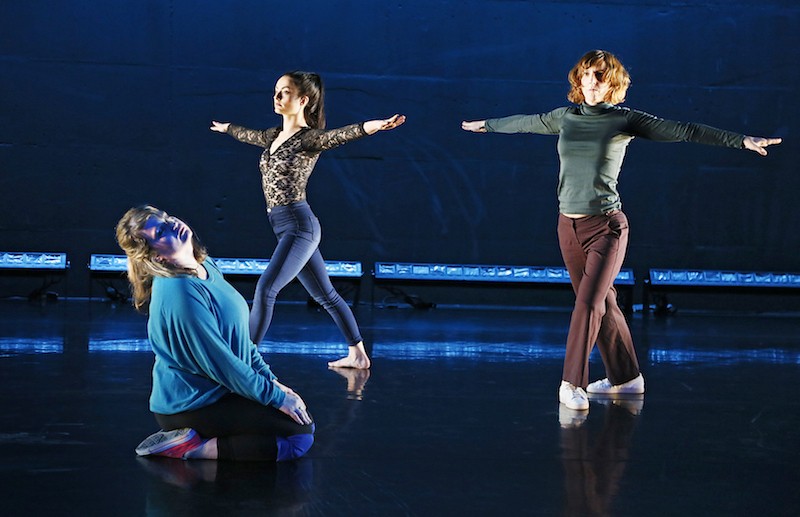 Andrea Kleine's My Dinner with Andrea: the piece formerly known as Torture Playlist; Photo: Paul B. Goode
Previte's music loop deteriorates during Kleine's monologue as silence rests more frequently between notes. Cool blue light replaces the warm spotlight. Dialogue shifts from the mouth to body. In slow motion, Kleine peels off her wooly brown cardigan. Liftig shifts to the floor. Ingelstrom emerges from underneath the white sheet. Kleine flexes her fist at the wrists, negotiating her body around concave shapes. The three slip into a symphony of familiar gestures obstructed by meditative pauses.
My Dinner With Andrea lays bare the politics of Kleine's art-making. By contemplating the what and the why it's happening, it becomes a piece about itself. Kleine's philosophical renderings reveal a thoughtful narcissist who occasionally nods to the work's inspirations and former intentions. Wondrously, whether through ad nauseam banter or a music playlist, Kleine reminds us that torture, when it comes to making art, is always close at hand.
---
The Dance Enthusiast Shares IMPRESSIONS/ our brand of review and Creates Conversation.
Check out our other IMPRESSIONS here.
Share your #AudienceReview of this show or others for a chance to win a $75 giftcard to Trader Joe's.