IMPRESSIONS: David Parker & The Bang Group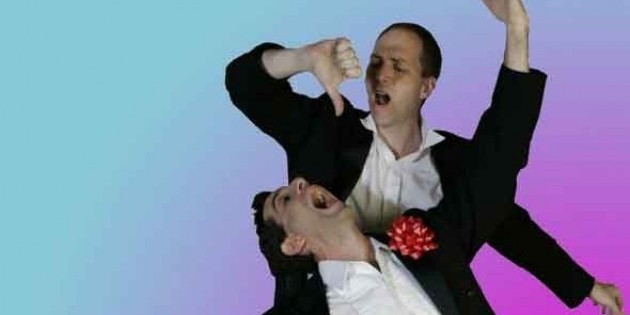 "Nut/Cracked": Dance Theater Workshop- Sunday Dec 19th, 2pm matinee
Choreography: David Parker
Performed by -The Bang Group: Jeffrey Kazin, David Parker, Nic Petry, Amber Sloan, Chelsea Ainsworth, Dylan Baker, Bryan Campbell, Megan Flynn, Samantha Geracht, Erin Gottwald, Aaron Mattocks, Amy Miller, Marissa Palley, Jennifer Sydor and Zack Winokur
Lighting: Kathy Kaufmann
Music: PI Tchaikovsky- jazz and popular arrangements, as well as traditional classical
---

David Parker, deft choreographer and secret vaudevillian, is the rhythmical ringmaster par excellence in The Bang Group's answer to the traditional Nutcracker, Nut/Cracked.

From a jocular Santa ( looking kinda like someone's dad in shaving cream) who deftly clicks his feet to jazzy beats while zestily singing Fred Waring's version of the Tchaikovsky's "Trepak"; to a tipsy uncle, savoring, hoarding and making music with the delicious contents of his wine glass; to a graceful gent in long tails, track pants and satiny-pink pointe shoes (with the ability to slurp a singular noodle precisely to the tune of the "Chinese Tea" variation) Parker refreshingly brings "The Nutcracker" down to earth. His co-director, Jeffrey Kazin, works with the ease and understatement of Fred Astaire. A crisp, clean, and detailed mover down to his glances, his nonchalance makes him a perfect foil to Parker's clown.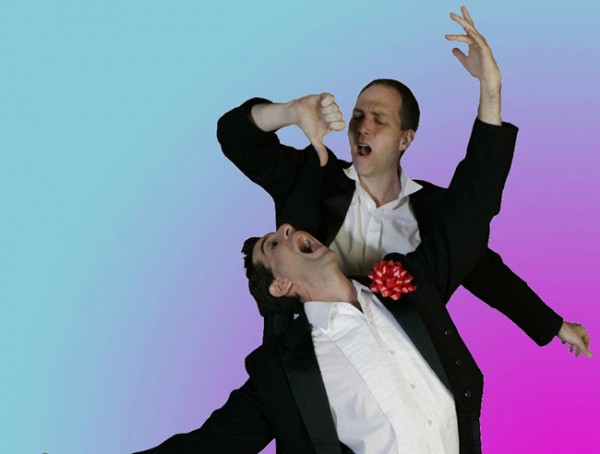 Photo by Nicholas Burnham /Jeffrey Kazin and David Parker
You expect with the name Nut/Cracked that you will be laughing at tradition. You expect a treacle-free zone. And you get what you expect. What you also get, which you don't necessarily expect in a downtown send up of grand ballet, is honest-to-goodness dancing that simply stands (swirls, leaps, and taps) on its own -- delicious and sugar free.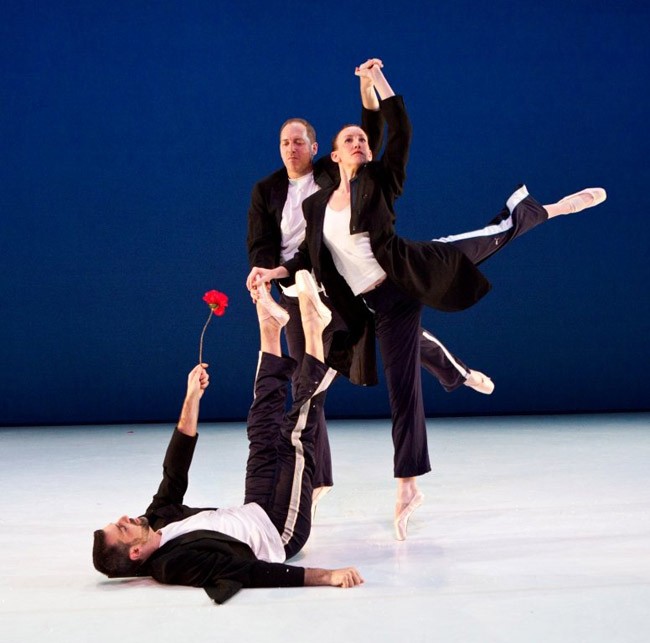 Photo: Yi Chun Wu/J.Kazin, D. Parker, A. Sloan
Droll choreography, expertly performed, riffs on the classical ballet. The Sugar Plum Fairy is presented as a slinky cat burglar with a flashlight that she uses to create follow spots for her feet, cleverly echoing the dainty precision of the original dances footwork. The variation is danced again by a too-cool-for-school trio lit in a green so bright they need to wear sun-glasses.
"The Waltz of the Flowers" moves gaily in exuberant waves of hay fever with entrances and exits punctuated by sniffles and achoos. Another version of this waltz is presented as a competitive, grandly noisy duet for dancers with bubble wrap.
In "Snow", the cast skates on "ice", slipping -kaboom- on their derrieres, only to arise in multiple spins and twirls, then melt  down into what appears to be an Esther Williams synchronized swimming variation, which suddenly morphs into a moment from Balanchine's "Serenade,"
The performers are wonderful dancing actors, jumping into their chores with ebullience whether they beat their legs together balletically or suck their thumbs.
And speaking of digits, some very talented kids from The Frank Sinatra School for the Arts (other schools on other days) sporting cool black tuxedo t- shirts executed a deeply felt and well-practiced choral finger wagging dance in a section all their own -- a nice touch.
The lighting in the "Snow" section is cool blue and white with snowflakes glittering along the back wall. One can almost smell the freeze in the air and taste snow. When the scene instantly shifts from winter to the hot, night clubby purplish-red required for the next number, "Boa," you appreciate the atmospheric magic of lighting designer Kathy Kaufman. She provides beautiful looks throughout.
Nut/Cracked is not so much about poking fun, but rather inhabiting it, fully.
Photo:Yi Chun Wu /Chelsea Ainsworth, Amber Sloan,Marissa Palley
Photo:Yi -Chun Wu/Members of The Bang Group
Photo:Yi -Chun Wu/Members of The Bang Group
---
The Dance Enthusiast Shares IMPRESSIONS/our brand of review, and creates conversation.
For more IMPRESSIONS, click here.
Share your #AudienceReview of performances. Write one today!
---
The Dance Enthusiast - News, Reviews, Interviews and an Open Invitation for YOU to join the Dance Conversation.