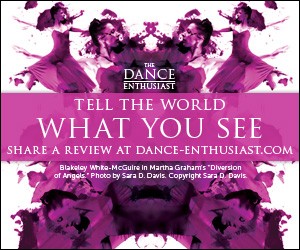 Related Features
IMPRESSIONS: Scottish Ballet at The Joyce Theater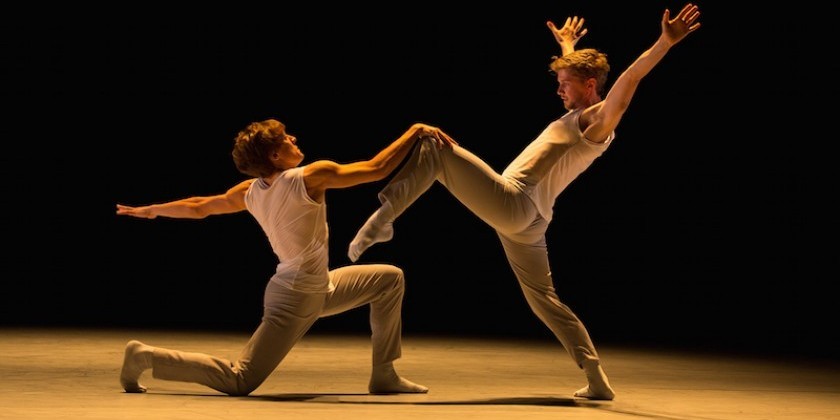 April 11, 2017
Choreography: Bryan Arias, Christopher Bruce, Christopher Hampson
Music: Bohuslav Martinu, J.S. Bach, John Adams, Dylan Thomas as read aloud by Richard Burton
Set and Costume Design: Bryan Arias, Marian Bruce
Pictured above: Jamiel Laurence and Andrew Peasgood in by Bryan Arias' Motion of Displacement.
---
You know how it goes: You never get a second chance to make a first impression. Behind that adage is the suggestion to present your best self when meeting someone new. But is your best self your true self?
Scottish Ballet makes its New York debut at The Joyce Theater with two US premieres and one piece created for Atlanta Ballet that it's performing for the first time. The company doesn't take any chances with its first impression. New York will think of Scottish Ballet what the company wants the city to think.
Scottish Ballet would like New York to think it has stylistic range. It can do pretty-in-pointe-shoes ballet. Artistic Director's Christopher Hampson's Sinfonietta Giocosa, set to Bohuslav Martinu's jubilant score, functions as Balanchine-lite with flexed-footed echappés and showy canons. It can do twitchy, angst-filled modern. Bryan Arias' Motion of Displacement shows ten dancers touching hands to knees, elbows, and cheeks to end the way they begin — downstage in a frieze of curved spines. It can do a nostalgic, wispy narrative. Christopher Bruce's Ten Poems uses sweeps of the torso and legs to evoke the words of Dylan Thomas as read aloud by Richard Burton.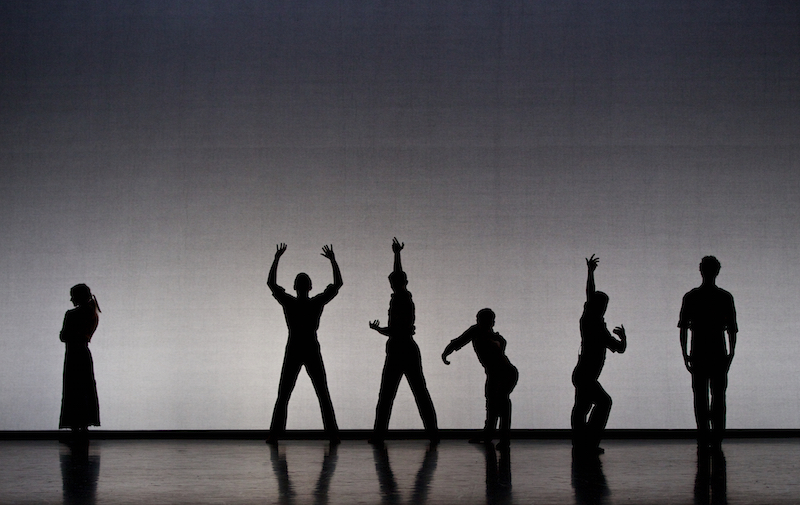 Christopher Bruce's Ten Poems. Photo by Andy Ross.
Scottish Ballet would like New York to think it has meticulous technique. It doesn't cheapen its excellence, though, with circus tricks or contorted extensions. Its crossed fifths, pointed toes, and squeaky-clean arabesques appear to be the result of acute diligence in which no detail escapes refinement. This tidy articulation enables each action to register as worthy, whether it's a rippling spine or a stately grand jeté.
Scottish Ballet would like New York to think it has a polite approach to physicality. It keeps its kinesphere snug, no movement bursting through this invisible bubble. When the dancers raise their arms in the garland of fifth position, their elbows almost graze their cheeks, ruining the cameo image found in more voluminous positioning. Jumps levitate genteelly rather than thrust feverishly. With no expanse in the bodily reach, the effect is miniaturized, too pedestrianized.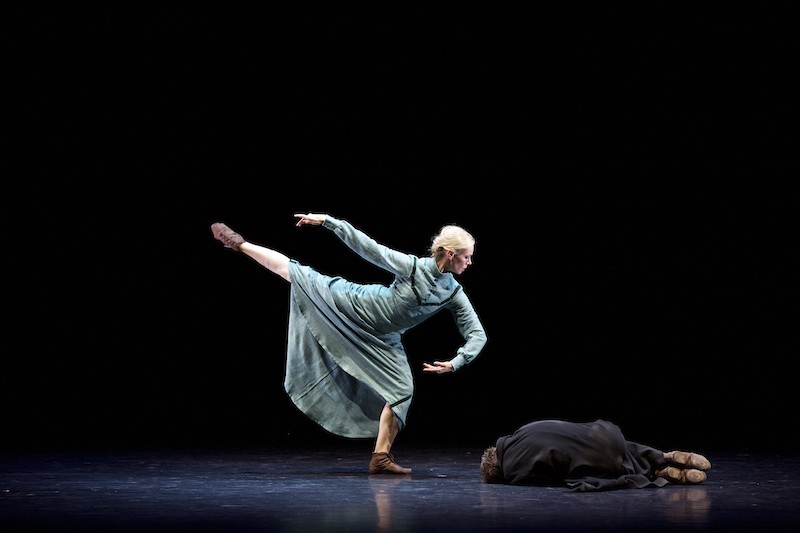 Eve Mutso and Jamiel Laurence perform The Hunchback In The Park in Christopher Bruce's Ten Poems. Photo by Andy Ross.
Scottish Ballet would like New York to think it has emotional chops. The dancers smile in Sinfonietta Giocosa, frown in Motion of Displacement, and smile and frown in Ten Poems. Sometimes, it reads as rehearsed — New Yorkers are suspicious of obvious emotion beyond righteous anger. But, more than not, it registers as real — dancers using their faces like they do other body parts.
Scottish Ballet makes a strong first impression. Yet it didn't win over this New Yorker. Some of it's due to the programming: lengthy (each piece needs cutting), derivative (Motion of Displacement is reminiscent of Stephen Petronio's recent Untitled Touch), and incorrectly ordered (Ten Poems should have come anywhere but last). Most of it's due to the performative restraint where risk is managed to the point of extinction.
Occasionally, the dancing takes flight — Andrew Peasgood in Ten Poems, Bethany Kingsley-Garner in Sinfonietta Giocosa, everyone at various points in Motion of Displacement — revealing a raw chutzpah that lurks beneath the polished surface. Now that Scottish Ballet knows New York, maybe next time it can take a chance with its second impression.
---
The Dance Enthusiast Shares IMPRESSIONS/ our brand of review and Creates Conversation.
Check out our other IMPRESSIONS here.
Share your #AudienceReview of this show or others for a chance to win a $75 giftcard to Trader Joe's.