Battle of "The Nutcrackers": Hip Hop, Nimbus Dance Works, and Brooklyn Ballet Tackle the Classic
December 14, 2017 / The Hip Hop Nutcracker / the United Palace of Cultural Arts, New York, NY
December 15, 2017 / Brooklyn Ballet / The Brooklyn Nutrcracker / Irondale Center, Brooklyn, NY
December 16, 2017 / Nimbus Dance Works / Jersey City Nutcracker / Frank R. Conwell Auditorium, Jersey City, NJ
---
A Christmas tradition for families across the world, The Nutcracker has evolved from its original story of the Stahlbaum family in Germany to include perspectives beyond Petipa's ken. Eschewing Clara's dream of growing up, these three productions focus on community and friends.
The Hip-Hop Nutcracker opens with famed rapper Kurtis Blow rocking the United Palace in a standing-room-only dance party that has parents reliving their glory days to the bewilderment of their children. Co-created by writer Mike Fitelson and director/choreographer Jennifer Weber, HHN takes Maria-Clara back in time to discover what will reunite her quarreling parents.
Though given a modern transcribing, HHN stays close to its musical roots. Rather than junking the classic score, the show utilizes much of the Mariinsky Theatre Orchestra's recording with DJ Boo's scratching mixed on top during climatic scenes, such as the battle with the Rat Queen. Opening and closing both acts as a soloist, violinist Emily Simone plays with great sweetness, as if she were crooning a lullaby to sleepy children.
The Hip Hop Nutcracker; Photo: Timothy Norris
Rooted in gestural storytelling, hip-hop substitutes wonderfully for pantomime. This production errs in fully utilizing that potential during its narrative passages by ignoring the rhythmic scheme laid out by Tschaikovsky's rich music. Traditional Nutcrackers deploy character-driven moments and interactions on specific musical cues in tandem with the score's rhythm. When Drosselmeyer shows Clara how to use the nutcracker, he does so to a loud clack in the music. Rather than following the notion, the dancers of HHN communicate their gestures quickly with no regard for the music. It all goes by so quickly that the dancers are left with nothing to do but repeat their gestures until the next musical cue. 
As the eponymous Nutcracker, Joshue "Beast" Figueroa's head-spins AND gravity-defying falls during the battle scene prove astounding. BUT this nut only truly cracks during Evan Moody's "Marzipan" variation. Put on the spot, he goofily shrinks in on himself and bounds across the stage like a hedgehog making foiled attempts at escape. With a Chesire-cat grin and masterful musical phrasing, Moody reveals new meanings to "The Dance of The Reed Pipes." Traditionally staged with a bevy of ballerinas echoing their lead dancer, Moody performs the variation as a solo that humorously bounces between the music's rhythmic passages like a basketball dribbling in place. Here, classical reinterpretation blossoms to fruition.
For The Brooklyn Nutcracker at The Irondale Center, Lynn Parkerson has expanded her production, which premiered as a two-person one-act last year. In most productions, Drosselmeyer is Clara's godfather who gifts her the nutcracker doll. Brooklyn Nutcracker's Drosselmeyer is a mad scientist dispensing gifts to neighborhood children who are visiting his attic laboratory. Task accomplished, we are off to the kingdom of divertissements.
The Brooklyn Ballet's Brooklyn Nutracker; Photo: Lucas Chilczuk
Parkerson overcomes the troublesome racial exoticism built into classic Nutcrackers with assistance from guest choreographers who contribute authentic cultural dancing or by outright substituting troublesome variations, like "Chinese." The benefits are immediately visible when Sira Melikian takes the stage for "Arabian" in an authentic and musically rippling belly dance of eye-teasing sophistication. Instead of following George Balanchine's mandate that something amuse the tired husbands in the audience, Melikian educates and invigorates the entire audience with her excellent undulations.
In lieu of twee pipe-blowing, "Marzipan" has four steppers swinging to a Caribbean vibe in delicious counterpoint to ballet dancers en pointe. Although its electronic music is jarring, Nakotah LaRance's "Hip Hop Hoop Dance" — with it daring catches and spinning loops reshaped to form new constructs — is the concert's most exciting feature. Thus far, that is what The Brooklyn Nutcracker amounts to: a series of fun production numbers in want of a plot. Here's hoping next year Parkerson will fix that.
Rounding off its 8th year, Nimbus Dance Works' Jersey City Nutcracker feels like a show in flux. Saddled with a talky libretto, this contemporary Nutcracker unwisely dispenses with pantomime in favor of a-play-with-dance approach. The result is an exposition-heavy adventure that never quite hits its stride.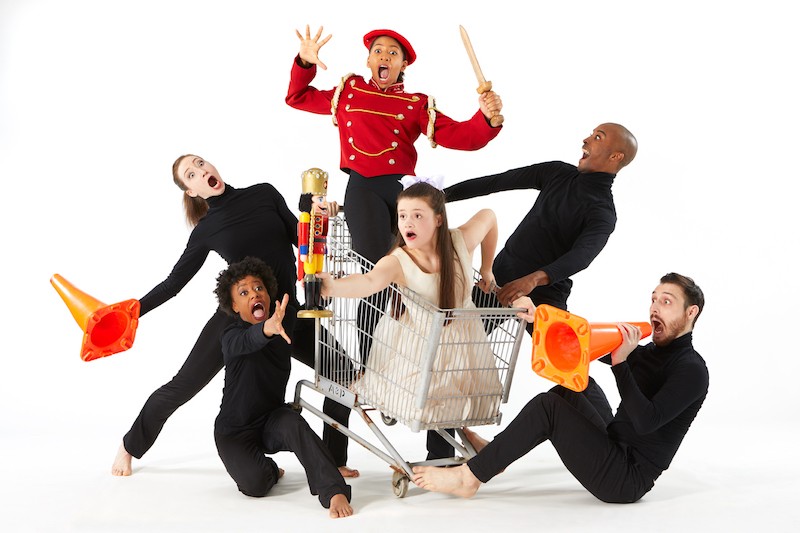 Nimbus Dance Works' Jersey City Nutcracker; Photo: Megan Maloy
Following the misadventures of Maria and Christina through a "dreary city" filled with amusingly earnest bullies and jaded politicians, the story finally gets out of its way to unleash Samuel Pott's vibrant interpretation of the score. His "Snow Angels" are led by the Statue of Liberty in the style of Isadora Duncan while "Spanish" is a trio of saucy friends out on the town. Where Pott's interpretation comes into its own is his "Waltz of The Flowers," which features an '80s street gang swaying after a fantastic Victoria Santaguida as "The Artist Formerly Known as Waltz Soloist."
Layering the waltz with José Limón-inspired swoops that send the dancers revolving around each other in their release, Pott overcomes the tiresome oom-pah-pah scoring and shows what he is capable of when he cuts past his script's political airs. Through Pott's tireless advocacy and direction, Jersey City is fast becoming a pure-dance destination. He should stick to that road map here.
While The Nutcracker season has ended, this classic score promises never to grow stale with fresh interpretations like these. Even now, I am excited for the innovations that next year will bring.
---
The Dance Enthusiast Shares IMPRESSIONS/ our brand of review and Creates Conversation.
For more IMPRESSIONS, click here. To read about another Nutcracker retelling, Butt-Cracker Suite! A Trailer Park Ballet, click here.
Share your #AudienceReview of performances for a chance to win a prize.