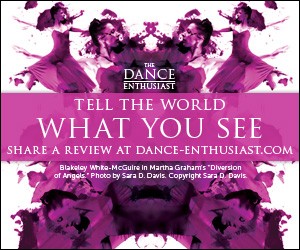 Related Features
IMPRESSIONS: Linked Dance Theatre's "Beloved/Departed" at The West Park Presbyterian Church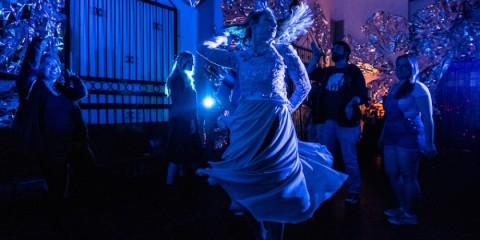 April 26-May 18
Original text and movement: Linked Dance Theatre
Direction: Jordan Chlapecka
Cast: Oliver Burke (The Muse), Jordan Chlapecka (Hades), Matt Engle (Charon/Hymen), Maya Gonzalez (Hermes), Joshua James (Orpheus), Chloe Markewich (Persephone), Rita McCann (Aphrodite), Kendra Slack (Eurydice), Kellyn Thornburg (Artemis), Calvin Tsang (Apollo)
---
Welcome! You are cordially invited to witness the life and death of love.
Linked Dance Theatre's immersive Beloved/Departed activates the story of Orpheus and Eurydice's wedding. In Greek mythology, Orpheus is a hero and musical savant; Eurydice is a nymph and daughter of Apollo. Legends suggest they marry, she dies on their wedding day, and he travels to the underworld to bring her back to life. He is under explicit instructions not to look at her until they have both reached the upper world. Suspecting foul play by Hades, Orpheus checks to make sure Eurydice is following him when he reaches daylight. She is but, not having crossed the threshold, vanishes back to the underworld.   
Beloved/Departed takes place at The West Park Presbyterian Church. Stained glass windows and a pious resolve encase the smell of old wood, recessed lighting, and worn plush upholstery.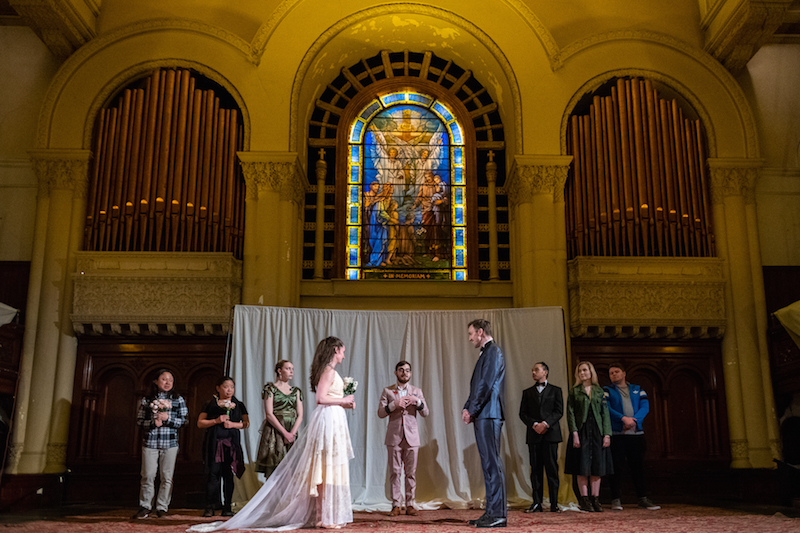 Kellyn Thornburg, Kendra Slack, Matt Engle, Joshua James, and Calvin Tsang; Photo: Russ Rowland
Upon arrival, guests choose whether they are an acquaintance of the bride or groom. A green cord (for the bride) or a gold cord (for the groom) hang from our necks to reflect our allegiance. While people chat merrily in the church foyer, Aphrodite eagerly gathers the bride's clan into the sanctuary. Hymen, the god of marriage, assembles the groom's tribe. He is anxious, overly excited, and talking a mile a minute.
A live ensemble of string instruments coaxes the wedding party to an elevated platform in front of the church. Orpheus serenades his adoration to a shy Eurydice. During the ceremony, Apollo, a groomsman, looks stoic. His counterpart, a venomous Artemis, stands next to Eurydice radiating disapproval for this union.
Next, the happy couple whisks guests to the reception hall where refreshing vodka spritzers await. Mortals are encouraged to mingle while, seamlessly, a court dance by the gods unfolds. Eurydice and Orpheus are joined by the Muse, Hades, Hymen, Hermes, Persephone, Aphrodite, Artemis, and Apollo. Their torsos twist to support the gentle touch of right hands. Heads tilt to elongate necks. An assemblé of the heels and a quick whip of the body tosses a sassy air of pomp and circumstance.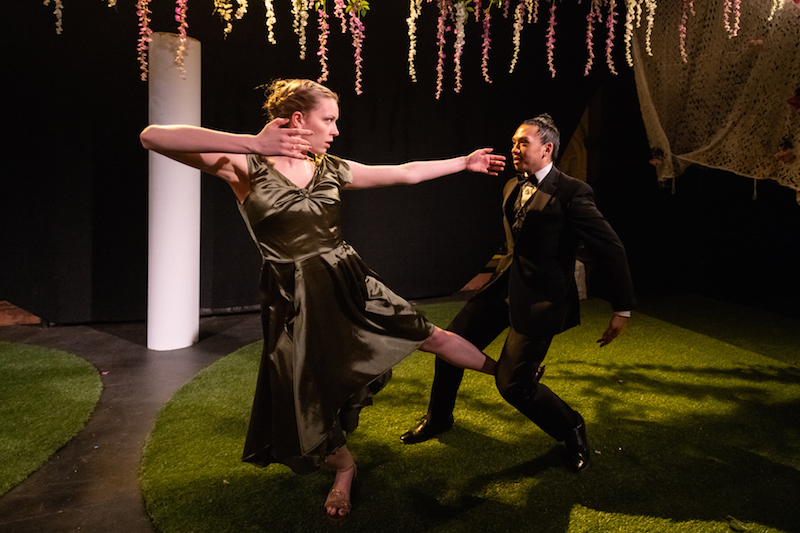 Kellyn Thornburg and Calvin Tsang; Photo: Russ Rowland
I won't give away what happens next. I couldn't if I wanted to. From this moment on, the gods meticulously divide the audience into smaller groups, quietly shepherding us through dark staircases and into rooms to watch selected moments unfold.
Three of us follow Hades as he seduces Eurydice to the underworld, yet it is unclear what he could possibly offer her to pull her away from her husband on their wedding day. We arrive in a space tucked away off the balcony of the church where Persephone sashays to DJ Hermes' house music. They consume a questionable red liquid and white capsule pills. These delectable enticements are also offered to and consumed by curious audience members. Hades and Persephone drape over wooden pews and play tug-of-war with Eurydice. Her body listlessly hangs in ecstasy. By the time other viewers arrive, Eurydice is dead.
Matt Engle, Joshua James, and Rita McCann; Photo: Russ Rowland
For every scene witnessed, one is missed. Perhaps in perfect Greek god fashion, you only see what they want you to see. Viewers are pushed around like extraneous chess pieces tasked to fill in the blanks, maybe unsuccessfully, depending on your vantage point. Some see tragedy; others see the repercussions of foolishness. It all depends on which individual storyline you are guided to follow.
Beloved/Departed wraps the viewer in a love story you can feel, see, and taste. Strategically nestled in a symbolic space known to house both marriage and death, it feels familiar, which is helpful when surrounded by many unknowns. Onlookers become part of a story rather than passive viewers, and part of the work is to form assumptions, make choices about viewing perspectives, talk to (but don't touch) the moving players, and use your imagination to connect the dots. If you are familiar with this story, Beloved/Departed offers nuance, vision, and texture. If not, be prepared to do some detective work.
---
The Dance Enthusiast Shares IMPRESSIONS/ our brand of review and Creates Conversation.
For more IMPRESSIONS, click here.
Share your #AudienceReview of performances for a chance to win a prize.