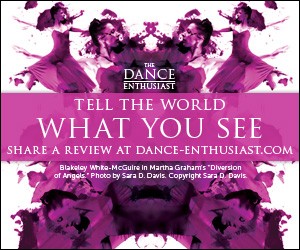 Related Features
IMPRESSIONS: Gibney Dance Company Presents HOME Featuring Work by Adam Barruch and Shamel Pitts
Venue: The Theater, Gibney 
November 18th, 2018; 2PM
Performers: Nigel Campbell, Zui Gomez, Amy Miller, Jesse Obremski, Leal Zielinska
Lighting: Asami Morita and choreographers
Imprint Ghosts / Choreography: Adam Barruch / Music: Roarke Menzies
Menagerie / Choreography: Shamel Pitts / Visual Art: Deville Cohen / Music: Sivan Jacobovitz
Pictured above: Zui Gomez, Nigel Campbell, Jesse Obremski and Amy Miller in Adam Barruch's Imprint Ghosts
---
Home is a space embedded with memory. Showcasing the fluid and sensitive movers of Gibney Dance Company, against dreamy soundscapes, two new works blurred time and space to investigate the histories and emotions attached to the physical places and objects of "home."
Adam Barruch's Imprint Ghosts concerns itself with spiritual echoes of past events. The dancers track intricate, precise lines, as if retracing the outlines of lost structures. Their limbs swirl with an ethereal lightness and fluidity, coalescing in frozen images just long enough to imprint a memory. Sometimes images of violence are visited, but with a sense of eerie detachment, as just another picture in the procession.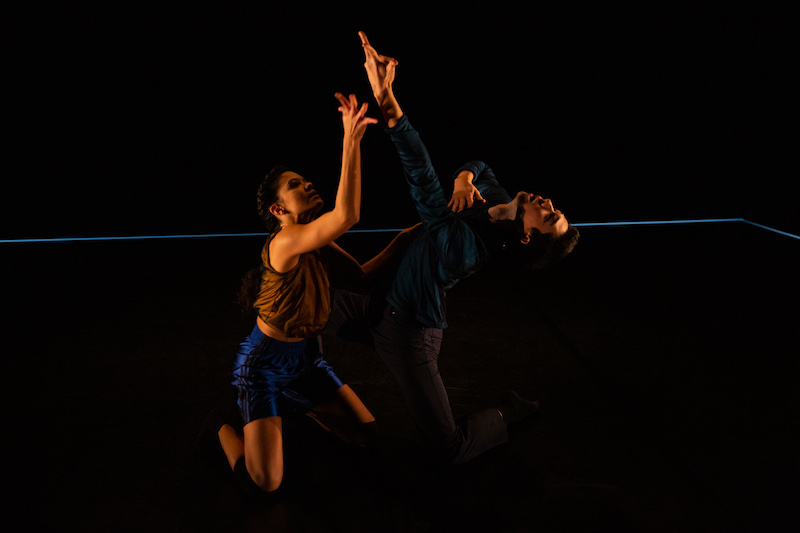 Zui Gomez and Jesse Obremski in Adam Barruch's Imprint Ghosts; Photo: Scott Shaw
As the performers loop through rearrangements of the movement, the airy quality thickens. Light touches become firm grabs of aggression or tenderness. Upon reaching certain poses, the performers begin to grimace, quiver, burst into frustration, or walk away without quite knowing why. Through each iteration, the memories become more fleshy and evocative. A crafty magician, Barruch uses his hypnotic choreography to enchant and numb us as he renders ghosts painfully real.
Created in a collaboration with choreographer Shamel Pitts and visual artist Deville Cohen, Menagerie focuses not on illusory structures, but on very material, custom-built ones. The piece,  loosely based on Tennessee Williams' "The Glass Menagerie," speaks of the sudden unraveling of a promising courtship. Objects onstage gently reference the narrative. Folding ironing boards connote the domestic sphere, and long extending poles, when pressed on a dancer's forehead, nod to the play's glass unicorn figurine which eventually shatters.
Zui Gomez and Leal Zielińska in Shamel Pitts and Deville Cohen's Menagerie; Photo: Scott Shaw
The dancers focus on the physical properties of the objects, latching on to different functions and features. They imitate folding actions, playfully threading their bodies in open spaces, or they use objects to connect with one another. Eventually, free play takes a constructive turn, and the cast collectively stack their objects to form a massive scaffolding-like structure in a downstage corner.
Quoted in the program is Williams' line "How beautiful it is, and how easily it can be broken." Accordingly, the dancers tear down their tower in frustration, fragments scattering across the space. The chaos escalates when one dancer dumps a pile of small, colorful bits of plastic onstage. The other performers stir up the mess further, spinning, tossing, and swerving along the floor through the cartoonish waste. 
Slowly, the intention becomes constructive again, but on a smaller, more intimate level. In the work's most precious moments, the dancers delicately stack and arrange remnants of the splattered, colorful plastic — tender echoes of what used to be — then huddle around them to admire. Pitts ends as Barruch began, with spirits of past structures and resonating nostalgia. Memories have become material and materials have become memorialized.
---
The Dance Enthusiast Shares IMPRESSIONS/ our brand of review and Creates Conversation.
For more IMPRESSIONS, click here.
Share your #AudienceReview of performances for a chance to win a ONE-YEAR SUBSCRIPTION to Marquee.TV for you and a friend