IMPRESSIONS OF Peter Kyle Dance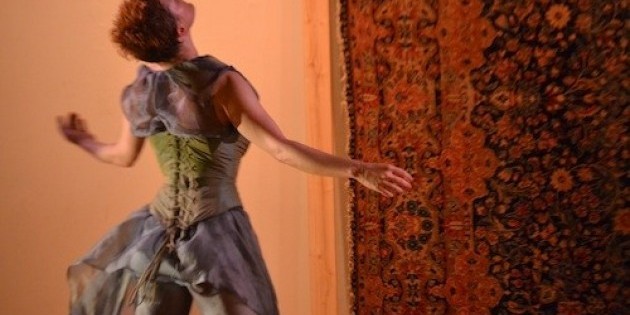 Telling Stories...
IMPRESSIONS OF Peter Kyle Dance
In The Step Down Room
Aldous Theatre at Triskelion Arts, Williamsburg, Brooklyn, NY
Sept 28th 2011
---
©Christine Jowers, for The Dance Enthusiast
---
I love how the Aldous Theatre at
Triskelion Arts
transforms. The last time I went there for a show
(The Supper)
the performance space was a huge icebox encased in plastic. A stark grey marley floor reflected buzzing fluorescent lights and it reminded me of a torture chamber. Today, for
Peter Kyle's
,
The Step Down Room
, a warm and inviting wood floor is revealed. It's the kind of floor that calls out to barefoot dancers or kids in slippery socks to run across it. Tonight we are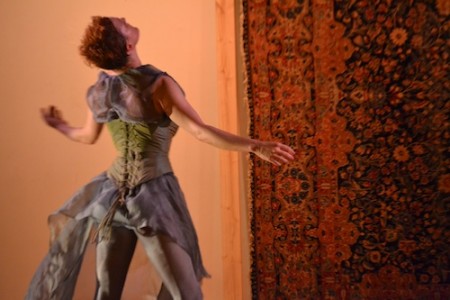 Holley Farmer, In The Step Down Room, Photo byAllisa Zee Hartmann
in a home. A lived-in oriental carpet fills a large portion of downstage and on the carpet sits an upright cushioned chair so dimly lit I can't tell its color. As I watch, I realize that I am visiting an alcove filled with personal memories.
The step down room, according to Kyle's program notes, was an actual place in his house that one had to pass through to get from one side of the home to another. Filled with shelves of books, a cot, as well as a gold fish bowl, Kyle describes it as a room where he "recalled his imagination taking off." On stage, Kyle uses
Andy Dickerson's
skillful lighting and the clever repositioning of modest set pieces (most distinctly the oriental carpet doubling as a floor piece and curtain) to unveil the poetic properties of his boyhood niche. Each scene shifts the space distinctly.
Lori Goldston's
rich cello speaks to some scenes while others are colored by the sonic scapes of
James Bigbee Garver
. The collaborations are splendid.
One doesn't often see a show like In the Step Down Room produced by a larger New York City house. It is not splashy. It is not conceptual. It is a show where concepts and choreography work deeply to support one another- a show of quiet power. I suspect that larger houses with pressures to make stars and bring in audiences forgo the simple pleasures for grander and sometimes emptier schemes. I have to thank Triskelion Arts for its thoughtfulness in producing this show in their intimate space. I look forward to the rest of their season.
---
A great pleasure of
In the Step Down Room
is the characters we meet. Their vividness is testament to Kyle's choreographic sensitivity, rigorous exploration, and craftsmanship, as well as to the performers' talents. Each artist enlivens the space with a unique temperament.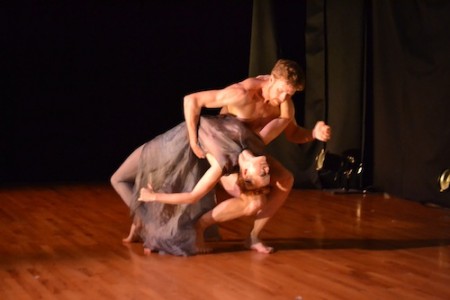 Peter Kyle and Farmer , In The Step Down Room, Photo by Allisa Zee Hartmann
Holley Farmer
, an exquisite performer, known for her long association with
Merce Cunningham
, is one of those rare dancers who can stand in one place and be riveting. Her body, rich with movement intelligence, fills a simple change of glance with nuanced meaning much the same way a fine actress like Judy Dench mesmerizes audiences with her deep understanding of the humanity inherent in text. When we first encounter Farmer, she seems a lost lady. Bound in a corset of lilac attached to long a skirt of powder blue tulle - a gorgeous piece of costume art by artist
Gary Sparo
- she reminds me of a ballerina in a jewelry box--but a sad one. She reaches out to empty space with her hands and her glances, looking for something that she never seems to find, then sits to ponder. Whenever she leaves the stage and the action moves on to something else I wonder, what about her. She creates a complicated and thought provoking woman.
Later in a transfixing gem of a duet with Kyle, inspired by Paul Klee's
Maibild
, Farmer and Kyle, like the colorful squares in this 1925 painting, dance together changing their manner of contact constantly. Like the squares they replicate each other, react, and become shades of one another. At one moment they seem to be moving in unison, connected at the head until you realize; no, he is leading her somewhere; until you realize, no, she is diving into him, or no, they are separate entities. The transitions come out of nowhere subtly. It is a treat to see artists of such high caliber work together.
---
Mercedes Searer
, wildly different, is choreographed for sound. She dances exuberant sweeps and leaps accompanying herself with loud punctuated exhales. She spits percussive guttural calls of "zo zo zo zo zzzzzzz" while fiercely shifting her body in profile from one side to another. She is a go-go warrior making her own music - a lightening flash of brightness.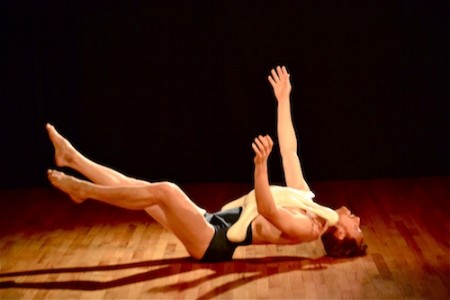 Kyle with sculpture by Julia Venske and Gergor Spanle, Photo byAllisa Zee Hartmann
The antics of moving actors,
Scott Giguere
and
Scott Nath
, offer a pause of utter silliness. They are goofy brothers, jokesters, competitors and friends perched on a bench, shifting about on their butts, merrily swinging and clapping their feet in joyful rhythms while contemplating crossword puzzles aloud.
Kyle choreographs himself a solo with an oddly engaging wearable piece of marble created by
Julia Venske and Gergor Spanle
. This fanciful piece of whiteness resembles a turtle shell with spindly spider legs: it could just as well be something out of Hanna- Barbera's
Flintstones
. Kyle, wearing only the marble and grey underwear, plays with the many variations of what this sculpture could be: a belly, an albatross weighing him down, a baby or pet he cradles, a shell on his back, a musical instrument played by a rock star, a skull. While I am transfixed by the powerful evolutions of this remarkable male dancer, I also recognize a boy letting his imagination take off.
---
Watching this collection of dances reminded me of the pleasure of reading
James Joyce's Dubliners
. Those characters and their stories meant so much to me. Kyle's distinct rhythms, vivid scenarios, and his mysterious and whimsical characters leave us with stories to reflect on. In his final solo, returning back to the chair on the carpet, Kyle, the choreographic storyteller, appears to reflect with us.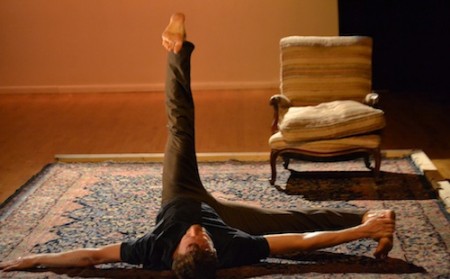 Peter Kyle, Photo by Allisa Zee Hartmann