IMPRESSIONS: The Ninth Annual WestFest Top Floor at Westbeth Artists Housing
April 25 & 28, 2019

WestFest Top Floor Artists: Carol Nolte, Keith Thompson - danceTactics, Amos Pinhasi, Claire Porter - PORTABLES, My Lindblad Szlavik, Chloe London Dance, Benjamin Freedman, Li Chiao-Ping Dance, Dylan Baker - BOiNK! Dance & Film, Jamal Jackson Dance Company, David Parker - The Bang Group, LMnO3, Chelsea Ainsworth and Doron Perk - HUMA, Ramon Sekulovic, Louise Benkelmen and Tommy Seibold, Yoshito Sakuraba - Aburakas
Founder/Artistic Director: Carol Nolte // Producers: Lauren Hafner Sheehan & Dylan Baker  
---
Right in time for spring cleaning, the Westbeth Artists Housing flung open its doors for the annual WestFest, inviting dance into every nook, hallway, and courtyard. Now in its ninth season, WestFest celebrates the diverse choreographic voices of the city and provides an opportunity for the public to see over 30 artists in both conventional and site-specific spaces. 
Amos Pinhasi; Photo by Brigid Pierce
In the eleventh-floor Martha Graham Studio, WestFest Top Floor showcased sixteen dance works over two programs. Within this colorful collage, every style from lyrical to theatrical had its moment. Creating clear and vivid worlds, several standout works have lasting impact in the days to follow.

Moved by the pulse of Balkan folk music, Amos Pinhasi spirals in a spotlight, in Accordion. Arms overhead, he articulates each finger while stepping in time to the percussive beat. As the music builds, it lifts him into joyful skips. Although contained in his body, Pinhasi's dance feels rooted in tradition, channeling a vast communal energy well beyond himself.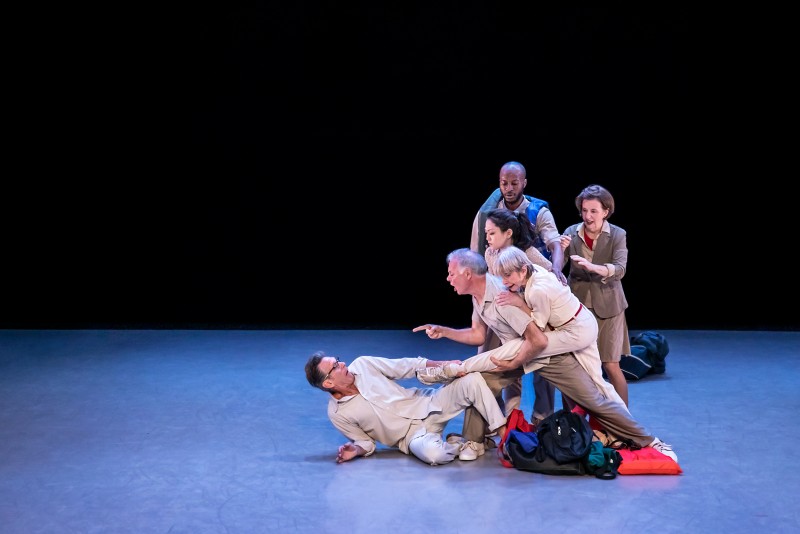 Claire Porter/Portables; Photo by Brigid Pierce
Sometimes simple language provides endless source material as Claire Porter/PORTABLES proves in Pronoun Emergency. Through the darkness, we hear, "Him! Her! You! Yoohoo! It's me! Somebody? Anybody? . . ." Amidst strewn backpacks and life vests, performers scatter around the space. They continuously shout these disjointed pronouns while matching them with physical gestures. In this wacky world, movement and words are both necessary to come to consensus. Eventually everyone sways in a low huddle as if adrift at sea, only to spot another "who" floating away.

During Pastures, an electric solo by choreographer Chloe London, dancer Tim Bendernagel folds his body in from an upstage diagonal corner, his back to the audience. Once on his feet, he moves in short bursts, hitting strong shapes that immediately wilt. He swats at the air and then falls to his palm. His physicality is so specific it is as if you can feel the sun hitting his brow, the dust on his feet. Bolstered by soulful folk voices of Michael Wall and Doc Watson, London's world feels distinctly American — a characterization of the countryside.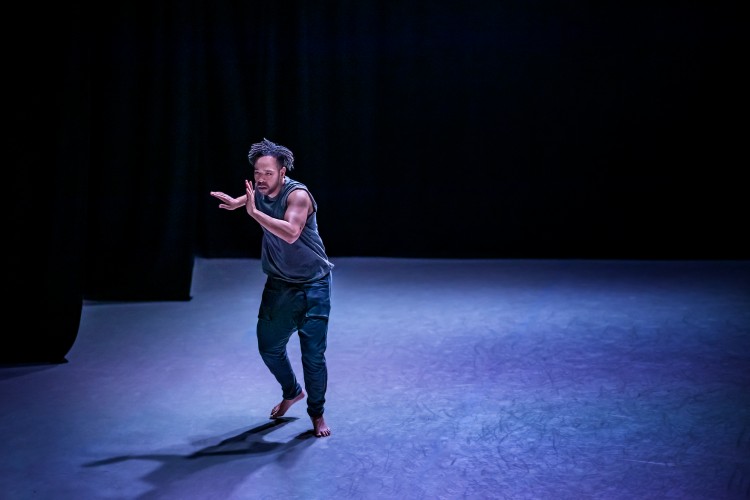 Jamal Jackson; Photo by Brigid Pierce
In another example of strong portraiture, Jamal Jackson's excerpted Rob Day recounts a tale of violence and captivity in Uganda. Erupting into motion, Jackson steadily travels straight downstage with short sequences of West African movement. His bottled rage alludes to a journey of healing that's never quite complete.
Deborah Lohse, Cori Marquis, and Donnell Oakley embrace pomp and circumstance in UnPacking Pina. Wearing marigold dresses with sequined bodices, the trio shifts in sync to the sound of their own humming. Methodically, they approach three cardboard boxes set in a line. Skirts tossed over their heads, they plunge their hands into pairs of high heels in the boxes. Arms now legs, they "walk" forward with sass. As "Bolero" blares, the threesome tackles another giant Amazon box, out of which a chain of smaller boxes emerges.
Deborah Lohse, Cori Marquis, and Donnell Oakley; Photo by Brigid Pierce
In Goin' Your Way, Louise Benkelman and Tommy Seibold change the viewers' experience of their music. With a blend of classical pirouettes and staccato isolations, they illustrate a world of space between musical phrases, moving double time before lingering in a long note. Soaring in a waltz to Andy Williams' Moon River, they exude charm.
In a festival format, it is a welcome surprise to discover artists whose work you must have more of. Rather than ending at its walls, WestFest Top Floor urges a continual exploration of its many dancers.
---
The Dance Enthusiast Shares IMPRESSIONS/our brand of review and Creates Conversation.
For more IMPRESSIONS, click here.
Share your #AudienceReview of performances. Write one today!