IMPRESSIONS: Brooklyn Ballet presents "The Brooklyn Nutcracker" in the Jewel Box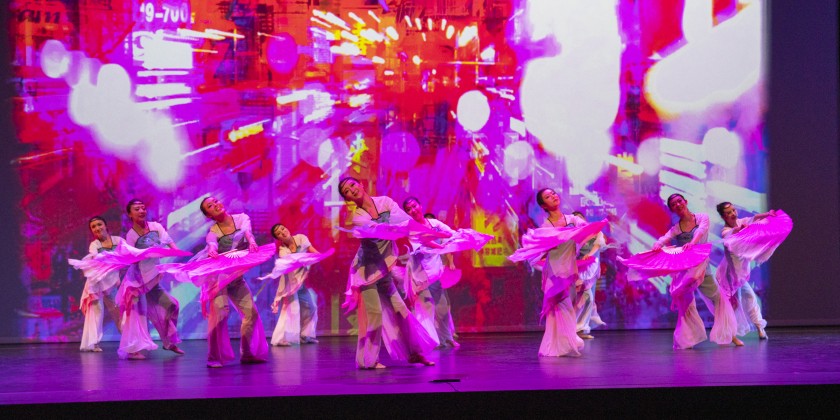 A Tribute to Nakotah LaRance
December 12, 2020 at 6 p.m.
Concept and  Choreography: Lynn Parkerson
Music: Pyotr Ilyich Tchaikovsky
Art Direction: Avram Finkelstein
Performed by: Aliesha Bryan, Audrey Borst, Courtney Cochran, Elisabet Delgado," J-Floats" Fable, "Big Mike" Fields, Miku Kawamura, Bobby "Anime" Major, Sira Melikian, Aoi Ohno, Kendra Ross, Christine Sawyer, and Keenan "Sylinsah" Thomas
---
If there's any bright side to the changes wrought by Covid-19, it's how arts organizations have creatively brought much-needed live performances to audiences. In years past, the Brooklyn Ballet's critically acclaimed production of The Nutcracker would pack the majestic King's Theater. This year, the show was reimagined as an abbreviated, socially-distanced affair, where audiences peered through the transparent exterior of Brooklyn Ballet's floor-to-ceiling glass space ("The Jewel Box") to witness excerpts. The nine-performance run, produced in conjunction with the Downtown Brooklyn Partnership, conjured a sense of normalcy this holiday season.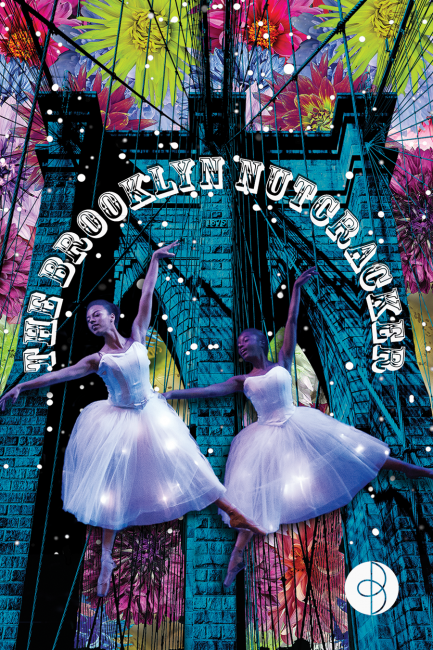 Photo courtesy the Brooklyn Ballet
The Brooklyn Ballet's production got its start as a duet between a ballerina and a hip-hop dancer on a street corner; thus, it seems appropriate that the show once again activates public space. Hopeful attendees line up and down Schermerhorn Street, and about ten minutes before "curtain," they are counted and ushered into socially distanced rows, with a space held on the sidewalk to accommodate passersby. When I encounter the massive line, I wonder if this is a function of an overenthusiastic press team, an uncharacteristically warm evening, or that there isn't much else happening these days. The hosts do have to turn away some people, but luckily there's a 7:30 show.
After the slight chaos, a Brooklyn Ballet staff member leads an expedited ballet warm-up, guiding the audience through pliés, tendus, bourrées in place, and some simple port de bras. It reminds us that this is a community ballet company, and we, the community, are part of the experience.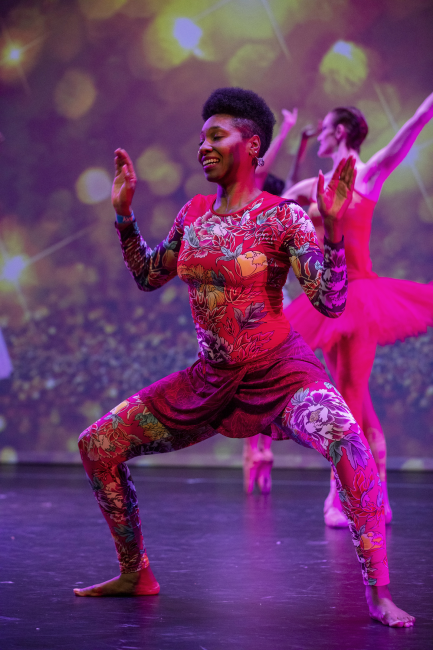 Photo courtesy the Brooklyn Ballet
Brooklyn Ballet's production is culturally authentic and challenges some of the racist constructs of the traditional Nutcracker. It also includes a diverse assortment of dance forms and dancers. The excerpts offer a delightful taste of the full spectacle: a prologue with pop-and-lock hip-hop dancers; the marzipan variation with African dancers and ballerinas moving in delightful counterpoint; the Arabian variation where belly-dancer Sira Melikian's sequin-encrusted mask blends perfectly with her costume; and of course, the traditional Sugar Plum Fairy variation, performed by the dainty Miku Kawamura. Some of the multi-cultural cast wear Black Lives Matter masks to show their solidarity with the cause.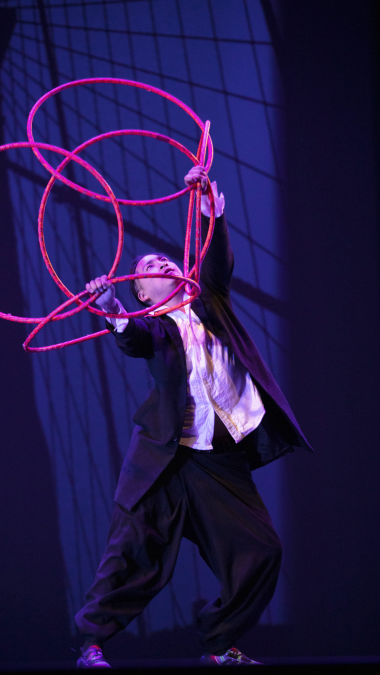 Photo courtesy the Brooklyn Ballet
The brief show wraps up with a tribute to Nakotah LaRance. The world-renowned Native American hoop dancer passed away in August after falling from a bridge near the Ohkay Owingeh Pueblo in New Mexico (another unnecessary tragedy of 2020). A video projected on the studio's back wall shows Nakotah performing in the 2019 Brooklyn Nutcracker. As his ghost-like presence fills the empty studio, it seems a haunting reminder of the others we lost this year. With the image of the Brooklyn Bridge in the background, he artfully assembles hoops into different forms — a butterfly, a chain, and finally, a globe, which he holds above his head, seemingly a declaration of victory, the immortality he's achieved through the memory of his gorgeous performances.
---
The Dance Enthusiast Shares IMPRESSIONS/our brand of review, and creates conversation.
For more IMPRESSIONS, click here.
Share your #AudienceReview of performances. Write one today!
---
The Dance Enthusiast - News, Reviews, Interviews and an Open Invitation for YOU to join the Dance Conversation.