IMPRESSIONS: Memories of Summer Dance: Blue Morph Collective's "Metamorphosis Reimagined"
A Movement to Reflect, Recollect, and Restructure
Metamorphosis Reimagined
August 14th, 2021
---
Beautiful by India Arie calls a small community of strangers, families, and partners to gather on the sidewalk of Decatur, just east of Throop, at sunset. Standing anxiously before the gates of a beautiful brownstone's stoop, we anticipate a reunion of sorts, a pop-up show for post-pandemic Brooklyn hosted by the Blue Morph Collective.
In a predominantly Black neighborhood, three women of color exit the brownstone's parlor door. Preparing to take us on a journey through historic BedStuy, they descend to the middle of the entry steps sitting, in unison, one in front of the other.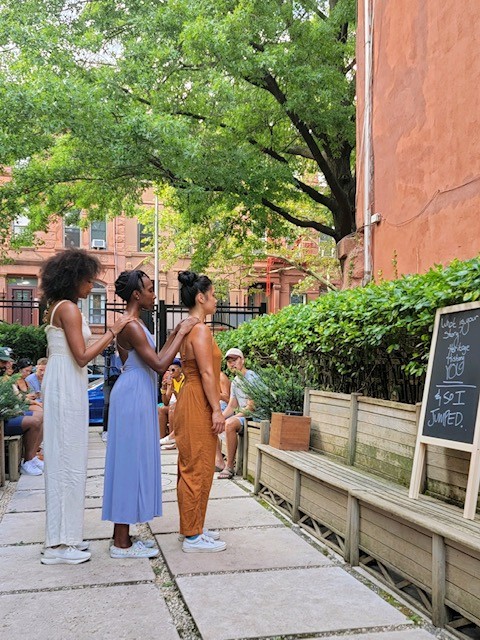 The Dancers of the Blue Morph Collective, from L to R, Rachel Watson-Jih,  Jazmine Dinkins,  Malia Wee at Garden of Hope ; Photo by Jonna Stark
The women extend their arms out to their sides, overhead, then toward us.  They break their line, creating space for the stories about to be shared. Every so often, one woman looks out at us to make a connection --reminding us we are here together in this moment-- then recedes back into the moving tableau.

Through solos intertwined with spoken word detailing personal and historical events, we witness time expanding. The moments before us are filled with reflective questions: How, where, and when do I exist in this narrative? Who is the narrator?

As we move from Decatur, to the United Order of Tents on MacDonough, resting at the Garden of Hope on Hancock, the connections of our bodies to the long-standing architecture appear. We move about spaces without knowing or acknowledging  how these structures have held us and continue to inform our day-to-day living. How did we get here?

Stoops were built to protect residents from high flood waters. The Order of Tents was founded as a fraternal lodge in 1867 by Annetta M. Lane and Harriet R. Taylor, two formerly enslaved women,  and served as a stop on the Underground Railroad. The Garden of Hope is a quiet place where the community is welcomed to rest, reflect, and rejoice. Together, our small community travels through the streets (and time) until we come together face-to-face to celebrate in the garden.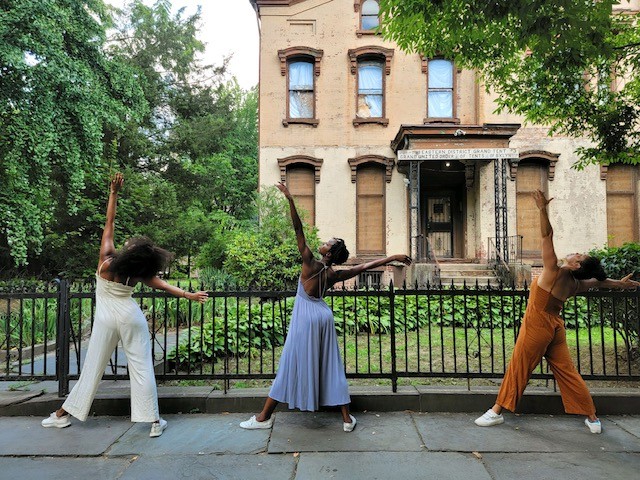 The Dancers of the Blue Morph Collective, from L to R, Rachel Watson-Jih,  Jazmine Dinkins,  Malia Wee in front of  The Order of Tents' brownstone; Photo by Jonna Stark

Blue Morph Collective is a beacon for new arts collectives. Forged after a long hiatus from public performance, they are emboldened to cultivate inclusivity, community, and social change.

I happened upon this pop-up performance because of flyers posted around the neighborhood. I felt nostalgic, reminded of my past before social media and Evites. This was an opportunity to reconnect, through art, with my neighbors; a call to action.

Artists need to express  themselves and resonate with people. When they are unsure of how, when, or if they will return to traditional indoor performances, out of necessity, they create  place.
---
Blue Morph Collective will be recreating this performance again for Arts On Site, On Sunday November 14th... Don't miss it.
---
The Dance Enthusiast Shares IMPRESSIONS/our brand of review, and creates conversation.
For more IMPRESSIONS, click here.
Share your #AudienceReview of performances. Write one today!
---
The Dance Enthusiast - News, Reviews, Interviews and an Open Invitation for YOU to join the Dance Conversation.