DAY IN THE LIFE OF DANCE: Watching "Sweet Gwen Suite" by MOVING VISIONS Editor Lisa Jo Sagolla
Editors Note:
This Fall , we are continuing  the Moving Visions initiative began on our site during the height of the pandemic. This program welcomes artists and enthusiasts to guide our coverage as guest editors. They share their passion, expertise, and curiosity with us, as we celebrate their accomplishments and viewpoints. It is a program designed to uplift important voices and open our work to new ideas.  To start off  this season of re-entry I asked the newest contributor to our team, the talented critic, author, and theater dance historian , Lisa Jo Sagolla to share her thoughts on the return of the  theater season and Broadway dance.  I am looking forward to every article. --Christine Jowers
---
As the dance world begins to reconnect, and we emerge from our pandemic-induced social distancing, I can think of no more fitting genre to spotlight than Broadway dance – because there's no more socially collaborative enterprise, perhaps, than the mounting of a musical. So, as I launch this MOVING VISIONS project – a series of articles about musical-theatre dance – I am delighted to report on the New York City Center Fall for Dance Festival's inspired decision to commission and present on its opening night, October 13, the adapted reconstruction Sweet Gwen Suite, co-choreographed by ace Broadway dance-maker Bob Fosse and legendary Broadway performer Gwen Verdon, his wife and muse. Granted, the couple created the dances that constitute the suite's source material for Verdon's appearances on television variety shows, but the movements are wholly representative of vocabulary from Fosse's Broadway musicals.
Producing this suite and crediting Verdon (who died in 2000) as co-choreographer of the dances, previously credited to Fosse alone, is meant to shed light on the unacknowledged creative role Verdon may have played in the making of much of Fosse's choreography. According to their daughter, Nicole Fosse, Verdon was so attuned to Fosse's intentions that she could do exactly what he was envisioning before he even articulated it. And the ease with which Verdon embodied the idiosyncratic isolations of Fosse's vocabulary surely signals involvement in their spawning.
Bob Fosse and Gwen Verdon; Photo by Photofest
Yet regardless of the degree to which she contributed to the creation of Fosse's choreography, of which there is no definitive proof, Verdon's extraordinary role in inspiring, protecting, and passing it down is indisputable. She was certainly its foremost performer — originating starring roles in the Broadway musicals Damn Yankees (1955), New Girl in Town (1957), Redhead (1959), Sweet Charity (1966), and Chicago (1975) — and despite the couple's marital separation, Verdon maintained her commitment to Fosse's work, even after his death, in 1987. In 1969, she was passed over for the title role in the Sweet Charity film (directed and choreographed by Fosse) in favor of Shirley MacLaine. So, what did Verdon do? She flew out to Hollywood to coach MacLaine, so as to ensure her performance did justice to Fosse's choreography.    
And it was while he was editing that film that Fosse took a break to create the first two, of the three, dance trios that comprise Sweet Gwen Suite. Untitled, they are referred to by their musical accompaniments — "Cool Hand Luke" and "Mexican Shuffle." They were performed by Verdon (with dancers Lee Roy Reams and Buddy Vest) on The Bob Hope Special in October of 1968. The third dance, "Mexican Breakfast," was created for Verdon to perform (with Marie Lake and Dee Erickson) on The Ed Sullivan Show in June of 1969, and is known in pop-music circles today for its blatant influence on the choreography of the Beyoncé video "Single Ladies."
Archival film footage of Verdon performing all three dances can be viewed on YouTube. And descriptive details about them can be found in Kevin Winkler's informative book, Big Deal: Bob Fosse and Dance in the American Musical. Also, the "Cool Hand Luke" trio was seen by Broadway audiences when it was re-created in Fosse, the 1999 retrospective revue of the choreographer's work. So what, then, was the purpose of reconstructing the dances into this suite?
Georgina Pazcoguin in Sweet Gwen Suite; Photo by Stephanie Berger
An initiative of The Verdon Fosse Legacy – founded by Nicole Fosse in 2013 to promote the work of her parents through licensing performances and hosting repertory and technique masterclasses — the suite seems derived from the daughter's belief (as told to Gia Kourlas of The New York Times last month) that there's a place for her parents' work on the concert dance stage. It is in this capacity that Sweet Gwen Suite is significant, as it illustrates how to compellingly translate Broadway choreography into concert dance.  
Often, shows comprising reconstructions of dances excerpted from musicals fail to engage general audiences. In the absence of a storyline — or that "needing to know what comes next" – it's easy for viewers to get lost, facing what can feel like a tedious string of unrelated dances that may register as thin, empty, or meaningless out of context. I remember feeling this way as I watched an evening of re-created Jack Cole dances some years ago and even, dare I say, during the over-two-hour-long, three-act Fosse. And the same applies to compilations of numbers from TV specials that, in their original airing, may have emerged as delightful surprises along a variety show's brisk journey through different forms of entertainment.
From L to R: Tyler Eisenreich, Georgina Pazcoguin, and Zachary Downer in Sweet Gwen Suite; Photo by Stephanie Berger
However, in ingeniously assembling Sweet Gwen Suite choreographer Linda Haberman did not simply reconstruct the stand-alone dances, but rather re-wove them, contributed additional choreography, and evoked a dramatic air, developing a satisfying concert dance piece that remains perfectly in tune with Fosse's aesthetic. A former Fosse assistant, Haberman made few, but impactful, changes to the original choreography. First, she shifted the order of the first two numbers. So rather than building to a big finish along a straight upward trajectory like many Broadway and commercial-entertainment dances, Haberman's suite assumes a standard concert-piece format — not unlike the fast-slow-fast structures in classical music — with a small, cerebral central movement, bookended by bigger, up-energy opening and closing sections. Then, by simply changing the middle movement from a trio to a solo, Haberman created the suggestion of a storyline. The choreography is no longer defined by the tight triangle formation the dancers maintained through so much of the original choreography that it became a thematic element. Instead, the piece becomes a character study, which immediately generates interest – who were those other two dancers, where did they go, are they coming back? – and also calls into play the internal, non-presentational, actor-like performance style Fosse preferred.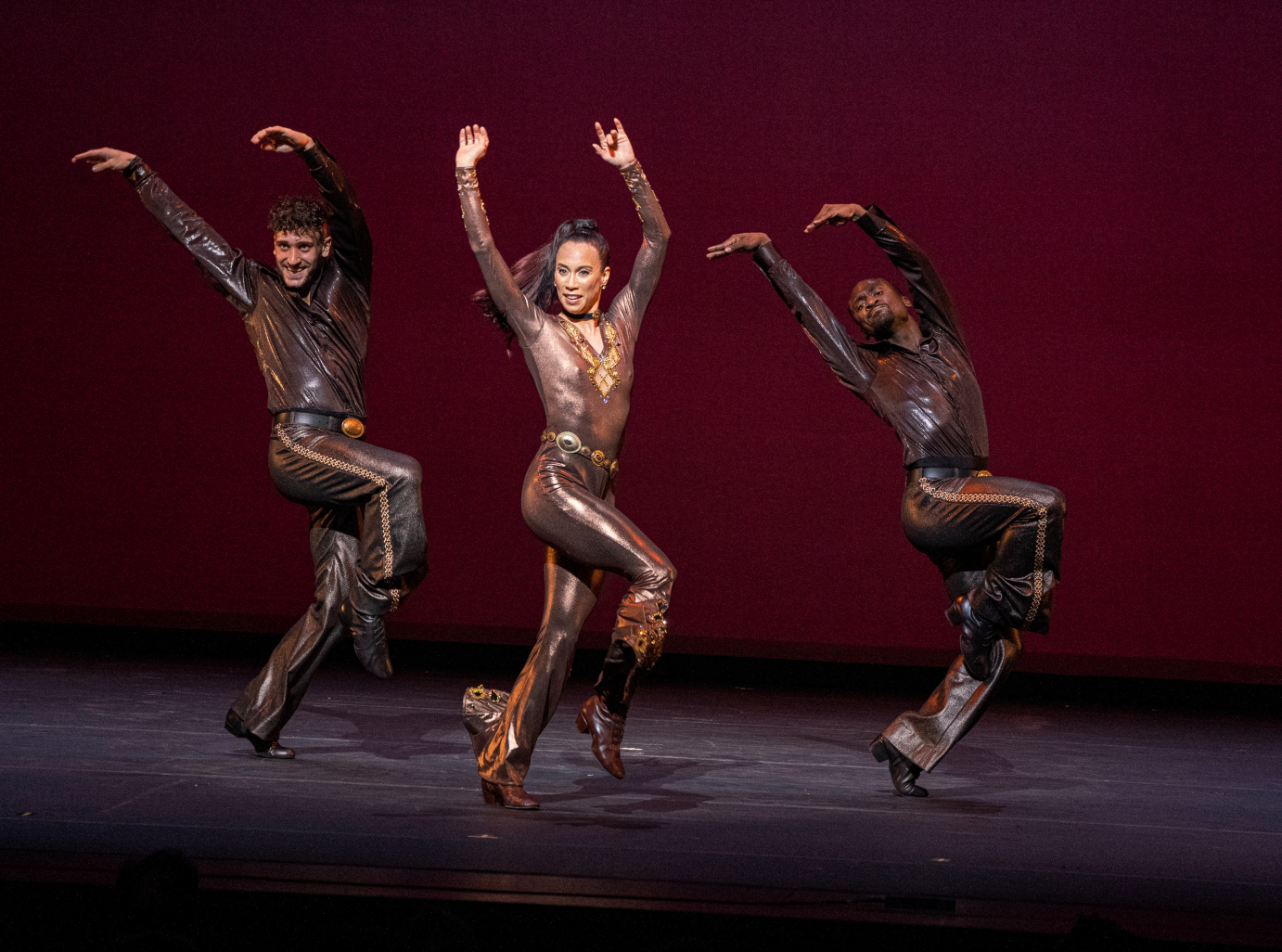 From L to R: Tyler Eisenreich, Georgina Pazcoguin, and Zachary Downer in Sweet Gwen Suite; Photo by Stephanie Berger
With its flamenco-inflected claps, snaps, proud body postures, and prancing horse steps, the piece initially sets forth an enchanting Spanish flavoring, but by the final movement, it's a '60s go-go scene in full throttle — jaunty footwork, pulsing torsos, bouncing heads, groovy shoulder rolls, sassy hip-swinging, and punctuating off-kilter jumps. Adroitly supported by dancers Zachary Downer and Tyler Eisenreich, New York City Ballet soloist Georgina Pazcoguin has courageously taken on Verdon's role. Sure, Verdon was more ebullient, warm, and slyly comic, and the tiny burps and blips of Fosse's movements seemed to bubble effortlessly out of her. But Pazcoguin's dancing is silky, languid, and deeply expressive. And her clean, spot-on embodiment of every angle, accent, and physical impulse of the choreography reminds us of Fosse's talent for making tiny movements riveting, revealing how gratifying the focused viewing they require can be.
Sweet Gwen Suite stimulatingly displays what can happen when striking dance vocabulary invented for musicals gets re-packaged for commercial television, and then re-imagined for the concert stage. Who's to credit? I don't know. It's all about collaboration. 
---
The Dance Enthusiast's DAY IN THE LIFE covers the stories behind dance/performance and creates conversation. For more behind-the-scenes stories from NYC and beyond, click here.
---
The Dance Enthusiast - News, Reviews, Interviews and an Open Invitation for YOU to join the Dance Conversation.