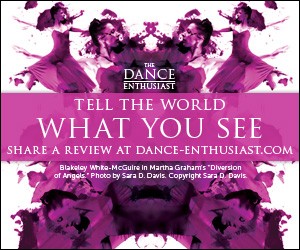 Related Features
IMPRESSIONS and ASKS : 50 Years of Dance Film, Dance on Camera Festival 2022, A Feminist Lineage, and A Chat with DOCF Curator Liz Wolff
Dance on Camera Festival 2022
Co-produced by Dance Films Association and Film at Lincoln Center
Curated by  Liz Wolff
Walter Reade Theatre
February 12, 2022
---
Need a good cry?  Here's one for you - EILEEN, a solo short made for the camera by Sue Healey.  The film was  commissioned by musicians ,David Orlowsky (clarinet), David Bergmullter (lute), for their duet in the album "Alter Ego" published by Warner Classics 2021.
Eileen Kramer, swathed in smoke, sporting a white fan, imparts grace and mischief.  Watching  her we ponder  rapture, the mysteries of touch, and how the best dancers  make you feel what they feel. Judd Overton captures  Kramer's spirit, shooting her from the waist up with a period sense of intimacy  and perhaps a nod to the elegant photography of Baron Adolph de Meyer, known for his photos of  Vaslav Nijinsky and the Ballets Russes.
Eileen Kramer in EILEEN;  Photo by Judd Overton
Kramer, an artist, choreographer, writer, and former member of Gertrude Bodenwieser's dance company in Australia in 1940s, has collaborated with Sue Healey for a long time.   Healey writes, that,  Kramer defies all assumptions about age.  " In the past three years, she has published two books; we made three films and an installation (she makes all the costumes!); and , she was in a BBC series on both tv and radio. OMG, she is 107. This was all done in between three lockdowns. I'm exhausted even telling you about it. "
A steady producer of dance films, Healey , born in New Zealand, won the 2021 Australia Council Award for Dance. When this article's writer was the  producer of the Dance on Camera Festival [ from 1994-2012],  we presented Healey's FINE LINE, TIME WILL TELL,  and READING THE BODY. I remember marveling at how each film was distinctly different from the other. What is it about New Zealand and Australia that gives us so many fresh, original dance film artists ? (This years DOCF  also included the fascinating documentary on the Australian dance company, Bangarra Dance Theatre, reviewed by The Dance Enthusiast last year. (Read Review here)
Meredith Webster in EVIDENCE OF IT ALL; Photo by Fabian Aguirre
EVIDENCE OF IT ALL , another woman-directed film,  is a startlingly clever, short effort .  As it says on her website , Drew Jacoby, the American choreographer/painter/ director (born 1984),  oscillates between disciplines and thrives on collaboration. Her black and white short strikes us with its  its rhythmic timing  as edited by Maya Pisciotto,  with cinematography by Fabian Aquirre, and voice  by the actress Rosamund Pike.
Meredith Webster in EVIDENCE OF IT ALL; Photo by Fabian Aguirre
Susan Braun, who founded the  non-profit Dance Films Association (DFA) in 1956, and produced DOCF beginning in 1971, would have appreciated EILEEN as a gem to honor the 50th festival, and probably would have been rattled by EVIDENCE OF IT ALL for its density of ideas. Braun lost her heart to dance as a child studying the Isadora Duncan technique. Isadora's freedom, musicality, and honesty were benchmarks for Braun as she forged a means for dancers and filmmakers to present their work.
Possessing  a dry sense of humor that she revealed with regality , Braun loved to say,  "The first one hundred years are the hardest."  She persevered, with the loneliness of a long distance runner,  presenting dance films  at the Natural History Museum, the Donnell Library, and the Anthology Film Archives, largely doing everything herself without a computer,  with scarce publicity,  and few funds beyond those from her own pocket.
Along with the feminist roots of screendance, including the dance/technology innovations of Loie Fuller and the surreal savvy of Maya Deren, DOCF has always been produced by women, with the exception of one year by Victor Lipari in the last year of Braun's life.
The Dance Enthusiast  sought an overview of the current and future status of DOCF from Liz Wolff, a former dancer, who has been co-curating the festival for ten years, formerly with Joanna Ney, and currently with Nolini Barretto, and Michael Trusnovec. 
Deirdre Towers for The Dance Enthusiast: What do you enjoy most about curating DOCF? 
Liz Wolff:  What keeps it exciting for me (is) to know that there's more work coming every time, and it fulfills that wonderful passion of you can't wait to see what's next.
The Dance Enthusiast:  What do you think could drive the form forward? 
LW:  Technology is going to push the genre forward. People's phones are excellent cameras and there's a real beauty in filming with them. There's an immediacy with technology. More people are seeing dance films. In the last two years, a new group of dance filmmakers came out of necessity.  I feel you will see more of the short form than feature length films.
The Dance Enthusiast:  With so many festivals around the world, have specialty film festivals run their course? 
LW: I think a hybridism is going to be on the table for a while. That silver screen at the Walter Reed is stunning. People make films for that reason. We're inherently social creatures and we will all come back to sit in the dark with a bunch of strangers and enjoy ourselves.
The Dance Enthusiast:  Have any leaders emerged in the dance film genre during your 10 years as a curator?
LW: Celia Rowlson Hall (Indiewire declared her MA "A spellbinding and fiercely original cinematic experience.") I heard MA, which we had tried to get back in 2015, was extraordinary. She was waiting, I think, for New Directors/New Films. It was that good, it was a film that could have played anywhere. So that was a real breakthrough from a director who was doing other types of short forms, and then this feature length film was really spectacular.                                                                                                                                                  
The Dance Enthusiast:  Is it time that DOCF acquire a profit oriented sponsor?
LW:  From what I understand, DFA started by educating an audience on new forms. Raising dance filmmakers, giving them resources,  teaching them how to work with support. There are still a lot of opportunities to explore. This genre has expanded.
There's a dance film in every festival. Toronto has one. Sundance has one. Cannes has one. It's everywhere now, which is wonderful. IDFA received  a new grant for a new dance film labs initiative which takes filmmaker through two years of production. So I feel like it's working.  They need to focus on who's here now.
There's a lot of dance filmmakers out there, and (to) be a sounding board for them, to open up  avenues and different levels of support, DFA could develop partnerships with other organizations.
---
The longest-running dance film festival in the world, DOCF received submissions from 37 countries, and offered nine programs and over 32 films representing a diversity of race, ethnicities, emotions, and potential during thi four-day festival. 
---
The Dance Enthusiast Shares IMPRESSIONS/our brand of review, and creates conversation.
For more IMPRESSIONS, click here.
Share your #AudienceReview of performances. Write one today!
---
The Dance Enthusiast - News, Reviews, Interviews and an Open Invitation for YOU to join the Dance Conversation.