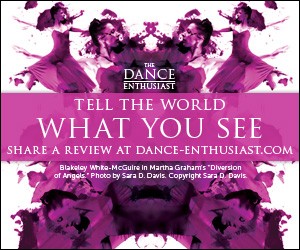 Related Features
IMPRESSIONS: "Four Quartets" - Pam Tanowitz Dance at BAM's Howard Gilman Opera House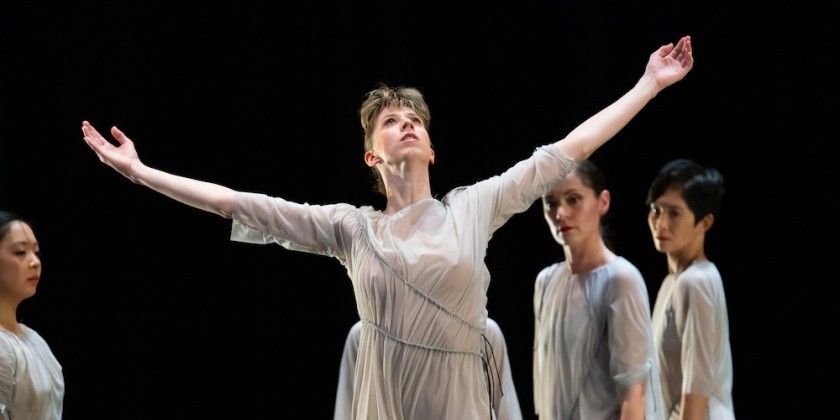 Pam Tanowitz Dance at BAM's Howard Gilman Opera House with Kathleen Chalfant and The Knights

February 10, 2022

Choreographed by Pam Tanowitz

Performed by Kara Chan, Jason Collins, Dylan Crossman, Christine Flores, Zachary Gonder, Lindsey Jones, Victor Lozan, Maile Okamura, Pam Tanowitz, and Melissa Toogood
Text by T.S. Eliot
Narration by Kathleen Chalfant
Music by Kaija Saariaho, performed by The Knights
Scenic and lighting design by Clifton Taylor
Images by Brice Marden

Costume design by Reid Bartelme and Harriet Jung
Sound design by Jean-Baptiste Barriére
---
When the dance critic Alastair Macauley wrote in the New York Times in 2018 that Pam Tanowitz's "Four Quartets" was perhaps "the greatest creation of dance theater so far this century," it was the sounding of a cannon. Macauley was telling the world that Pam Tanowitz had arrived. After years of creating solid, well-respected choreography, she was now in the topmost echelon of dance creators working today.

But "greatest creation of the century?" That was bold!

Originally presented at Bard College, a small arts school in the Hudson Valley, the production later played to praise in London and Los Angeles, and  recently completed a run February 10-12 at the Brooklyn Academy of Music— an appropriate venue considering BAM's distinguished history of presenting works by long-form dance masters such as Merce Cunningham, Pina Bausch, Mark Morris, and Trisha Brown.
Pam Tanowitz Dance  (L to R) 
Christine Flores, Melissa TooGood, Maile Okamura,Victor Lozano and in the foreground, Lindsey Jones ; Photo by Steven Pisano

The instant acceptance of "Four Quartets" as a modern classic immediately led to numerous commissions for Tanowitz from the New York City Ballet, which this month is performing her Bartok Ballet, and the Martha Graham Dance Company, which performed her Untitled (Souvenir) at the Joyce last fall. So, expectations at BAM were high.
Pam Tanowitz Dance (From L to R)  Victor Lozano, Kara Chan, Jason Collins, Dylan Crossman
Most choreographers create small dances, usually lasting 15 minutes or less. Attempts at longer works often feel bloated. Only a precious handful of dance makers—especially outside the realm of classical ballet--can match ambition with execution. With Four Quartets,Tanowitz stakes her claim to that exclusive club.
Pam Tanowitz Dance; Photo: Steven Pisano

Four Quartets thinks big and pays off big. A full-length ballet like Swan Lake can be called dance theater because it tells a story, with the narrative driven by the music and the choreography. But Four Quartets was inspired by and is accompanied by words. We might not be going too far out on a limb to call it a dance opera, with Eliot's words enhanced by Finnish composer Kaija Saariaho's ethereal music.
Pam Tanowitz Dance (l to r dancers in the foreground) Victor Lozano, Christine Flores, and Maile Okamura; Photo:Steven Pisano

T.S. Eliot is best known to literary wonks for The Waste Land (1922), an opaque masterpiece requiring extensive footnotes to understand all the arcane references. But Eliot's poems were also the source of the mega-musical Cats, so clearly he was not easy to pin down!  Most of all, he was a poet of profound philosophical musings, many of his poems deeply suffused with his fervent Roman Catholic religious beliefs. Tanowitz does not illustrate these metaphysical explorations directly, but instead complements Eliot's words with her own ideas about time and space.
Pam Tanowitz Dance, ( center) Melissa TooGood ; Photo: Steven Pisano
Four Quartets is comprised of four long poems, each named for a place in England: "East Coker," "Little Gidding," "The Dry Salvages," and "Burnt Norton." Written as separate poems over a six-year period during World War II,  in 1943 they were later grouped into a single volume by Eliot's publisher.The texts are richly composed, with sumptuous and rhythmic phrasings that reward speaking out loud. They meditate on the passage of time, human perception, and spiritual life after death.
Pam Tanowitz Dance (L to R) Jason Collins, Kara Chan, Melissa Toogood and Zachary Gonder; Photo: Steven Pisano

Eliot himself would be delighted by the oration of Kathleen Chalfant who sits at a table below the stage surrounded by a small group of musicians from The Knights. Chalfant, the winner of numerous Drama League and Obie awards in her long career, as well as a 1993 Tony nomination for the seminal "Angels of America," makes Eliot's words sing with all their internal music.

You might think it too much going on at one time: a literary classic being read aloud by a great actress, captivating music, and persistently fascinating choreography, but it all holds together. Helping bind it are the quiet but beautiful set and lighting designs created by Clifton Taylor based on Brice Marden paintings, and the sheer costumes by Reid Bartelme and Harriet Jung.
Pam Tanowitz Dance (L to R) Zachary Gonder, Maile Okamura, and Victor Lozano; Photo: Steven Pisano

The choreography is inventive and varied, showing off a wide range of dance combinations. Mostly the work showcases the company as a whole, but there are also exquisite subparts devoted to solos, duets, and small groups amongst the ten dancers (including Tanowitz herself, who appears in the "Little Gidding" segment). Arms are often outspread like wings, and the contact between dancers is gentle, soft, and intimate, dancers looking at each other eye to eye, connecting, not just mechanically running through their steps. It is as if we are watching the dancers move spontaneously, as if we are actually watching the process of creation itself.
Pam Tanowitz Dance , Zachary Gonder and Lindsey Jones; Photo: Steven Pisano

In the end, the eloquent poetry of Eliot's "Four Quartets" inspired Tanowitz to some lofty artistic expression of her own. But even if this poetry was not spoken during the performance, her dance would still be an extraordinary accomplishment. That is, it stands alone on its many strong feet.
---
The Dance Enthusiast Shares IMPRESSIONS/our brand of review, and creates conversation.
For more IMPRESSIONS, click here.
Share your #AudienceReview of performances. Write one today!
---
The Dance Enthusiast - News, Reviews, Interviews and an Open Invitation for YOU to join the Dance Conversation.