IMPRESSIONS: Peridance Contemporary Dance Company's Spring Season 2022 - Eight Choreographers and Eight World Premieres
Choreography by Igal Perry, Roya Carreras, Junichi Fukuda, Colin Heininger, Elisabetta Minutoli, Jerard Palazo, Ido Tadmor, and Mike Tyus.
Performers: Alexandre Barranco, Manish Chauhan, Katie Currier, Colin Heininger, Mizuho Kappa, Sohye Kim, Kaylin Magard, Hannah Newman-Pan, Jerard Palazo, Mikael Pasini, Robert Brubama, Joslin Vezeau, Noah Wang, Tara Youngman, Bec Gombar, Valerie, Kosnevich, and Megan LeCrone.
Costumes for Intervals, Prism, and Oceans: Erica Johnston // Costumes for So Close: Mondo Morales
Lighting design by Brant Thomas Murray
---
Still feeling that at any moment we might get sucked back into the twilight zone of isolation from the pandemic, I approach any live performance with a deep sense of joy and gratitude. New works by eight different choreographers made it all the more exciting. Igal Perry, Artistic Director of Peridance Contemporary Dance Company, is supporting the future of dance at its core by producing this event. Creating an opportunity for choreographers with different degrees of experience to work with his dancers and present in the same program elevates the next generation of dance makers.
Perry writes: "In line with our mission to support both rising and prevalent choreographers, we set out to commission an ambitious total of eight new works. These choreographers hail from all over the world - The Philippines, Japan, Israel, Italy, and from New York to California. They represent a wide variety of unique viewpoints, and the works themselves differ in intriguing and exciting ways."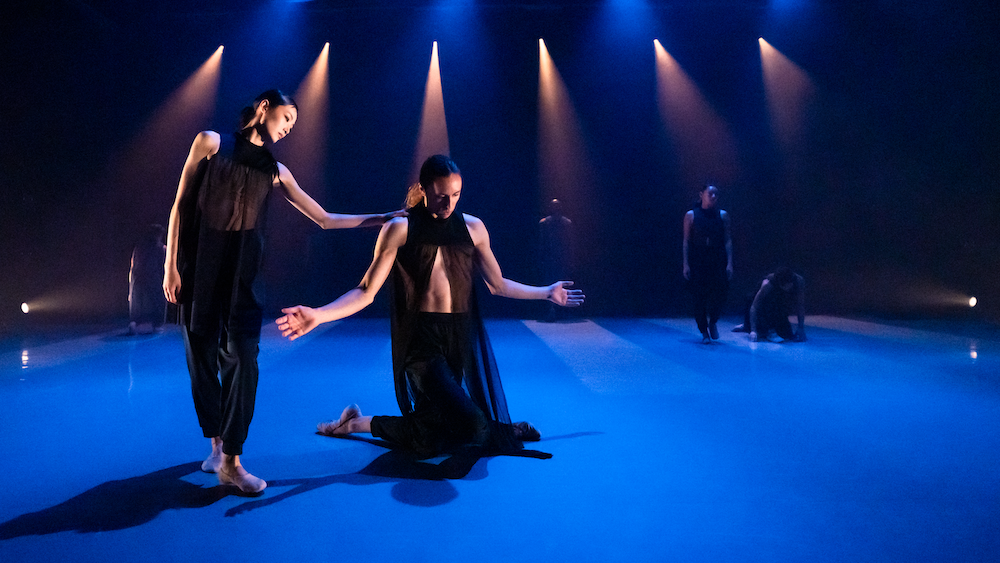 Igal Perry's Oceans; photo by Liz Schneider-Cohen
The program delivered in every way possible. Well-crafted and thought -provoking pieces were danced by stunning and accomplished performers. Each company member displayed a personally developed artistry, yet danced as a cohesive group when called upon. This was most evident in Perry's full-company piece Oceans with original music by Amit Weiner.
Oceans, the only revival on a program of world premieres, is inspired by the Old Testament story of Noah's Ark.
The audience becomes drawn in as the dancers move mysteriously in and out of a dark background into rectangular strips of light projected on the floor -I imagine the sun shining through the windows of the Ark. Erica Johnston's chiffon costumes have a modern feel, and the fabric floats with the movement in the sacred space created by lighting designer Brant Thomas Murray. An occasional glimpse of the dancer's bellies serves as a reminder of their mammalian vulnerability, yet a feeling of hope that speaks to this day and age, permeates the work.
Igal Perry's Intervals; photo by Liz Schneider-Cohen
Intervals, Perry's new work to music by Arvo Part, is inspired by those  encounters that propel us to make life changes. A trio ( two men and one woman) move like tangled tree branches, winding around themselves and traveling upward  as if seeking sunlight. What is their truth?  We wonder, is  this grouping a ménage a trois, or are the men about to shed heterosexual expectations to bring their true selves to light?
Ido Tadomor's Five Solos; photo by Liz Schneider-Cohen
Five Solos, is, ironically, a group piece for five dancers created by choreographer Ido Tadomor. It examines the idea of feeling alone even in a crowd.
Choreographer Roya Carreras shares a deeply stirring solo invoking the ravages and chaotic mental space entered when in the grips of depression.
Roya Carreras in her solo; photo by Liz Schneider-Cohen
As You Wish,  a poignant duet by Elisabetta Minutoli focuses on one couple's emotional struggle and relationship journey.
As You Wish choreographed by  Elisabetta Minutoli; photo by Liz Schneider-Cohen
Mike Tysus' With You; photo by Liz Schneider- Cohen
With You, a duet for men to music by nthng,  choreographed by Mike Tyus, takes us on a glorious testosterone-driven ride.  The movement is creative, fresh, and forceful.   The palpable chemistry of the dancers is punctuated by sounds of electricity, to which they respond in vibrating spasms, showing off technical strength and totally uninhibited performance. The two casts for this piece: Alexandre Barrenco with Mikael Pasini and Colin Heiniger with Manish Chauhan elicit gasps from the audience with their bold physicality.
Junichi Fukuda's Immured; photo by Liz Schneider-Cohen
Junichi Fukuda, a Peridance company alumnus, choreographed Immured, a quartet with original music by Lambros Pigounis. As the title suggests, the costumes evoke prison jumpsuits and the dancers cross their wrists as if bound. The piece, simultaneously literal and abstract, makes us wonder why we are confined. Is it because of war,  a crime committed,  or because of a limited view of the world?
Colin Heininger's Prism; photo by Liz Schneider-Cohen
Prism, a visually striking trio for three women, is choreographed by company member Colin Heininger with stunning primary colored costumes by Erica Johnston. The dance evolves around a bright triangular light projected on the floor.  Movements drawn from the spectrum of behaviors typically associated with masculinity and femininity reveal the possible ways that stereotypes  play out in interpersonal relationships.
Jared Palazo's So Close; photo by Liz Schneider-Cohen
Company member, Jerard Palazo presents So Close, his first full length group work featuring guest artist Megan LeCrone, a soloist with NYC Ballet.  The work was previously shown in progress in October and November of 2021 at City Center's Ballet Arts with the support of its director Stephen Reed.
In So Close, seven dancers ,including the choreographer, explore the need to belong. The piece opens with a circle of six in dark clothing who we come to perceive as the core community.
Jared Palazo and Megan LeCrone in So Close; photo by Liz Schneider-Cohen
The movement spirals, slides and jumps. Duets and solos break off.  Still, the community looms.  When Palazo and LeCrone, find each other completely alone they begin to explore a new intimacy. Sadly this feeling runs its course as Palazo is reluctantly swept back into the tribe. At the very end of the work, LeCrone boldly walks through the group's center.  Something has changed.
So Close's narrative has been wonderfully clarified since last fall's showing.  Palazo has done his homework and his  piece opens up timely conversations about tolerance , the efforts of outsiders to fit in; and what, if anything, should be given up to assimilate into a community. A budding choreographer has taken  root.
---
The Dance Enthusiast Shares IMPRESSIONS/our brand of review, and creates conversation.
For more IMPRESSIONS, click here.
Share your #AudienceReview of performances. Write one today!
---
The Dance Enthusiast - News, Reviews, Interviews and an Open Invitation for YOU to join the Dance Conversation.