IMPRESSIONS: Harlem Stage Presents "E-Moves 2023," Curated by Stefanie Batten Bland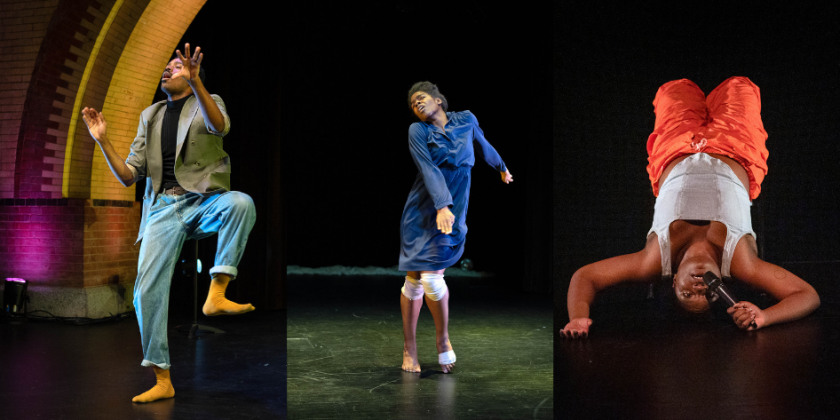 Featuring New Works Reflecting on the Black Arts Movement by Jamal Abrams, Kayla Farris, and Ogemdi Ude
Part VI of Harlem Stage's Ongoing Series Black Arts Movement: Examined
Date: April 15, 2023
Venue: Harlem Stage Gatehouse, 150 Convent Ave, New York, NY
---
Harlem Stage's iconic dance series, E-Moves, has brought together remarkable choreographers, artists, musicians, and dancers of color to present their visions to audiences for over 20 years. This year, the E-Moves dance series is curated by Harlem Stage alum and Jerome Robbins Award-winner Stefanie Batten Bland, presenting three featured works by artists Jamal Abrams, Kayla Farrish, and Ogemdi Ude — Bland  hand-picked these creators to contribute their choreographic voices to the audience.
The research and presentations of E-Moves are inspired by the legacy of the Black Arts Movement of the 1960s and 1970s, "…a cultural movement led by Black artists, activists, and intellectuals that shaped the ideologies of Black identity, political beliefs, and African-American culture," states the program. "African Americans, hybrid in composition already, are constantly navigating making methods that are expressed through past and present geographical constructs," says Bland. "The more I can support makers through theatrical movement expression, the more I can honor E-Moves."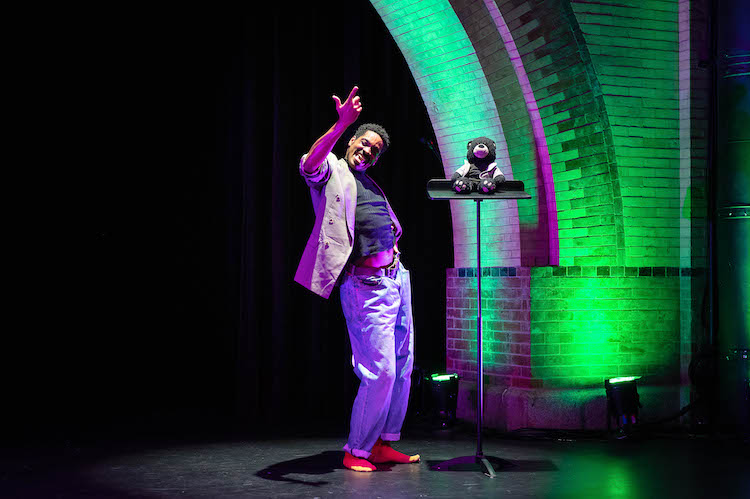 Jamal Abrams and Teddy Bear; photo by Marc Millman
The series Black Arts Movement: Examined unites Black artists and activists, inviting them to partake in an expansive program of dance and film presentations, conference panel discussions, and theatrical readings for present day research and experimentation. Topics of race, gender, and sexuality circulate among the participants, who share a mission to give Black voices a more prominent platform in proscenium spaces.
Dancer and interdisciplinary artist, Ogemdi Ude, presents ok, let's try this again, a solo adaptation of past works battling grief and the loss of loved ones. As she sits on a chair center stage, bright neon orange, red, and blue lights carve Ude's silhouette, creating shadows on the brick of both theater sidewalls. Her movement is inspired by the artistry and phenomenon of movie animation. Using articulate gestures, Ude presses her palms on her body with resistance, deliberate and hyper. Language exudes from her body as she stretches. Vocal and hyper-annunciating, this solo is as much a proclamation as a dance.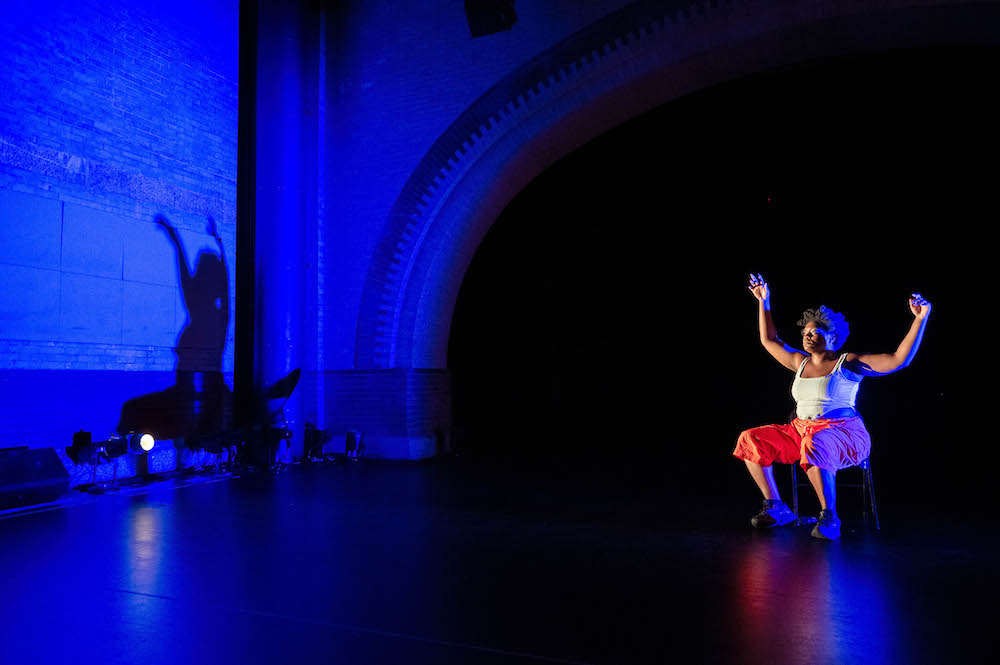 Ogemdi Ude; photo by Marc Millman
Jamal Abrams, interdisciplinary artist and creator of SAB & The Gatekeeper, wrestles with the idea of continuous self-conflict. Abrams names his shadow-self "SAB," presented onstage as his real childhood teddy bear, protecting and guiding him through the world. "Did I do this…….or did you?" Abrams asks while battling this other version of himself. Abram sheds light on the subject matter of trans and generational trauma, which he describes as, "things inside of my body that don't necessarily belong to me."
During dialogue with "SAB," the fourth wall is broken, as Abrams introduces himself and at times resets the stage and story. After slow motion, club-type dancing and coke bumps to Doja Cat's "Best Friend," Abrams eventually finds himself in a vicious cycle of complete self-blame." That was my fault," he says, as he stressfully walks in circles, at times slamming to the floor. Eventually he speaks out, saying "This is starting to hurt, Jamal." During other  moments of Abram's self-narrative, however, his body moves with ease, fluid extensions, and beautiful use and control of momentum.
Kayla Farrish; photo by Marc Millman
Ending the evening is Myths until you hold me, a movement and vocal marathon in which Kayla Farrish imagines and brings herself into resolution as a Black woman. Building upon her past solo works, Farrish uses, "curiosity as an engine of rebellion as she aspires to build tools for BIPOC communities to radically imagine, archive, and live," states the program. Urgent and powerful, Farrish bursts onto the stage, ebbing and flowing with resistance and dynamic edge. As Farrish skims the floor seamlessly with extensions and laterals, electricity pulses through her body. After a long dance solo to songs such as Nina Simone's Ne Me Quitte Pas, she stands at the mic to profess her truth. "The solo before was more about tapping into ancestral power…and if I can tap into that, what freedom would I feel?" asks Farrish. "With this solo I wanted to debunk myths we share as black women."
In orange light, Farrish flows under a silken white fabric, expressing wanderlust and steadfastness. "I'm real," she says. During strums of music the audience can feel the presence of her emotional self. Farrish's work is a collage embodying more than herself.  Writing, words, music, and movement, all together, create "an engine of rebellion as she aspires to build tools for BIPOC communities to radically imagine, archive, and live."
Ogemdi Ude, Kayla Farrish, and Jamal Abrams; photo by Marc Millman
E-Moves shines a spotlight on three artists' tremendous power in vocal and physical performances, and illuminates the beauty of three Black narratives which are equally powerful yet distinctly unalike. The creators on Harlem Stage prove that dancers are not meant to be speechless. Bridging dance, music, and speech to embrace Harlem's cultural legacy and generate rich, diverse art stirs excitement and projects a vision for the future.
"If I can pass that baton on more, there will be more of us," says Bland. "We'll be obliged to be seen, obliged to be heard."
---
The Dance Enthusiast Shares IMPRESSIONS/our brand of review, and creates conversation.
For more IMPRESSIONS, click here.
Share your #AudienceReview of performances. Write one today!
---
The Dance Enthusiast - News, Reviews, Interviews and an Open Invitation for YOU to join the Dance Conversation.