Impressions of AO Movement Collective in "barrish"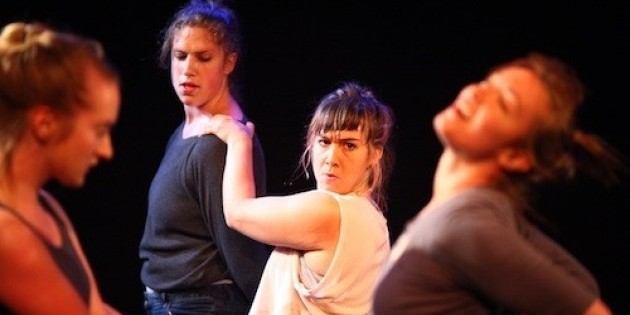 The Downtown Dancer 2012
IMPRESSIONS OF: Sarah A.O. Rosner and AO Movement Collective
In barrish
HERE ARTS Center, Manhattan, NY
July 12, 2012; ran from July 12-14, 2012

Performed by: Lillie De, Anna Adams Stark, Leah Ives, and Emily Skillings
With additional performances by: Josh Aleksanyan, Ariane Bernier, Ilona Bito, Zachary Denison, Heather Freedman, Derek Grabner, Sara Hertzberg, Woody Leslie, Rebecca Lubart, Sarah McSherry, Lucia Rich, Alex Megan Schell, Kristen Schnittker, Sophie Sotsky, Victoria Trioche, & Keeley Walsh

Original score by Jonah Rosenberg
Lighting design by Edward Rice
---
Tara Sheena for
The Dance Enthusiast
with Photography by Paula Court courtesy of Sarah A.O. Rosner
July 25th, 2012
---
The Background.
Sarah A.O. Rosner is not just a choreographer: she is a business-minded innovator. Rosner established her dance company, the A.O. Movement Collective, as part of a three-fold model that includes her movement collective, a community engagement element (the blog, the Urgent Artist) and a consulting business. In a dance world where business and creativity play real-life tug-of-war, Rosner, through her A.O. Pro(+ductions), strives to create practical balance by offering low-cost services - ranging form design assistance, to marketing advice, to fundraising aid - to fellow artists. She believes, by working in a sustainable manner, all of the facets of a dance performance (creative, technical, and administrative) can coexist easily.

When creating her newest evening-length work, barrish, Rosner, still innovating, decided to play with the logistics of performance production. In a recent phone conversation, she referred to her rehearsal process as a series of "sustainability experiments." Over a two-year creation period, which she dubbed "The Menu Project," nine separate curations of barrish took place. Each version served as important research in sculpting the final piece. A variety of curators, ranging from Rosner's parents to the LaMaMa Experimental Theater, decided the order and content of their particular performance—much like diners choosing items off a menu.

Rosner was primarily concerned with generating a multiplicity of products from a single process and wanted to open her show to a wider range of venues and audiences. She believes this "Menu Project" model offers an organic structure for touring and increasing audience engagement.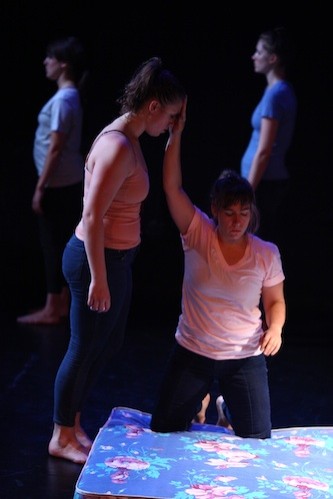 L to R: Anna Adams Stark and Lillie Dein barrish; choreography by Sarah A.O. Rosner ; Photo © Paula Court
---

The Show… barrish.


Rosner's provocative and well-crafted dances embrace the culture of New York's downtown dancer in 2012; hipsters that believe in creativity at all costs.
A downtown stage. Dramatic monologues. Nudity. Pop culture references. Intense make-out sessions. These elements have been prominent in most every show I've seen in a theater below 14th street this past season. Sorry modern dance, sometimes we aren't as original as we think. Sarah A.O. Rosner's barrish at the downtown venue HERE ARTS Center was no exception. The pop culture reference was the famous television franchise Law and Order. The nudity was omnipresent. The intense make-out sessions were…well…intense. However, lumping Rosner's work with every other eccentric choreographer out there hardly begins to do her justice.

Upon entering HERE, I notice three full–size floral mattresses barricading the motionless performer, Leah Ives, on center stage. I grab a seat in the front row, asking the guy sitting next to it if it is free. He nods ambivalently. Suddenly, I notice his feet are bare and figure out that he is a performer in the show. His disengaged response is my entry into the dark, schizophrenic world of barrish. I am no longer an uninvolved spectator. And, there is no turning back.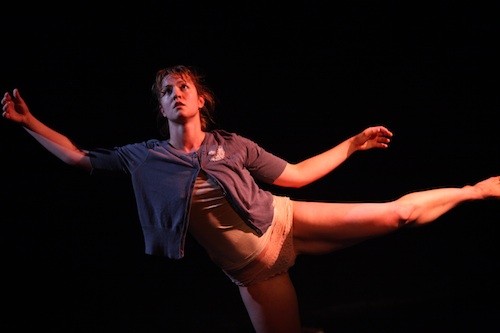 Leah Ives in barrish; choreography by Sarah A.O. Rosner; Photo © Paula Court

Ives' immediate release from the mattress blockade begins the two-hour spectacle. A series of mattress vignettes, punctuated by Ed Rice's lighting with blackouts mimicking the blink of an eye, shows Ives in varying stages of discomfort. Sprawled on one of the mattresses, her sporadic twitches and turns reveal that she is caught in the middle of a nightmare.

When three other performers: Lillie De, Anna Adams Stark, and Emily Skillings, join Ives, theatrical, physical, and surrealistic elements mix and mash into a collage of Law and Order episodes. The familiar theme music kicks in as the women parade around the stage performing a farce on television crime drama. De exclaims, "I never thought he'd go that far!" Ives answers, "That's what makes you a good cop!" Their movement echoes a series of crime scene snapshots.

The first half of barrish comes to a close with ten simultaneous duets. It is the only time the entire extended-cast takes the stage. The ever-present Ives is, again, positioned in the center, while the dancers around her engage in a choreographed series of kissing, groping, and weight catching. The pairs interrupt their making out with standard modern dance movement: rolling over each other's backs, piggyback rides, and some awkward slow dancing. Impressive for the sheer coordination of many bodies, the duets fail to provide a dramatic continuity that matches the over-the-top excitement of the rest of the show.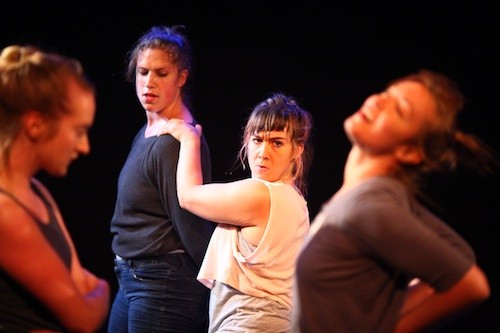 L to R: Emily Skillings, Anna Adams Stark, Lillie De, and Leah Ives in barrish; choreography by Sarah A.O .Rosner;
Photo © Paula Court
Duet play returns frequently in the second half of the evening. At one point, Skillings and Stark become so intertwined that they literally sew the front of their shirts together with a red thread. This moment of togetherness is dismantled when the two women lean away from each other allowing the thread to rip their shirts apart.

In barrish we are ping- ponged from blunt emotional force to absolute stillness. The pattern of building things up just to break them down is both compelling and exhausting. In the performers, I see the fatigue of their continuous emotional and physical outpouring. In the audience, I see confusion and the anxious wonder of, "What's coming next?" This continues through to the final moment, when the entire cast ,assembled on stage and seemingly ready for a curtain call, is ambushed by a completely naked couple- Sarah McSherry and Woody Leslie - who dive into the center of the group in ,again, an intense make-out session. Whoa.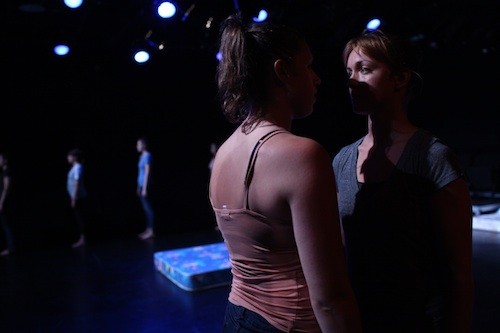 L to R: Anna Adams Stark and Leah Ives;in barrish; choreography by Sarah A.O .Rosner;
Photo © Paula Court
Rosner's provocative and well- crafted dances embrace the culture of New York's downtown dancer in 2012; hipsters that believe in creativity at all costs. We live in Brooklyn. We have performances in loft spaces and friend's bars. We spend too much money on coffee and spend all of our time thinking about how to make dances, with or without that money.

As an artist and a producer Sarah Rosner is searching for new ways to sustain this art and create work worthy of sustainability; and, I am saving my coffee money for tickets to her next performance.

For more on the AO Movement Collective, visit http://theaomc.org/.