Related Features
Advertise With Us
Make an impression — place an ad on The Dance Enthusiast and receive thousands of eyes on your work every week. Learn more. 
Contribute
Your support helps us cover dance in New York City and beyond! Donate now.
IMPRESSIONS: Cora Dance in "down here"
IMPRESSIONS: Cora Dance in
"down here"
Red Hook Studio-Theater
March 6, 2013
 
Choreography: Shannon Hummel in collaboration with the dancers
Performed by: Katie Dean and Calia Marshall
Lighting: Nadia Tykulsker
Composers: Bruce Kaphan and Fernando Maneca
Costumes: Malca BK

Tara Sheena with Christine Jowers for The Dance Enthusiast
---
Shannon Hummel's newest evening-length duet down here asks questions about existence and identity while exploring a volatile relationship between performers Katie Dean and Calia Marshall. In the intimate space of the Red Hook Studio- Theater, we feel part of the action.
Dean and Marshall, primal beings, standing hunched and withdrawn, move toward each other at an unnervingly sluggish pace. They seem in a perfect position to embrace when, quite suddenly, Marshall charges Dean ,who in response, attempts to hold Marshall back with strongly flailing arms.
Cora Dance in down here; choreography by Shannon Hummel; Photo Shannon Hummel
Before the tense moment erupts into a war, a single sheet of aluminum foil gently floats down from the ceiling. Marshall, as if on cue, withdraws from the heated charge, immediately picks up the foil, and molds it into a doll--crafting tiny arms, legs, and a head with concentrated urgency. When she's finished, she thrusts her toy at Dean.
Blackout.
As the lights return, we see Marshall and Dean engulfed in hundreds of these silvery, miniature beings- two gigantic gods in a miniature kingdom.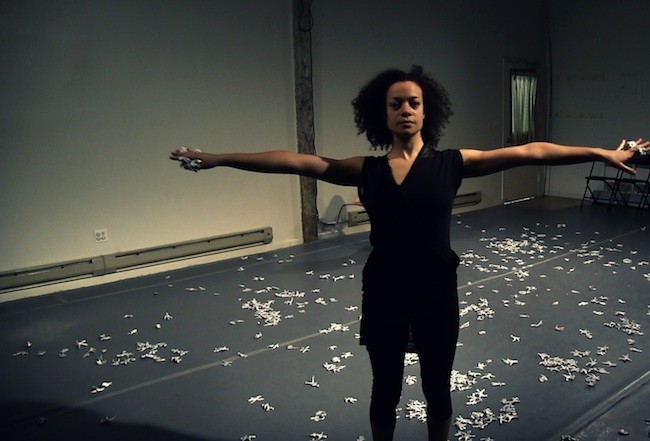 Cora Dance in down here; choreography by Shannon Hummel; Photo Kamau Ware
In down here Hummel assembles a speedy, highly gestured, rhythmical language where non- sequitur actions --a swipe of the mouth, a raise of the hand, a bite into an imaginary piece of fruit and play with intriguing little doll props-- seem second nature. The ambient sounds of Bruce Kaphan and Fernando Maneca wash over everything hauntingly.
Marshall and Dean's quest for controlling each other manifests in manipulation of their foil dolls, but it's evident this control is flawed. How can they control others if they can't even handle themselves?
Who are Marshall and Dean's giant characters in this world- children or imperfect gods or a little bit of both? And, who are we in this picture- the dolls,simple floaters destined to be manipulated, or the giants? Is life destined to be a messy war of control games?Hummel brings up interesting questions.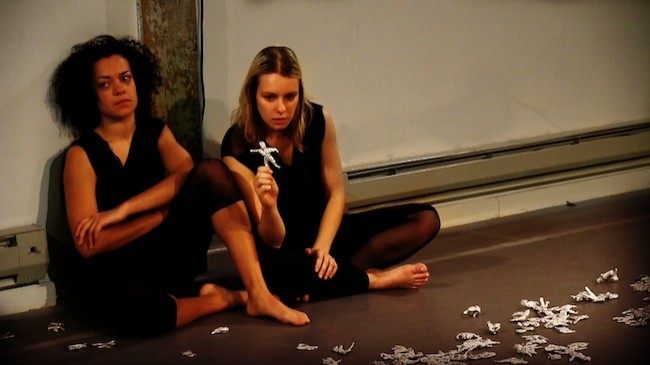 Cora Dance in down here; choreography by Shannon Hummel; Photo Kamau Ware
By the end of the piece, the duet withdraws to their original hunched position as a shower of foil sheets rain down on them. The cycle continues: unformed matter drifting to earth and unformed beings continuing to shape it.
---
The Dance Enthusiast Shares IMPRESSIONS/our brand of review, and creates conversation.
For more IMPRESSIONS, click here.
Share your #AudienceReview of performances. Write one today!
---
The Dance Enthusiast - News, Reviews, Interviews and an Open Invitation for YOU to join the Dance Conversation.