The Dance Enthusiast Goes to the Museum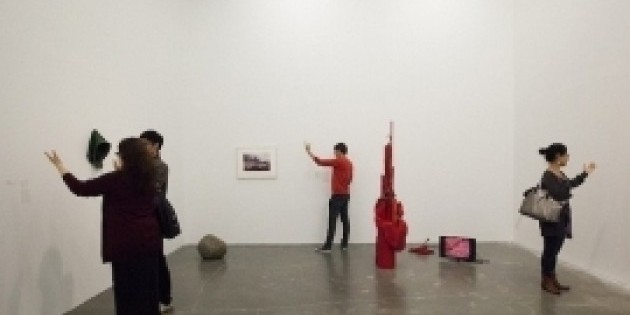 The Dance Enthusiast Goes To The Museum
Impressions of A Day in 1993
Featuring the work of Pepon Osorio, Matthew Barney, Janine Antoni, Andrew Serrano, Felix Gonzales-Torrez, and Rudolf Stingel.
---
Tara Sheena for
The Dance Enthusiast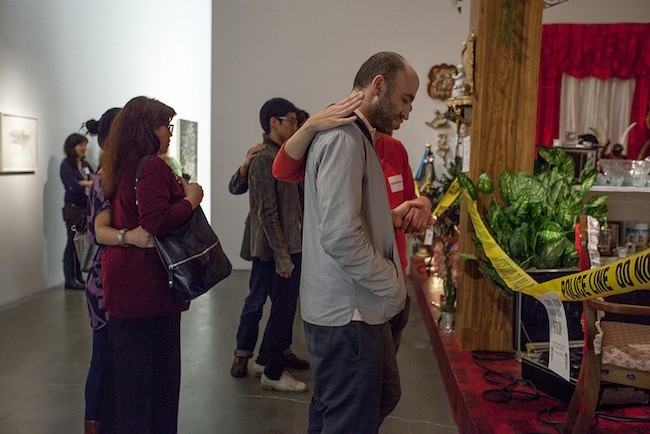 "Aural Sensations," participants walk through Pepon Osorio's "The Scene of the Crime (Whose Crime?)." Photo by Caitlin Ruttle.
In 1993, I was four and my largest concern was a mid-afternoon snack. I knew nothing about the AIDS crisis, culture wars, NEA 4, gay rights, debates on health care, gun control, or attempts at peace in the Middle East, and, what's more, I had no idea about the global network of artists who were responding to all this. Twenty years later, these topics still are a lot to fathom.
This anxiety was, at least momentarily, assuaged on Friday, May 24, when I found myself in the lobby of the New Museum amidst the final days of the much-talked about exhibition, NYC 1993: Experimental, Jet Set, Trash, and No Star. Luckily, I had dance artist, Michelle Boul, and theatre director, Niegel Smith, to guide me through it all. Their organized walk was presented by Elastic City; a Brooklyn-based organization that commissions artists to lead sensory walks through public spaces. Titled "Admission," Boul and Smith directed us through seven different spaces of the museum and allowed our group of nine to engage, confront, and explore art in a way we would not otherwise be able to.
Our 60-minute stroll was divided into seven activities— more like mini-performance improvisations:
Facing the Pane, Aural Sensations, Touch Conveyor: Face to Face, Female Drama, Choral Chamber, Choose Your Own Adventure, Collaboration Nation Installation.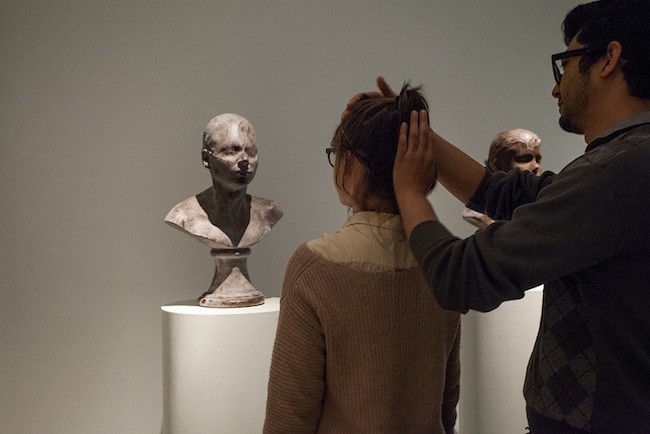 "Touch Conveyor: Face to Face," participants engage with Janine Antoni's self-portrait busts. Photo by Caitlin Ruttle.
Facing the Pane
, took us outside the museum along the streets of the Bowery. One participant, Carissa, stayed indoors, behind the street-facing window. Boul hung back to give her gentle prompts which we were expected to copy from the other side. Many passersby stopped to watch and wonder as this performance ensued. There were no hesitations or questions from our group; we soon realized that this was our warm-up.
As a dancer, the activity,
Touch Conveyor: Face to Face
, fed my desire for pure movement. Centered on Janine Antoni's series of fourteen self-portrait busts, titled "Lick and Lather," we traveled down the corridor in pairs taking turns to create touch responses to each sculpture. I was hyper-aware of every action my partner took and amazed that we could shape one anothers' understanding of art with actions as simple as swiping our partner's forehead or subtly moving a piece of hair. This was an incredible way to relate to Antoni's work—instinctual, yet highly detailed.
Later, in
Female Drama
, we split into two groups and circled around various painting and photographic works by or about women. When tapped on the shoulder by one of our guides, we were expected to share a two-sentence response to an object of art. We could concoct an impromptu anecdote, share a fact-based assertion, or chime in with a relevant song lyric. In response to Andrew Serrano's incredible close-up photograph of a set of female hands titled "AIDs Related Death," I attempted to put myself inside the life of this intense snapshot and said, "In 1992 (the year the work was created) I took this photograph. I was three years old."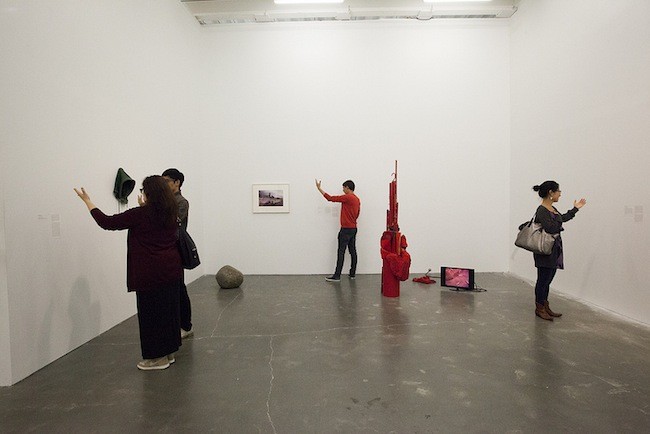 "Choral Chamber," photo by Caitlin Ruttle.
In the
Choral Chamber
activity, the museum's descriptive placards took center stage. Assuming an "opera singer stance" (left hand to the heart and right hand outstretched), we took our places by an artwork of choice and loudly "sung" its description. Alas, this was no perfectly rehearsed aria. All the foreign languages and complicated words elicited a jumbled reading filled with mispronunciations and unwelcome stutters. Still, our imperfect chorus radiated out of the room and extended the glory of these paintings beyond their frames.
At the end of our tour, I found myself flat on my back facing the ceiling surrounded by the delicate strand of light bulbs in Felix Gonzalez-Torres' installation, "Untitled (Couple)." This was our final activity:
Collaboration Nation Installation
. Here, I felt part of it all—the exhibit, this installation, and the community of trust we had built over the course of our walk. Boul and Smith designed a powerful, yet simple, walk to encourage the art of engaged observation. The experience was a welcome antidote to passive gallery wandering.
1993 wasn't so bad after all.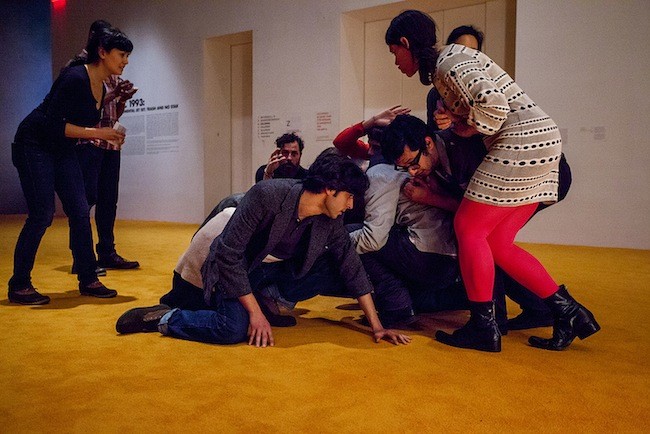 "Collaboration Nation Installation," the final activity in Felix Gonzalez-Torres and Rudolf Stingel's installation. Photo by Caitlin Ruttle.