IMPRESSIONS OF: Ballet de l'Opera de Paris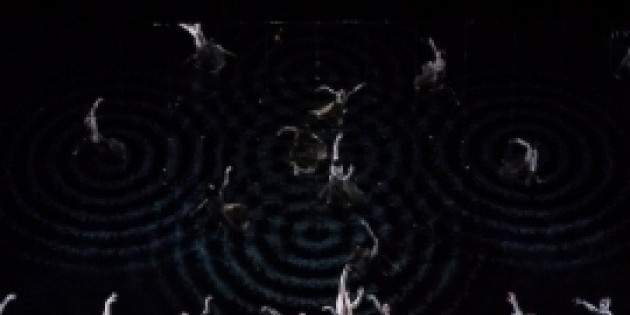 IMPRESSIONS OF: Ballet de l'Opéra de Paris
In L'aprés-midi d'un faun (1912) choreography Vaslav Niijinsky
Afternoon of a Faun (1953) choreography Jerome Robbins
Firebird (1970) choreography Maurice Béjart
Boléro (2013) Sidi Larbi Cherkaoui,Damien Jalet, Marina Abramovic conception
choreography Sidi Larbi Cherkaoui, Damien Jalet sceneography/projections Marina Abramovic
at the Palais Garnier
June 1, 2013
---
Ann Moradian for The Dance Enthusiast
Nijinsky's choreography is supremely minimalistic, almost pedestrian. Only his "Faun", danced by Nicolas Le Riche, has a starring role. There is a nymph soloist, Eva Grinsztajn, who emerges from the small corps, but the dance seems designed so that we hardly notice her.
Léon Bakst
created the costumes and a stunning abstract woodland in a palette of ochre, browns, greens, grays and blues that almost
smell
of the musky, heathen earth. The fairly overt reference to the Faun's sexual climax at the end of the work certainly contributed to the mix of outspoken reactions at its premiere.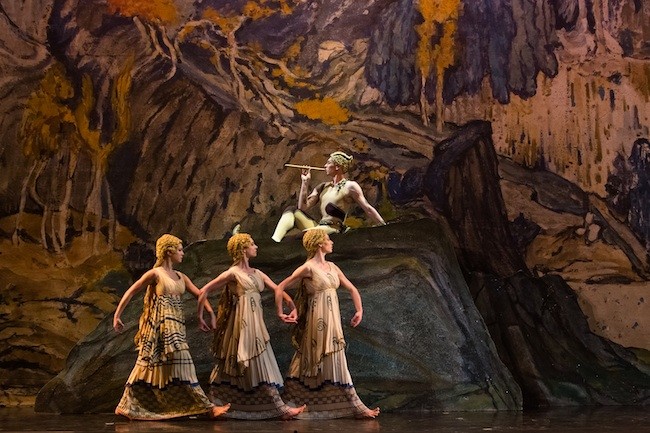 L'Après-midi d'un Faune; Chorégraphie : Vaslav Nijinski; Interprète : Nicolas Le Riche; Photo ©Agathe Poupeney / Opéra national de Paris

L'aprés-midi d'un faun's movement vocabulary is limited to that 'walk like an Egyptian' move that Martha Graham used over 20 years later with greater intensity, expression and variation. Just add an occasional hinge or plié, and then change direction from time to time and there you have it. I appreciate simplicity, but here I was asking myself 'How can you possibly perform those steps and keep them alive?' Walk this way, then walk that way, then smell the scarf. (Ahh- the smellings of the scarf- the only real moments with any life vibrating in them.) I wonder if Nijinsky didn't create the unimpressive movement just to irritate his female cast. No prima ballerina, no fouette turns on a dime, no sylph-like floating bourrées to entrance the audience, and certainly no chance to shine!
While the work's theme is essentially erotic and its medium is the human body, the experience created is cerebral, rather than sensual. The construct of a faun in the woods could imply innocence, but it feels contrived. This is a dance about the idea of sexuality, and it really gets no closer than that. I was happy to see it on film at the Centre Pompidou last year as part of their rich exhibit Danser sa vie, but felt no driving need to see it again.
---
Forty -one years later,
Jerome Robbins
created his
Afternoon of a Faun
. I confess that, even while complaining about Nijinsky's work, I loved seeing these two pieces side by side - two interpretations of the same music, inspired by the same poem, and yet so different. This type of juxtaposition is an education in itself, whatever you think of the works. We can see Robbins' choreography moving more toward the athletic, even a bit toward the gymnastic, and yet the thoroughly upright torso from 1912 remains.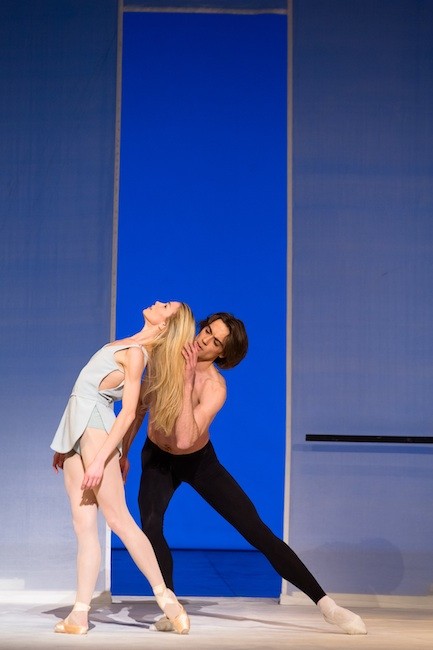 Afternoon of a Faun;Chorégraphie : Jerome Robbins;Interprètes : Hervé Moreau - Eléonora Abbagnato
Photos © Agathe Poupeney / Opéra national de Paris
Robbins' forest of 1953 is the New York City Ballet's studio classroom. Jean Rosenthal's set appears through a dream-like haze of scrim revealing the ballet barre, walls, windows, floor, and the light. The studio is inhabited by a young man and is, for the moment, his very private domain. We, the audience, are the mirror. A young woman enters as the nymphs do in the older version, not realizing she is invading the faun's space. He lifts her gently and she stays.
The two never look directly at each other. Their attention is captivated by their reflections. Whether they are self-centered or simply detached, we don't really know. While work is elegant in its simplicity and gently lyric, as in Nijinsky's version, it is all about the boy. There is nothing unique about the girl. Any pretty girl (with a similar technical ability) would have suited just as well. And yet, even in this thoroughly narcissistic perspective, there is a strong sense of innocence and sweet sensuality. The climax is a gentle kiss on the cheek. Clearly this dance was created long before the birth of MTV and the Internet made our children jaded beyond their years.

---
I was happy to see
Maurice Béjart
's
Firebird.
It seems to me that he always uses his male dancers well, while he often overlooks women or offers them surprisingly ordinary choreography. This
Firebird
, created for the Paris Opera Ballet in 1970, was born out of a guerilla resistance movement. Set to Igor Stravinsky's abbreviated score, it lasts a fleeting 22 minutes. (I would have loved to see
Michel Fokine'
s original 1910 version alongside this one, just for the history lesson. (The Ballets Russes commissioned Fokine, like Nijinsky, for their Paris season.)
Excerpts of the Performance in Paris

Béjart introduces a male "Firebird", danced here by Florian Magnenet. He also gives us a male "Phoenix", performed by Jérémy-Loup Quer. These are the only starring roles. Magnenet's performance lacked poetry and any sense of flight, which is a pity, because the choreography demands it. Every arabesque, arch and heart opening leap was lost in a stiff back and broken line through the neck, which was not very convincing as birds go. But the Phoenix, wow - harsh choreography well done! There was not a lot of individuality but, frankly, it's a noteworthy accomplishment just to get through the viciously complicated sequence of fast, twisting jumps.
The costumes, conceived by Joëlle Roustan, are unisex. The entire corps dance the same steps and everyone wears the same clothes: gray combat fatigues in the first half, with the Firebird removing his, then dancing in a bright red open-chested unitard.The red band of fabric across the chest is far from flattering on a broad-chested man. The costume works better in the second half when the Firebird, in his death, joins the Phoenix and a full corps de ballet all wearing the same outfit. They dance against a large, deep red setting sun projected onto the back scrim.
By casting both Firebird and Phoenix as male roles while simultaneously keeping much of the standard, splay-legged poses often found in classical pas de deux, Béjart highlights the sexual metaphors that are bandied about so blindly in western ballet and contemporary dance. With France having just witnessed its first same sex marriage in May, one could view this Firebird as a celebration of same sex union, whether that was the intention or not.
---
The last work of the evening was
Boléro
, choreographed by
Sidi Larbi Cherkaoui
and
Damien Jalet
to Maurice Ravel's driving, sensual score. (The orchestra, under the direction of Vello Pahn, played all of this evening's familiar classics beautifully.)
I wonder how
Boléro
, would come across without
Marina Abramovic'
s projections and scenography? Cherkaoui's and Jalet's movement is a whiplash of swirling spirals in a sea of chaos. The dance is given form and order by the projections that begin as concentric circles. The circles come rippling out from central points all over the stage, with the dancers, whirling and wrapping within them. The waves expand out into what feels like the ocean of existence.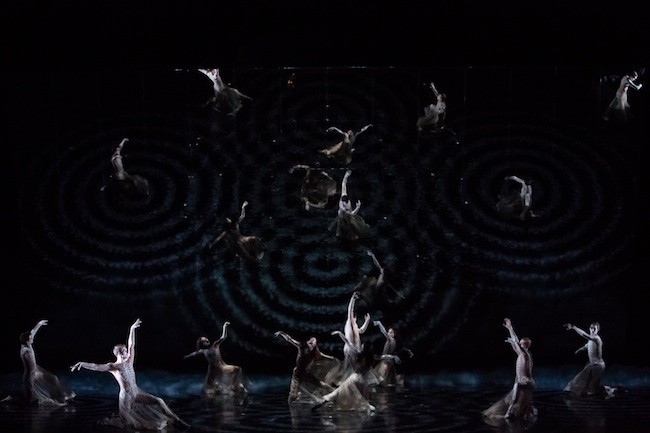 Bolero ;Chorégraphie : Sidi Larbi Cherkaoui - Damien Jalet; Sceneopgraphy Marina Abramovic;Interprètes : Ballet de l'Opéra national de Paris
Photos ©Agathe Poupeney / Opéra national de Paris

A mirror is suspended above the stage, facing us. It is positioned with a slight downward tilt so that it reflects everything happening on the stage in double. Every image, every movement, every pattern on this enormous canvas draws our focus toward the overall patterns and emerging order of the apparent chaos, rather than toward the detail of any individual performer or coupling.
What a relief to see the dancers move with such abandon and commitment after such a constricted evening. Their physical range –moving from total control to total abandon, astounds me. I find myself grateful to be breathing again as these dancers claim the space.
Witnessing these works from various points in history side by side reminds us how dramatically western dance has evolved.
There is no distinction between masculine and feminine. The dancers start out covered by full-length black capes, but for most of the piece everyone wears nude unitards painted with glowing skeletons (I guess you can't get more gender neutral than a skeleton) and amplified by long sheer skirts. Eventually, even the skirts come off. The costumes are designed by Riccardo Tisci.
Everyone plays their small part in the choreography, but my attention is constantly drawn to the larger universe they exist in. The dancers seem more like atoms and molecules in action than individuals. Abramovic's projections accentuate Ravel's pulsing music. Sometimes we follow the music, sometimes the dancers, and sometimes the relationship between both. Everyone matters, and no one matters.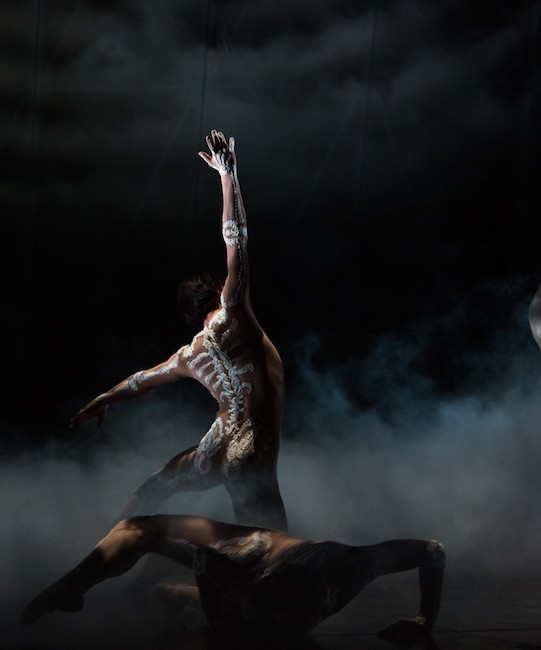 Bolero ;Chorégraphie : Sidi Larbi Cherkaoui - Damien Jalet; Sceneopgraphy Marina Abramovic;Interprètes : Ballet de l'Opéra national de Paris;Photos ©Agathe Poupeney / Opéra national de Paris
Boléro
is billed under Cherkaoui and Jalet's names, yet I suspect it is Abramovic's contribution, rich with imagery and symbolic metaphors, which directs our focus and drives our experience of this work. It is not a piece you watch, It is a piece you live. Without Abramovic, I would have been watching the steps and the dancers, and the real beauty of the work would have never been detected.
The greatest paradox is that this collaborative team (Cherkaoui, Jalet and Abramovic) has managed to create an exquisitely spiritual work to one of Western classical music's most sensual pieces. I sense profound questions within all the movement. We look at how things come together and move apart, we think about union separation, about love even. What might love mean in a context beyond human experience?
The entire evening, from the billing, was devoted to men and their visions or ideas of sexuality. The fact that Cherkaoui, Jalet and Abramovic's work is a collaboration that fully embraces masculine and feminine, as well as spiritual and physical, was glorious. ('We've come a long way baby!') Now we simply need to have the administration catch up so that the billing is corrected to include Abramovic's name. Hers was no standard set design or background projection -- it offered a new perspective on movement and on dance.
That being said, the fact that the Paris Opera Ballet is continuing the tradition of Diaghilev's Ballet Russes, commissioning new and important works for its repertory, is not only laudable, it is critical to the continuing progression of dance, of dancers and of audiences. New commissions are vital to keeping dance alive and relevant.