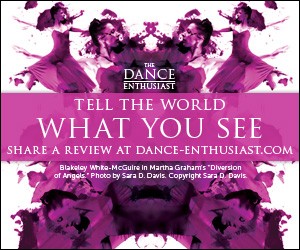 Related Features
Remembering September 11th Through Dance: IMPRESSIONS of LAMENTATION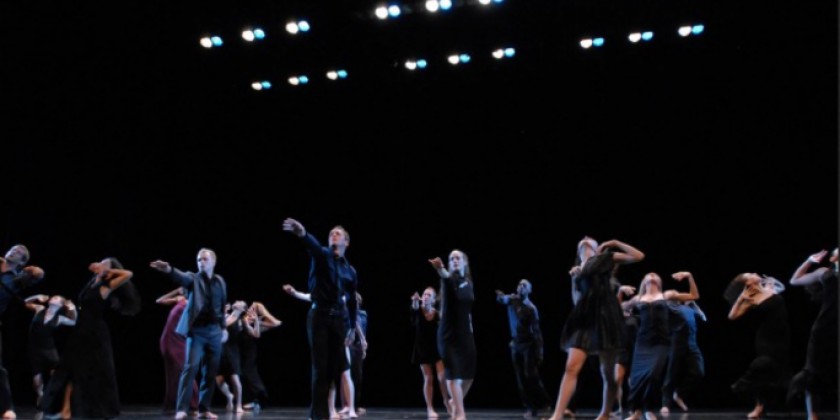 Six Years Ago the Martha Graham Dance Company created the "Lamentation Variations" as a Tribute to the Victims of September 11th
Looking Forward by Looking Back- The Dance Enthusiast Celebrates Six Years of Existence and Remembers One of our First Articles...
LAMENTATION VARIATIONS Choreography by Larry Keigwin
Music by Frederic Chopin
Lighting by Beverly Emmons
Conceived by Janet Eilber; Performed by: The Martha Graham Dance Company
Premiere: September 11, 2007, Joyce Theater New York City
---
Christine Jowers, for The Dance Enthusiast September 2007...

Of the many striking images of September 11th 2001, one may recall somber parades of people covered in ash-- stunned masses--some with clothes ripped and bloodied, walking uptown away from that horrible smoke. Other images are of people never found. Often only small personal items, such as jewelry, or tiny photographs, or little bits of paper were the only clues left that a body once existed. Larry Keigwin's dance, the finale of Lamentation Variations, erases those pictures and for a moment in time brings all the lost souls back to us. The people we see are not broken. They are not dead.
The Martha Graham Company in Larry Keigwin's Lamentation Variation Photo Nan Melville

On this night bodies are whole again, wearing beautiful evening clothes and moving to music filled with romance and possibility, a Chopin nocturne. In the quiet moonlight--created by Beverly Emmon's evocative lighting--dignity and humanity have been restored.

The community of souls, represented by the powerful collective presence of the full Martha Graham Company (twenty dancers), stares out at us. They appear to be looking in a large mirror directly in front of them. They perform daily rituals- putting on make up, inserting a contact lens, fixing their hair, and hugging their mates. At times it is clear that these people are involved in their rituals and at other moments it looks like they are attempting to communicate with us.

We catch imploring glances and hands that reach out to touch us through the invisible wall that separates the audience from the performer, the living from the dead. When Miki Orihara lifts the ends of her long black hair directly above her head and opens her mouth in a huge yawn or scream, is she looking at her reflection, or is she commanding us to look at her fully? "This is what I wanted to say but couldn't before, listen to me now--now that I am whole again."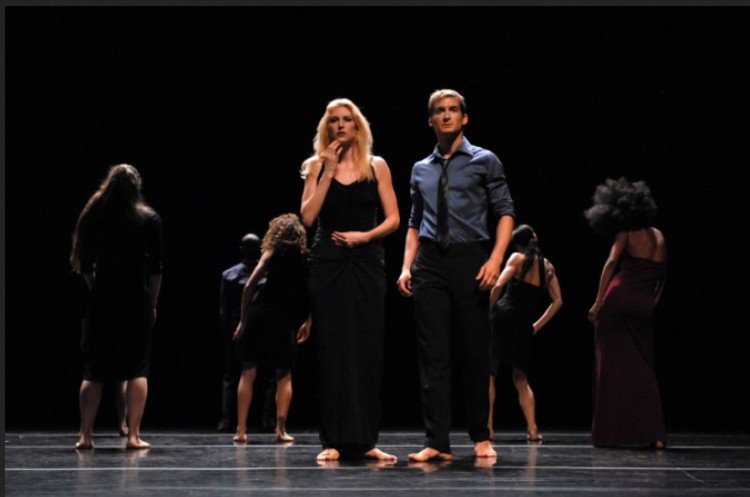 The Martha Graham Company in Larry Keigwin's Lamentation Variation Photo Nan Melville

In this conclusion of the Lamentation Variations, we see ourselves in the bodies on stage. The beauty of our familiar routines and emotions. The sculpture of our hands. Awesome cheekbones. The lips. The majesty of a simple walk forward, of a hand reaching toward us.

The body is a miracle and a mystery, not to be taken lightly, not to be forgotten. Martha Graham spent her whole life's work paying tribute to this idea.