Impressions of "Chéri"
Presented by Signature Theatre
December 5, 2013
Conceived, directed, and choreographed by Martha Clarke
Performed by Alessandra Ferri, Herman Cornejo, and Amy Irving
Music Performance by Sarah Rothenberg
Scene and Costume Design by David Zinn
Lighting Design by Christopher Akerlind
Peformances of Chéri are extended until December 29th; For Tickets and Info click Signature Theatre
---
Colette's advice to budding authors was, "No narration, for heaven's sake! Just brush strokes and splashes of color, and there is no need for a conclusion…. Liberate yourself!"  Choreographer Martha Clarke takes this directive to heart in her adaption of Colette's beloved novel, Chéri, shunning straightforward story for emotional peaks and valleys. A tale of a steamy, star-crossed relationship between middle-aged courtesan Lea and vain, youthful Chéri, it examines the tangled knot of love and desire.
Dance, which uses the language of metaphor to explore internal states, is not always well suited to complicated narratives. In Chéri, Clarke skirts around this issue by exploiting the possibilities of dramatic exposition. She assigns distinguished actress Amy Irving four monologues to move the story along.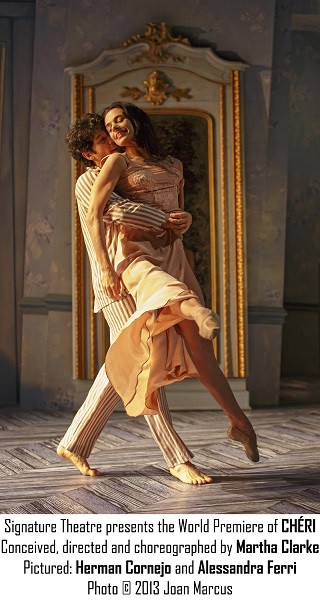 Lounging around a shabbily glamorous Parisian apartment, Irving outlines the torrid affair between her son and best friend. Lea and Chéri begin a liaison of sensual pleasure, which soon ripens into a fully-fledged love affair. Chéri eventually marries, but still lusting after Lea, he returns for a night of ardor. In the unforgiving morning light, he sees her time-ravaged physique and withdraws. The denouement (from the sequel The Last of Chéri) reveals Chéri, broken and bitter from the atrocities of World War I, committing suicide after revisiting his memories of Lea.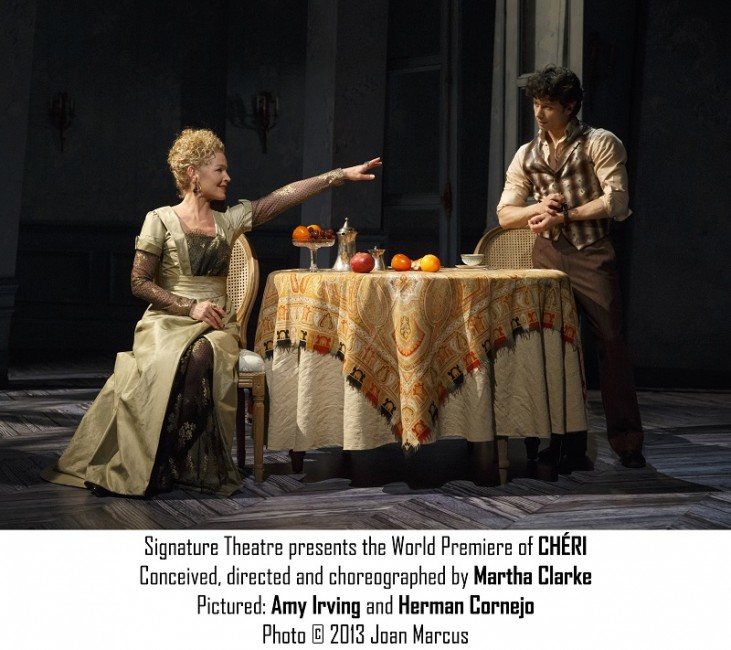 In a brilliant stroke, Clarke casts prima ballerina assoluta Alessandra Ferri as Lea. Ferri, luminous and fine boned, captures the vulnerability swimming beneath the professional paramour's polished surface. Chéri, played by Bessie award winner Herman Cornejo responds to Ferri's teasing seductions with fervent sensitivity. He covers her with liquid caresses and trails kisses down the length of her body. Throughout the multiple pas de deux, the two melt into one throbbing body of passion. In the audience, we feel like voyeurs watching their blistering connection.
Clarke's choreography revolves around spinning, an apt if clichéd image for the whirling emotions surrounding Chéri and Lea. Brocaded with dashing lifts, the movement showcases Cornejo sprinting around Ferri as she balances on one leg, the other streaming behind her. Yet, the best moments are when they simply hang on each other, skin glued to skin.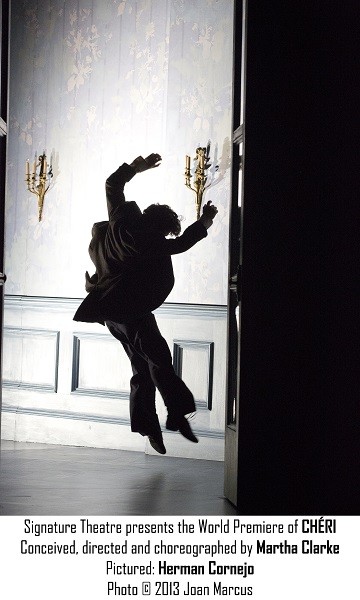 Cornejo shines when interacting with Ferri. His eyes follow her reverently, and his hands linger on her body as if he can't bear to let go. On his own though, he reverts to storybook prince expressions and shifts his focus to technical achievement. In Cornejo's final solo, his crisply beated jumps and poised pirouettes detract from the internal torment he should feel. We long for him to surrender, to be ugly in the wreck of Chéri's life.
The only sour note stems from pianist Sarah Rothenberg. Playing a selection of Impressionist compositions by Ravel and Debussy, she thumps through an overwrought interpretation that competes with — rather than supports — the blazing turmoil unfolding. 
Follow Erin Bomboy on Twitter @ErinBomboy