IMPRESSIONS: Becky Radway Dance Projects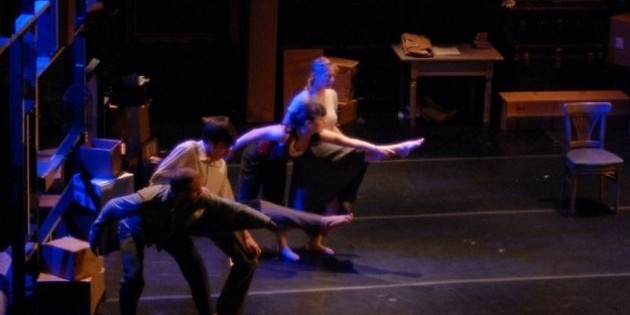 Becky Radway Dance Projects on December 3rd, 2009 at The Connelly Theater
Becky Radway Dance Projects
December 3rd, 2009
The Connelly Theater

And They Built a Crooked House
Choreography by Becky Radway
Music by Scott Radway
Lighting Design by Lauren Phillips
Set Design by Paul Douglas Olmer
Performed by Mark Lindberg, Jessi Patz, Becky Radway, and Carlton Ward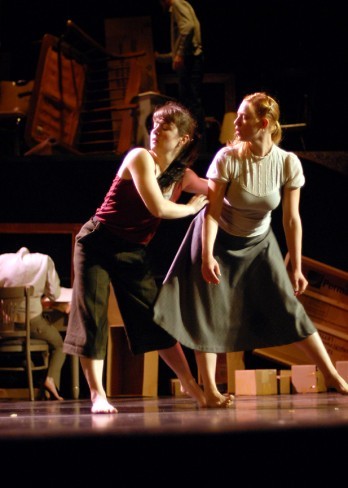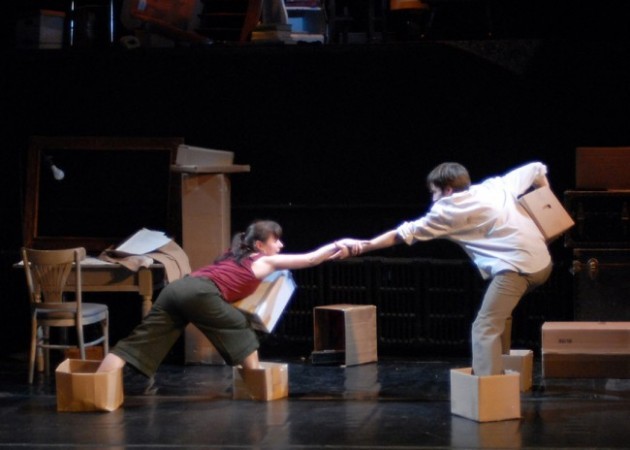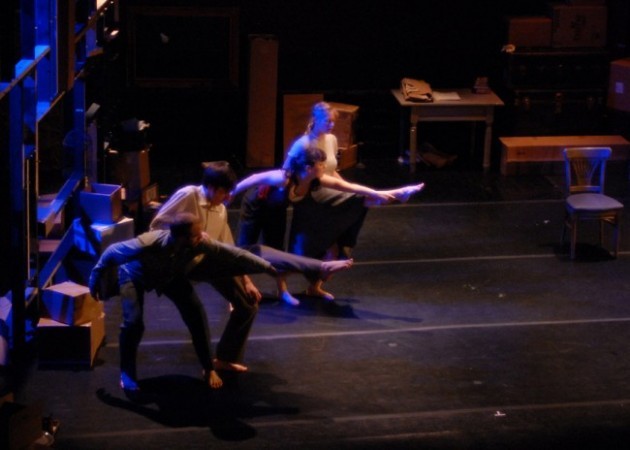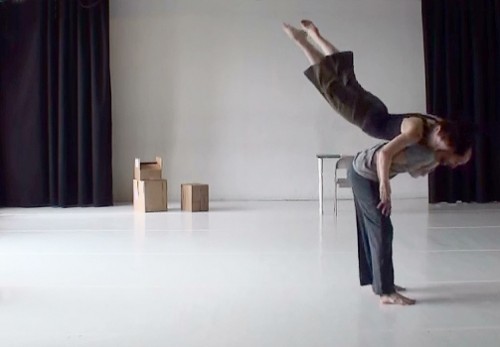 Gillian Vinton 2009
Becky Radway's
And They Built a Crooked House
opens to an ominous piano overture with rolling percussion. A single light bulb illuminates a man bent over his desk, crowded in by an elaborate set of stacked cardboard boxes. Among the stacks, each of the four characters – Mark Lindberg as the Professor, Jessi Patz as the Mother, Becky Radway as the Hoarder, and Carlton Ward as the Old Man – are slowly revealed one by one in dim lighting.
The characters in
Crooked House
have created a home for themselves reminiscent of the famous Collyer brothers. A wooden crate wall, stacks of boxes, nooks, and knick- knacks offer protection and support. At first the Professor, Mother, Hoarder and Old Man relate to the set pieces mostly in isolation, but as the piece progresses they work together to construct an eccentric yet seemingly loving home.
Many of
Crooked House's
best moments come from the interaction between the performers and the set. The image of the Mother walking down a rickety stack of boxes from an elevated nook is as integral to her character as her following beautifully danced solo. The Professor constructs an elaborate cardboard "fort" between the performers and the audience, effectively shutting us off from view. A long moment of stillness after this frantic act (paired with a lovely lighting cue) ends with the boxes tumbling and being reassigned to their previous haphazard configuration.
The four performers inhabit Radway's theatrical acrobatic choreography with impressive conviction. The dancing couldn't have survived on its own without that particular score, lighting, and set design, but luckily it didn't have to; moments that could have become melodramatic or clich were balanced by both the integrity of the performers and the excellent staging.
Radway is no minimalist, yet no detail seemed extraneous. In fact, the original score, lighting, set design, and choreography took a journey over the course of time similar to that of the characters; each started off separate and incomplete, but combined, they formed a quirky and enjoyable whole.
A few sections stood out as innovative: the Old Man showed his age and infirmity with a wonderful solo of small isolations suggestive of popping and locking; Radway demonstrated her compositional skill with perfectly phrased unison duets. Even the acrobatic partnering (too often used by some choreographers for the spectacle alone) was necessary to the development of the characters interrelationships.
Overall, each element came together to create a wonderfully paced dance/theater event.
It was a treat to see so much thought going into every aspect of the performance.
---
The Dance Enthusiast Shares IMPRESSIONS/our brand of review, and creates conversation.
For more IMPRESSIONS, click here.
Share your #AudienceReview of performances. Write one today!
---
The Dance Enthusiast - News, Reviews, Interviews and an Open Invitation for YOU to join the Dance Conversation.