Impressions of: FLICfest 2014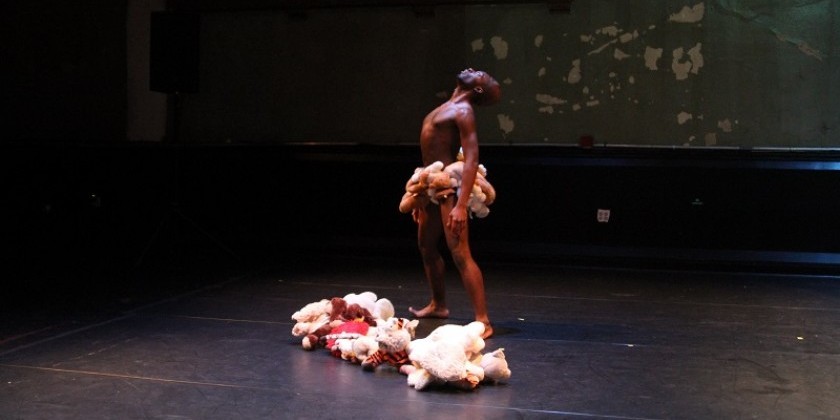 CJ Holm and Vanessa Walters at The Irondale Center
Presented by: The Irondale Center
on Saturday, February 1st 2014 at 7:30pm and 9pm
---
CJ Holm's RARE BIRDS
Performed by: CJ Holm and Krista Jansen
Sound Operator: Emma Francis Snyder
---
Vanessa Walters' Ripening/ Yield
Performed by: Lynn Barr, Ashton K McCullough, Marissa Palley, Jennifer Sydor, Vanessa Walters and musical guest HYDRA: Rima Faud, Willa Roberts, and Sarah Small
Video: Taxiplasm
Set Design: Karen Young with Steven Royal, Janice Sloane, and Spilios Gianakopoulos
Costumes: David Quinn and Karen Young
Makeup: Jodi King
Music: Peter Salett, Hydra (live), AVAN LAVA, Le Chev, Emiliano Melis and Fischerspooner
---
Now in its fourth year, Jeramy Zimmerman's FLICfest supports dance artists willing to create a well-developed, full-length work. A unique opportunity in the typical landscape of "10 minutes or less," this festival reexamines how we present dance in New York.
The first number, RARE BIRDS, is a clean duet choreographed by CJ Holm. The piece begins suddenly —  sounds of movement ignite our curiosity before brightening lights reveal two women (Holm and Krista Jansen) clad in grey. Their hair is braided and pinned so the ends stick up like antennae.
Holm's movement is clear and deliberate, featuring precise gestures like two hands fluttering across the heart or a hand on the belly. Occasional ambient noise provided by sound operator Emma Francis Snyder punctuates the reverberations of the dancers' own movement — tumbling, stomping, and rolling.
CJ Holm's' RARE BIRDS. Photo: Garry Goodstein.
A few intimate moments capture our attention in this otherwise dry work. In one, the dancers find themselves against the back wall and Holm softly places a hand on Jansen's lower back. This gesture unfolds into a series of counterbalances, using the wall as a prop.
One performer pulls a ukulele out from under the riser, and the two sit and sing a speedy version of "I'll Fly Away," harmonizing beautifully in a warm and unexpected moment. 
Ending as suddenly as it began, RARE BIRDS culminates with one woman diving into a pitched arabesque pitch as the lights go out, leaving her twirling through the darkness.
Exploring mortality with a humorous twist, Vanessa Walters' Ripening/Yield  is a multidimensional examination of time and aging.
The set, summoning feelings of childhood nostalgia, showcases a netted wall with stuffed toys affixed to it, like a prize booth at a carnival. The work opens with a parade-like line of costumed performers — one wears a medieval princess gown while another sports rabbit ears. Three women (of the musical group HYDRA) attired in white gowns float about, cooing eerie harmonies.
Vanessa Walters' Ripening/Yield. Photo: Garry Goodstein.
A creepy solo by Lynn Barr sets an ominous tone. She crawls towards us on hands and knees before erupting into a frantic tap dance in an erratic attempt to appear youthful and energetic.
In another peculiar moment, performer Astonkyle hides behind the curtain, sticking his hand through the netting to caress the toys. As he pulls the distorted toys off of the net in clumps, we realize they are constructed of random body parts glued together.
A video by Taxiplasm is projected on the back wall (which is decorated with religious script and a woman's portrait). Its images act as representations of time: sand blows across a stone face and water drips down a mountain. The video projections, perhaps unintentionally, make sense in conjunction with the Irondale's religious imagery.
Walters uses hair to symbolize aging. The dancers lift themselves up by their straggly ponytails, and at one point, a female soloist wraps her braid across her throat like a noose. Towards the end, the dancers leave the stage and return wearing curly golden blonde wigs. The conclusion sees Walters, left alone onstage, removing her wig to reveal grey-streaked hair before exiting the stage with wig in mouth.
Successfully incorporating a broad range of sentiments — humor, nostalgia, sadness — Ripening/ Yield  leaves us feeling like something has happened onstage and inside ourselves; we are united in our connection to the inevitable march of time.