From Japan: Shirasagi-no Mai (White Heron Dance) - a Graphic Impression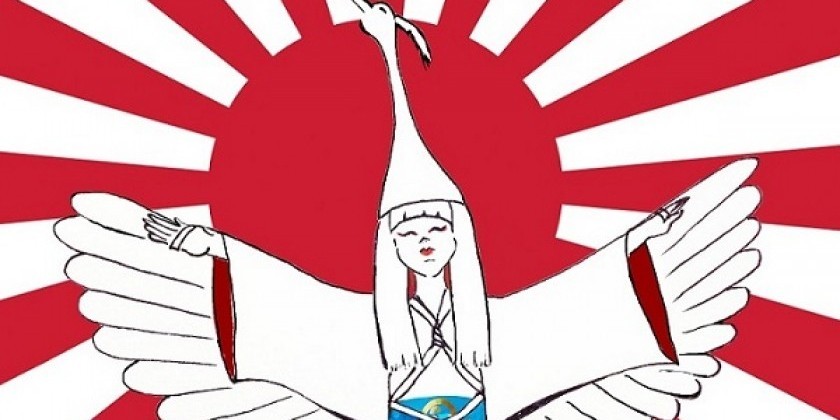 At Senso-ji Temple in Asakusa, Tokyo

In Japan, the white heron is deemed unique for its ability to move between three elements: air, earth, and water. Locals herald the graceful white bird as a symbol of good luck.
Shirasagi-no Mai, which translates to "White Heron Dance," is a millennium-old Japanese dance that came dangerously close to extinction until its resurrection in November 1968; the Asakusa Tourist Federation decided to revive the historical performance in conjunction with Tokyo's 100th year anniversary.
Earliest reference to the dance comes from an ancient picture scroll called "Keian Engi Emaki." Believed to ward off bad luck and to beckon bountiful harvests, Shirasagi-no Mai is performed twice annually in the compound of Senso-ji, Tokyo's oldest Buddhist temple.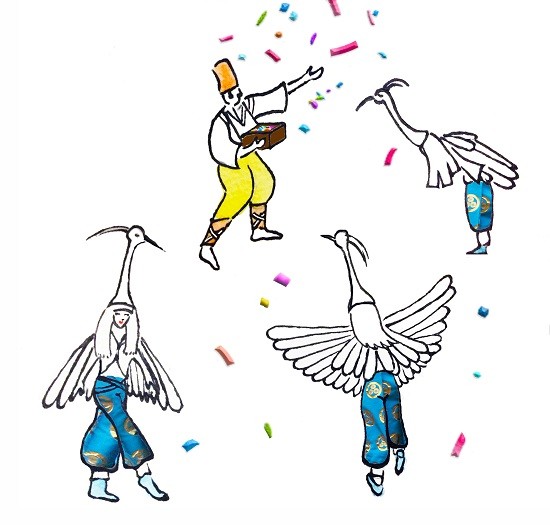 Illustration by Sammi Lim

Locals and tourists alike stand on tiptoe to catch a glimpse of the ceremonial parade that precedes the performance. The procession is made up of six dancers dressed as white herons, one baton twirler, one bird feeder, and one parasol carrier. An orchestra of musicians humbly blends into the background. Also present is a group of local kindergarteners donned in traditional attire from the Heian period (spanning 794 to 1185 A.D.). Their solemn faces convey how earnestly they accept their role as guardian children.
The start of the dance is marked by low drumming played in tune to the wail of undecipherable poetry. a delighted gasp echoes through the audience the first time the 'herons' spread their wings; the mechanical contraptions remind me of a Chinese fan. The dancers' outfits are breathtaking – white wigs that blend in with heron headpieces, sky blue pants embroidered with gold print, Geisha-like makeup, and most startling of all, red eyeliner.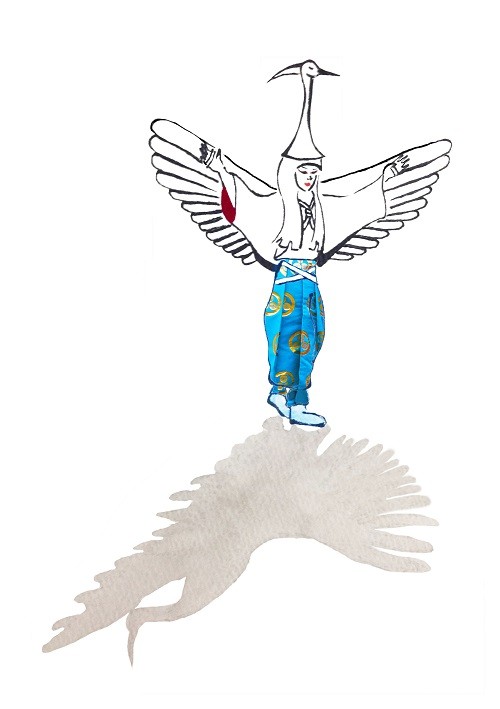 Illustration by Sammi Lim

It takes little imagination to believe one is birdwatching. The dancers' imitation of heron is true to the creature's natural conduct. They soar instead of giving way to frenzied flapping as smaller birds do, perch on one leg without ever toppling over, and neatly bend their waists at complete right angles as they peck the ground. I admire the stiffness the dancers maintain in their lower bodies, as if their legs were much longer than they really are. As with most processional performances, the White Heron dance is chiefly comprised of slow, sparse, deliberate movements.
The bird feeder comes forward with her chest filled with confetti, which she tosses at random. Members of the audience hurriedly collect these good luck charms as soon as the stage is cleared. Meanwhile, the herons have systematically trailed after the baton twirler like birds borne with flock instinct.
While the dance brought me deep pleasure, it also sparked a litany of questions concerning the future of traditional dances: How many traditional dances are in danger of being forgotten? How many are already lost to us?