IMPRESSION: Urban Bush Women
Zollar: Uncensored Dance Theater Workshop - January 23, 2010
Choreography and Direction: Jawole Willa Jo Zollar
Performers: Catherine Dénécy, Marjani Forté, Christine King, Paloma McGregor, Samantha, Speis, Keisha Turner, Bennalldra Williams, Jawole Willa Jo Zollar
Guest Musicians: Beverly Botsford (percussionist), Somi (vocalist, composer), Pyeng Threadgill (vocalist, composer)
Costumes: Matthew Hemesath and Jawole Willa Jo Zollar
Lighting Design: Susan Hamburger
Music: Edward Heyman, Robert Sour, Frank Eyton &Johhny Green, David Murray Quartet, WC Handy, Pyeng Threadgill, Somi
Text: Jewellle Gomez and Kalamu ya Salaam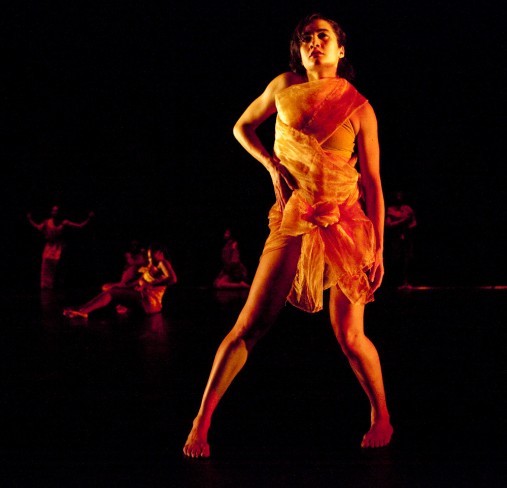 © Gillian Vinton 2010
The debut season of Urban Bush Women at Dance Theater Workshop examined choreographer Jawole Willa Jo Zollar's self-censorship over the last two decades by presenting a series of excerpts from dances that were considered too controversial to tour at the time of their premiere. The retrospective featured sections from eight separate works spanning 1984 to 2004. Sexually explicit, raw, and exhibitionistic, the excerpts examined female sexuality and empowerment, oppression and redemption.
Zollar's six fierce dancers brought out the best in her choreography. Rolling hips could represent a tender, intimate moment or come-hither brazenness depending on the performer's intention… and there were a LOT of hips rolling every which way in
…Uncensored
, as well as the most hip shaking I've ever seen in one sitting. One section titled "Shake What Your Mama Gave Ya" had each dancer throw down a booty shaking solo to encouraging cat calls from the other performers.
The three guest artists also provided top-notch live musical accompaniment. Vocalist and composer Somi's luscious delivery brought a lump to my throat during her solo and Beverly Bosford's percussion accompaniment created sound-scapes of snakes, water, wind, and drums.
As for the excerpts themselves: I loved Zollar's opening solo with sinewy arm movement interrupted by uneasy scans of her surroundings. I chuckled during a sexy scene with black lingerie and sex noises that are revealed to be caused by cupcake consumption and hair braiding. I was moved by a section that featured a story of rape and injustice as a nude dancer screamed "take me!" and flung herself across the stage as if trying to escape her body.
The thing
…Uncensored
lacked was a through line. Each new section had a story to tell, but strung together they seemed only peripherally related. I wanted to follow each excerpt through to its emotional conclusion, but the nature of the evening meant that I was led into countless worlds only to be pushed to the next without a satisfying closure.
Because of this fragmentation
…Uncensored
didn't strike me as terribly controversial. The in-your-face sensuality and raw emotion presented anew in each excerpt left me feeling deadened instead of invigorated and challenged. By the time the final section rolled around and a topless Catherine Dénécy brandished a knife and smashed a raw egg on her breasts I was almost bored.
Maybe this is a statement of the times - a naked dancer in 1984 was much more shocking than a naked dancer today – but
Zollar: Uncensored
impressed me most with the strength of its performers and its anthropological significance as the retrospective of an important artist rather than with its visceral heartstring-pulling.
---
The Dance Enthusiast Shares IMPRESSIONS/our brand of review, and creates conversation.
For more IMPRESSIONS, click here.
Share your #AudienceReview of performances. Write one today!
---
The Dance Enthusiast - News, Reviews, Interviews and an Open Invitation for YOU to join the Dance Conversation.