Impressions (and some Reflections) of Swan Lake / ABT and the Bolshoi Ballet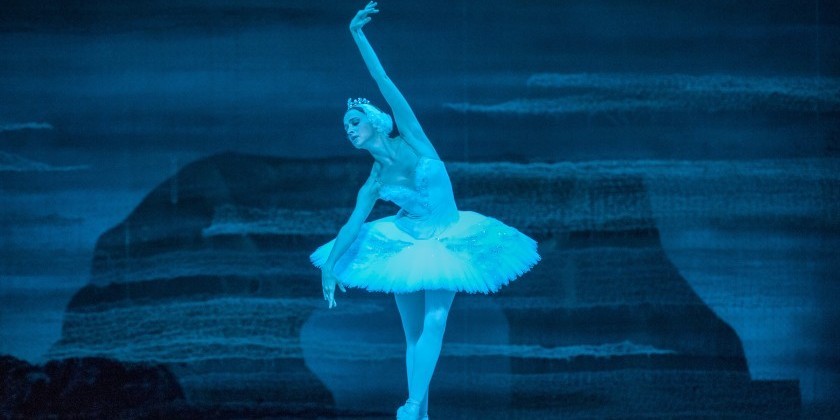 *American Ballet Theatre at the Metropolitan Opera House, Lincoln Center, NYC
Wednesday, June 25 at 7:30pm and Friday, June 27 at 8:00pm
*Bolshoi Ballet at the David H. Koch Theater, Lincoln Center, NYC
Wednesday, July 16 at 8:00pm and Thursday, July 17 at 8:00pm
---

When Swan Lake premiered at Moscow's Bolshoi Theater in 1877, it was not the production that many today equate with classical ballet: in fact, it was a downright failure. Eighteen years later, the collaboration of ballet masters Petipa and Ivanov in St. Petersburg found Swan Lake seeping into the consciousness of the ballet going public. Perhaps this was because as ballet historian Sergei Korobkov states, "Petipa and Ivanov turned ballet into theatre, dance into action, and choreography into drama."
The swan is an iconic animal, and just as Zeus couldn't resist taking on its form to meddle with Leda, every artistic director wants to leave his mark and ruffle the poor creature's feathers. The story of a prince named Siegfried, who is supposed to find a wife, but instead falls in love with a doomed white bird named Odette, has been told in many ways, but here are the mainstays: the swan spell can only be lifted by true love and marriage; an evil dude slips the prince a black-feathered, stand-in bird named Odile; the prince gets excited and messes the relationship up. (Odette and Odile are danced by the same ballerina, so I understand his confusion.)
Over the past month, I witnessed four performances in two very different productions and am left to wonder why the Bolshoi still has not found a truly satisfying version. Choreographer (and former Artistic Director of the Bolshoi) Yuri Grigorovich does not believe in an apotheosis: there is no redemption, no after-life for Odette and Siegfried. The swan dies at the hand of The Evil Genius (in other productions known as von Rothbart) and the prince is left alone to mourn. Is the Evil Genius possibly Siegfried's alter ego? There is much unison dancing between the two that suggests the Genius (clad in black) might be Siegfried's shadow. Does Grigorovich tell us that the evil in man kills the beautiful creature, for each man must kill the thing he loves? Another far-fetched option: the shadow is a stand in for the KGB and/or the Soviet government and Big Brother triumphs over love. Either way - bleak outlooks.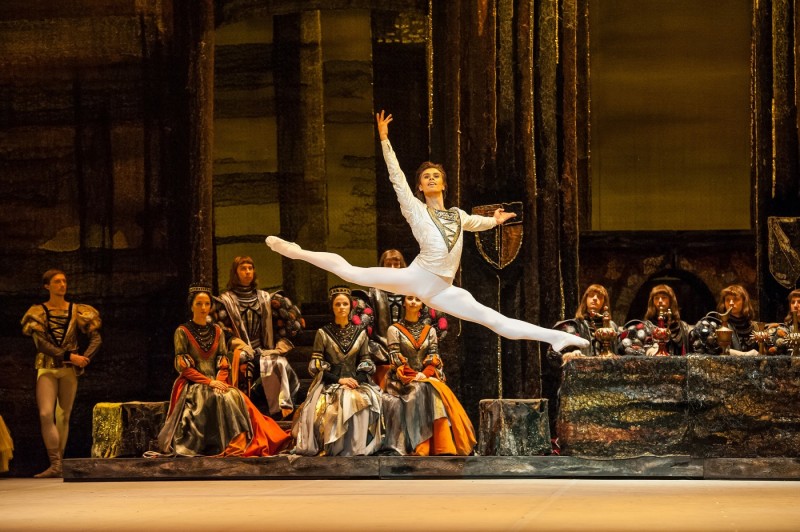 Artem Ovcharenko in Swan Lake. Photo: Stephanie Berger.

There are other questions and idiosyncrasies in this version. Does the jester character put a powder in Siegfried's cup that renders the swans just a dream? Why are the princesses from different parts of the world -- there to enchant us with folk dances of their respective countries -- put on pointe and made to look alike? The structure, and especially the group form of the dances, are so similar from one to the next it's no wonder the prince does not pay attention to them. True, nothing is more boring than faux character dancing in clunky shoes, but this is no improvement.
The two Bolshoi casts delight and disappoint for different reasons. Anna Nikulina executes all steps without fault in Odile's variation. She whips single-single-double fouette turns with precision; yet, her upper chest and neck are so far from supple that no generosity or feelings transcend. Her youthful prince (Artem Ovcharenko) is a joy to look at. His leaps are high, his landings soft, his legs extend into space, and his face changes from cute to handsome back to cute again. We should all be so lucky. But seriously, if he manages to acquire a few more facial expressions, he will be a star.
Svetlana Zakharova's arms and legs have an awesome wingspan. She dances for herself and at times for the audience. She is a gorgeous creature, but I grow bored with her since she does not give her prince, David Hallberg, the time of day. It seems as if they don't like each other. His jumps hold still in the air and I marvel at the glorious perfect picture, but he repeatedly is not clean in the finish of his turns and while admiring Zakharova from afar, the chemistry meter between them spells "frozen."
 
Svetlana Zakharova as Odile and David Hallberg in Swan Lake. Credit: Stephanie Berger.

The strength of Tchaikovsky's music comes through despite the incomprehensible shuffling of the order of musical tunes. Still, the Bolshoi orchestra under Pavel Sorokin sounds so rich and full, just listening is a pleasure.
The production with its odd cathedral-like sets and drab-looking costumes seems cramped on the stage that was formerly called New York State Theater. Why did the Lincoln Center Festival bring this warhorse? Why did the Bolshoi administration agree to have it performed on an unsuitable stage?
I am informed that Sergei Filin, the company's artistic director, was still recovering from the horrid acid attack when negotiations were made and contracts were signed. To his credit, I want to point out that the corps de ballet looks marvelous in their expansive unison dancing, the likes of which has not been seen in New York since the Paris Opera Ballet was in town two years ago. Also, many of the soloist and demi-soloist parts are infused with life and danced with great energy. Best of all is Igor Tsvirko as "The Fool," who is repeatedly applauded in the middle of his variations. In the end, it does not bode well for the production if it is up to the jester to keep you in the mood.
Across the plaza a couple of weeks before, American Ballet Theatre presented its Disney-fied version of Swan Lake courtesy of Kevin McKenzie. Two guys in different costumes take on the part of von Rothbart. One is a lake monster in green, the other (with the dancier segment) is a dashing Zorro figure, in purple with long thigh-high boots, played by the engaging Alexandre Hammoudi. That role has some juice to it and I fondly remember Carlos Molina early in this millennium, giving the whole production its much needed dramatic anchor. (Marcelo Gomes who originated the von Rothbart role of this production in 2000, stepped in on Wednesday as Siegfried for an injured David Hallberg.)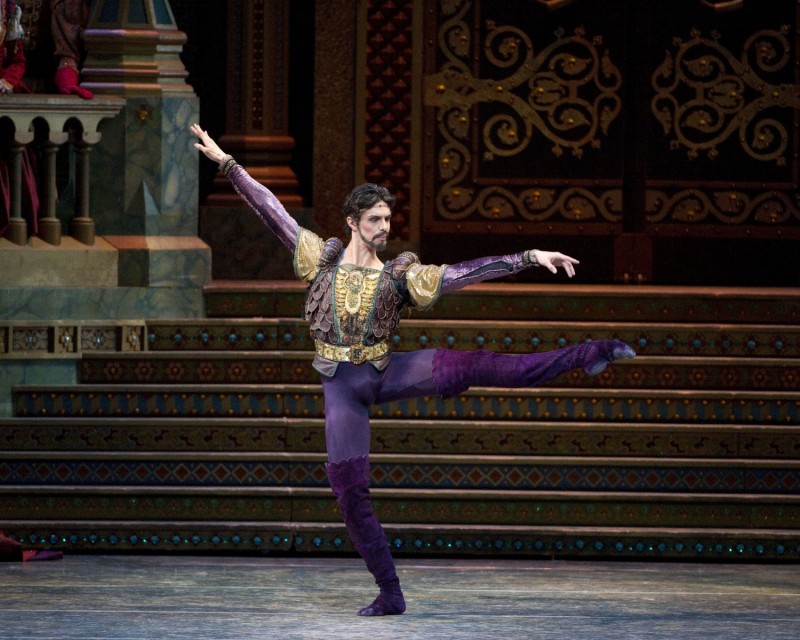 Alexandre Hammoudi in Swan Lake. Photo: Gene Schiavone.

Before McKenzie laid his hands on the old bird, he brought back the 1967 David Blair version, which ABT fans had fallen in love with through Cynthia Gregory's dazzling wings, and in which Eva Evdokimova, my mentor, and one of the company's guest stars, mesmerized audiences as Odette/Odile. It was the revival of that Blair production that established Susan Jaffe as the company's prime classical dancer in the '90s when she was paired with José Manuel Carreño. Jaffe shivered when she sensed Carreño's presence. When they looked into each other's eyes, a current surged through their bodies signalling they knew they had met the love who could change their fate.
McKenzie's production unfortunately does not allow for such subtleties, but David LaMarche led the orchestra on Wednesday with attention to tempi and dramatic effect.  
Polina Semionova is a natural swan. She happens to be shy when Siegfried (Marcelo Gomes) approaches her. No currents suggest the drama that lies ahead. It takes the pair through the end of the seamless second act pas de deux to truly warm up to one another. Now, Semionova starts to give, and her dancing is splendid.
The third act brings out the athlete in Semionova and Gomes. But rather than competing with one another, as is too often the case with lesser performers, they celebrate and admire each other's fantastic achievements. In turn, the capacity-filled house shares their fascination. When Semionova holds a balance unsupported from the very start to the last possible musical vestige, the audience goes wild. Gomes manages to phrase his variation to mirror that balance and his double tours land in buttery soft fashion with one leg extended in arabesque. Her fouette turns are a delirious hallucinating whirl with a triumphant finish.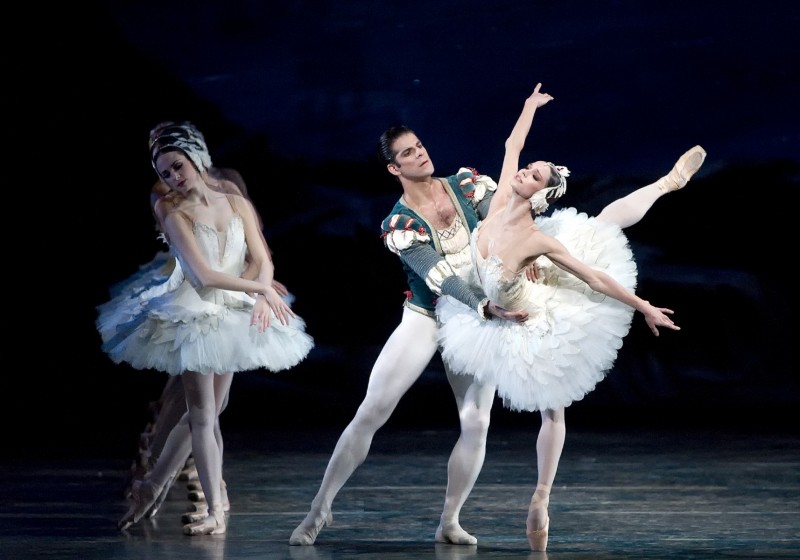 Polina Semionova and Marcelo Gomes in Swan Lake. Photo: Gene Schiavone.

I could not tell you how many double turns Semionova knit into her series, she was that entrancing. Somehow the display of virtuosity did not come across as circus, and as Siegfried vowed his love to Odile (while an image of Odette appeared in the distance as a suffering swan) we yearned to help him clear up the mess he made.
At the end of the ballet, Gomes is united with Semionova only after they throw themselves from a cliff. As the golden sun rises upon the flock of swans on the lake, the dancing lovers, in "death," transcend the kitsch that surrounds them. My plea, "let's find these artists a deserving Swan Lake, one as grand as they are."
 
---

*The Friday performance featured Hee Seo as Odette/Odile and Roberto Bolle as Siegfried (who replace Alina Cojocaru and Herman Cornejo). In Bolle's defense I can say that he tries not to look too much better than his partner, but he simply cannot help it. Seo is a wooden swan not up to the technical demands of the dual role, and she has no clue how to relate to her prince. Some smaller roles are given attention to detail. In the Neapolitan dance Joseph Gorak and Zhiyao Zhang jump and turn like devils, and in the Spanish Dance it is once more, Luciana Paris, who echoes the line of movement of her dancing partners with insightful musical subtlety.