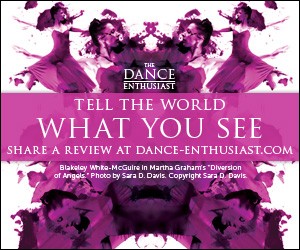 Related Features
Impressions of: Tere O'Connor's "BLEED"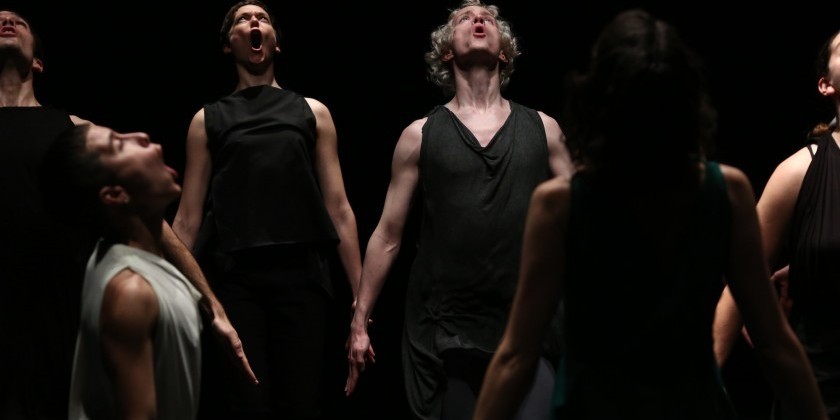 Presented by: 40 Danspace Project, St. Mark's Church-in-the-Bowery, 131 East 10th Street, NYC
December 18, 2014
Dancers (Tere O'Connor Dance): Tess Dworman, devyn emory, Natalie Green, Michael Ingle, Ryan Kelly, Oisín Monaghan, Cynthia Oliver, Heather Olson, Mary Read, Silas Riener, David Thomson
Musicians: Chris Gross (cello), Julia Read (voice), James Baker (all other instruments and vocals)
Choreography: Tere O'Connor
Composition/Sound Design: James Baker
Costume Design: Walter Dundervill
Lighting Design: Michael O'Connor
---
From the choreographer's program note:
"BLEED is the culminating work of a two-year project during which I constructed three other pieces, Secret Mary, poem, and Sister, all from very different source materials and each with an entirely different cast. I then collapsed these into this fourth work, simultaneously remembering and forgetting the previous dances. All eleven of the magical performers from the other works are here yet the movement material is gone. Ghosts of the other dances resonate through the new work and shape its form, but they are subterranean and exert their pressure on this new construction from the caves of memory. . . ." Tere O' Connor
---
I first saw Tere O'Connor dance in his own work, in the early or mid-1980s, when he was a trim lad in a patterned unitard or something like it, and his choreography was so complex in its design that to try to follow it was a headache of a challenge, like trying to solve a quadratic equation. Every decade or so I've checked in with his work, and it's been fascinating to observe how his dancemaking has become increasingly skilled and refined while also gradually relaxing into (gasp!) a species of entertainment—at least for the segment of the dance audience willing to focus on movement phrases with a lasar-like attentiveness for at least an hour, more or less the running time of BLEED. His choreography no longer looks like AP math so much as a mash-up of fragments from stories, and his dancers, chosen for their individuality it seems, suggest complex characters.
Tere O' Connor's BLEED. Photo: Paula Court.
Given its première in 2013 (when Erin Bomboy reviewed it for The Dance Enthusiast) at the Brooklyn Academy of Music, one of its original co-commissioners, BLEED is closely bonded to its cast as, according to a second program note by O' Connor, "portions of the movement material for this work were created in collaboration with the dancers." And when O' Connor calls them "magical performers," he's not just being polite. Seven of the eleven dancers identify themselves as choreographers; an eighth, Ryan Kelly, whom New York balletgoers will remember from his years with the New York City Ballet followed by with Karole Armitage and Suzanne Farrell's companies, identifies himself as "an artist and dancer": for the past decade, he has "engaged in a collaborative art practice with Brennan Gerard," participating in what sounds like installations ("work . . .shown in visual and performing arts contexts") internationally. The strongest and among the most stylish dancers of the eleven are also choreographers: Heather Olson, who has been performing with O' Connor since 1997 and who functions here as a cross between Muse and company diva, and Silas Riener, perhaps the most exciting dancer in Merce Cunningham's last company and, since that company closed, a prominent collaborator with Cunningham fellow dancer Rashaun Mitchell. Given richness and depth by Cynthia Oliver and David Thomson, both experienced professional dancers with vivid onstage personae and silvering temples, the BLEED cast is quite a group—and that's not even to mention Oisín Monaghan's shoulder-length, pre-Raphaelite platinum curls or devynn emory's avian exactitude of dance action. Furthermore, James Baker, principal percussionist of the New York City Ballet orchestra—who is credited with "BLEED"'s musical composition and sound design and who, with cellist Chris Gross and vocalist Julia Read, performs live as well ("instruments and vocals")—has produced a kind of sound ode, whose plain chants, windsweepings, and stark silences not only coordinate sensitively with the dance action but also build overlapping aural poetry of their own. Contrasting moods alternate evocatively in Michael O'Connor's lighting design, and the costume designs by Walter Dundervill (another choreographer), specific to each dancer, magnetize the eye through their cut, color (notably the forest green of Olson's day dress), and playful silhouettes.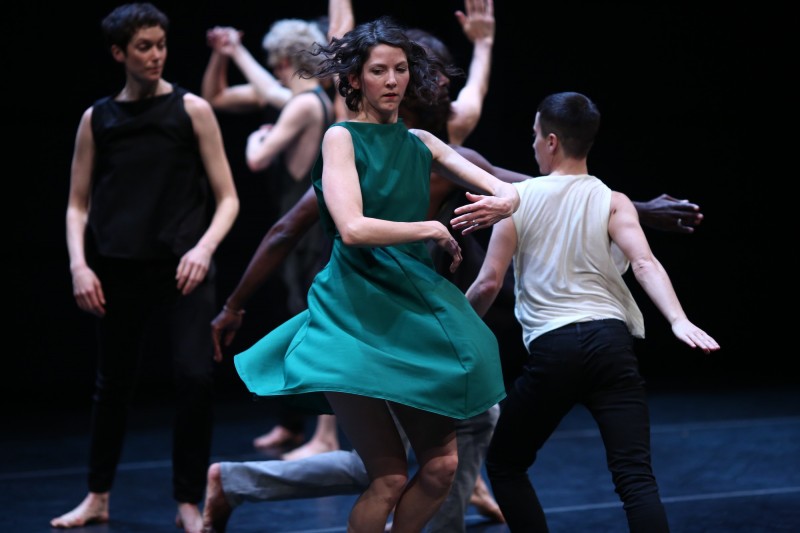 Tere O' Connor's BLEED. Photo: Paula Court.
The events of BLEED look as if they originated sometimes from actual dreams of the choreographer and sometimes through a kind of Simon-Says improvisation led by this or that individual dancer, which Tere O'Connor then crafted into theme-and-variation sequences. The dance language here has an impressive range as well, from multiple attitude pirouettes to shivering isolations; O'Connor's dancers have a variety of technical backgrounds, but whatever they are he uses them completely. Regardless of the choreographic process, there is a retrospective element to the work overall, a kind of post modern Our Town sense of this neighbor, those family members, that social club, these couples. Threading through the figures' encounters and rituals is the recurrent image of one person lying down on a coffin like rectangle of light for varying lengths of time, surrounded by the group deployed in various configurations. Another kind of continuity is established by the anxious solos for Heather Olson, whose isolating moments of gasping collapse seemed to happen in response to what she alone had witnessed, almost like a chorus in a Graham dance tragedy. I don't know what the puzzle or mystery is at the heart of this work, or why the dance is titled BLEED, but there's a remarkable tension in it between the lightness of the movement attack and the increasing gravity of the emotional effects — a tension that almost reads as dramatic suspense.