Related Features
Contribute
Your support helps us cover dance in New York City and beyond! Donate now.
IMPRESSIONS: "Cross Transit" at the Japan Society with Akiko Kitamura and Kim Hak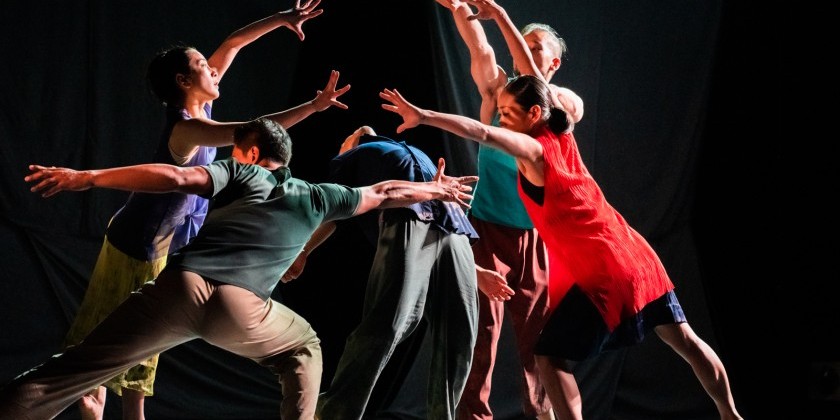 March 22, 2019
Direction: Akiko Kitamura // Choreography: Akiko Kitamura with the dancers
Dramaturgy and Visual Art Direction: Kim Hak
Dancers: Llon Kawai, Akiko Kitamura, Yuki Nishiyama, Chy Ratana, Yuka Seike, and Ippei Shiba
Composer/Music Director: Hiroaki Yokoyama
---
Imagine if what stood between life and death were photographs. Not the dirty, embarrassing ones, but the pictures that give testament to who you were, the life you lived. What would you do? Throw them away to remove any trace of your former self? Wrap them in plastic and bury them somewhere safe even if the risk of discovery remains acute? 
Kim Hak's parents were faced with this choice during the savage Khmer Rouge regime in Cambodia where, from 1975-1979, Pol Pot and his cronies unleashed a genocidal rage. Hak's parents embedded their beloved pictures deep in the ground, returning every once in a while to make sure they were still safe.
This experience, among others, informed his decision to become a photographer and ultimately led to his collaboration with the Japanese choreographer, Akiko Kitamura. For over a quarter century, she has accumulated many laurels, including founding Leni-Basso, the company for which she created many acclaimed pieces. In 2009, she closed the troupe and turned her gaze toward solo projects that explored Southeast Asian countries. 
Yuki Nishiyama, Chy Ratana, Ippei Shiba (L to R) in Cross Transit; Photo by © Ayumi Sakamoto
The fruits of their cross-pollination made a stop at the Japan Society. A true multimedia experience, Cross Transit features text in several languages, extensive movement motifs, percussive music, a stream of photographs, and documentary-style videos. At its most poignant, the piece shows how an artistic collage conveys the piecemeal flicker and burn of memories. Other times, I found myself overwhelmed by the deluge of competing mediums, and I fear that I missed more than I caught. 
Kitamura's slick choreography feels elemental, born from the physical properties of water. The movement — heavily gestural, intensely physical — gushes through the five performers like a geyser. Spurts of whip-fast machinations suddenly freeze before vaporizing into the next phrase. Kitamura filters this torrent through a sieve, emphasizing unusual body parts: palms, upper arms, and shoulder blades. The speed and density produce the effect of watching someone paint with disappearing ink. When it lasts for an instant, your memory is only as good as your eyes.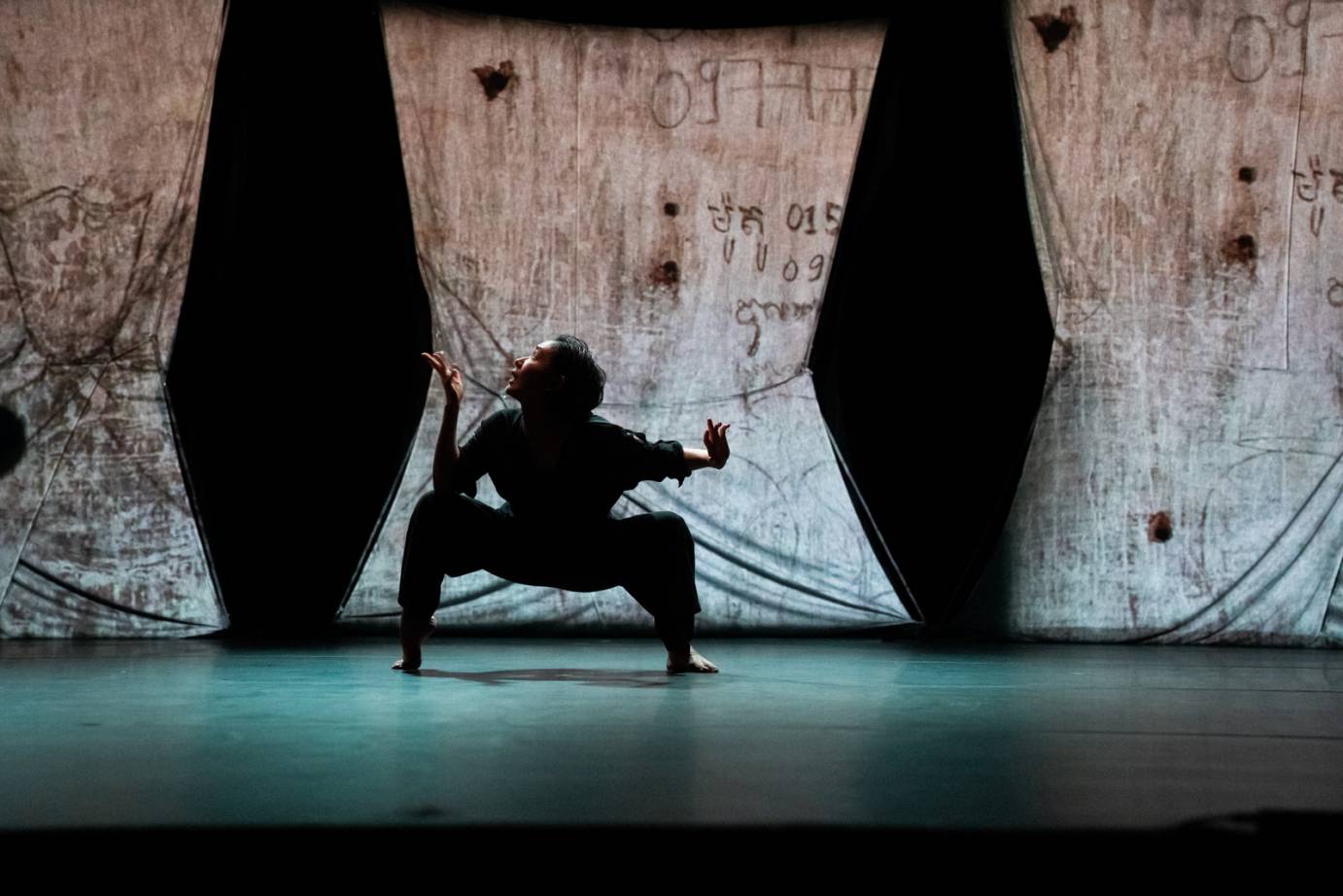 Akiko Kitamura in her Cross Transit; Photo by © Ayumi Sakamoto
Although this slipperiness laps through the five performers, they each display a different personality. Yuka Seike seesaws her body until it parallels the floor, one leg and both arms gently curved. The calm in the storm, she stays and stays. Yuki Nishiyama is the opposite, her body a jerking current of emotion. Ippei Shiba lashes his arms like silken ropes across and around himself while Llon Kawai makes the tricky footwork sequences trickier by adding stutters that throw him off balance. Chy Ratana is the chatty one, talking when he dances, talking when he's not. Kitamura herself appears for a too-short solo, as lithe and subtle as a cat. 
Three fabric screens shaped like bows hang against the back wall. During several talking-head videos and once in person, Hak relates his story of why he photographs what he photographs — the abandoned houses and buildings of Cambodia. These images, many of which repeat, reveal structures in various stages of dilapidation with windows broken or gone altogether, dirty floors, and dingy curtains. "You can learn from what people left behind," Hak says during one video.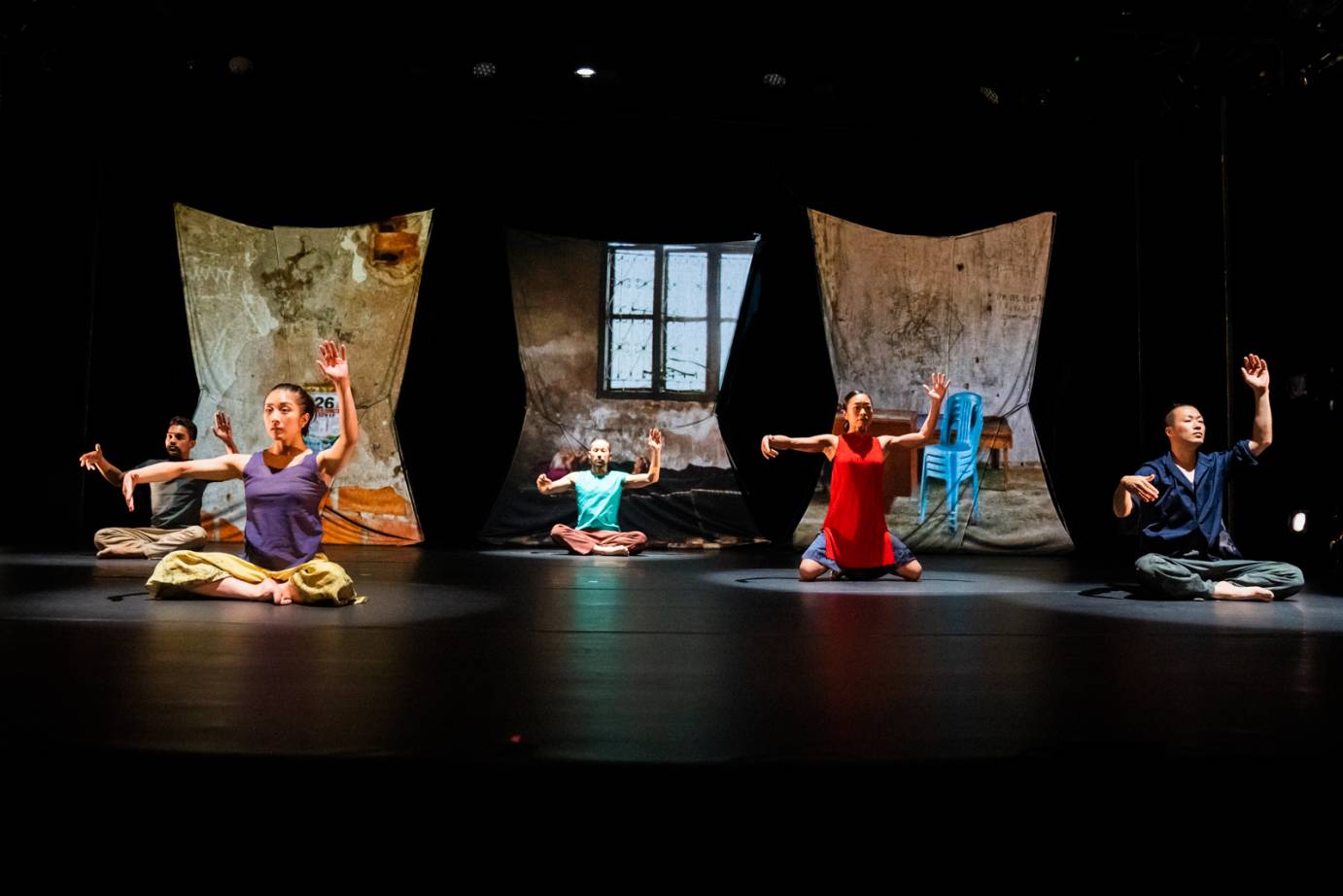 Chy Ratana, Yuki Nishiyama, Llon Kawai, Yuka Seike, Ippei Shiba (L to R) in Cross Transit; Photo by © Ayumi Sakamoto
For seventy-five minutes, Cross Transit cycles through various combinations of its mediums. Like a memory that's often remembered, the permutations repeat almost exactly. Or, like a memory that's rarely excavated, they emerge in new ways.
Seike's elegant T-shaped posture materializes again and again, sometimes held by her, sometimes by the others, and one time, as a shadowy image on the stage right screen. Amid the ever-changing busyness with dancers exiting and entering, finding alliances and encountering enemies, it registers like one of those photographs that Hak's parents saved — an image that's the affirmation of a person, a family, a country that will stand fast.
---
The Dance Enthusiast Shares IMPRESSIONS/our brand of review and Creates Conversation.
For more IMPRESSIONS, click here.
Share your #AudienceReview of performances. Write one today!