A Postcard from New Jersey Dance Theatre Ensemble
About The INKUBATE Performance Series at Reeves-Reed Arboretum
Who: New Jersey Dance Theatre Ensemble
What: INKUBATE® Performance Series
Where: Reeves-Reed Arboretum, 165 Hobart Avenue, Summit, NJ
When: Wednesdays, July 27 and August 31 @ 7PM / Picnic @ 6PM
---
The luscious grounds of Reeves-Reed Arboretum set the backdrop for a magical evening of contemporary dance with the first performance of New Jersey Dance Theatre Ensemble's INKUBATE® performance series on June 22. Emerging contemporary choreographers, including NJDTE alumni & AiR® Program residency recipients Samuel Asher Kunzman and Magdalyn Segale, performed intimate duets and trios in a series of panoramic performances that brought powerful new dramatic and emotional context to the lush landscape.
Anne Souder & Terrence Diable in NJDTE alum Samuel Asher Kunzman's Three Four, Two Four. Photo by Isobel Chang.

"I am enthused that the vision to create an outdoor dance installation festival for contemporary dance artists in Summit is now a reality," said Nancy Turano, Artistic Director of NJDTE. "NJDTE has been able to offer space at our new, state of the art studios in Summit through our AIR® Residency Program for the  exploration and creation of new works. In collaboration with Reeves-Reed Arboretum, the INKUBATE® series provides a much-needed platform for contemporary dance artists and choreographers to explore their voice and present a site-specific work in one of the most gorgeous gardens in the state of NJ. From our feedback and audience support, it seems that INKUBATE® provides an entirely new perspective to for both dance enthusiasts and garden aficionados in a new, creative landscape forum."
Anne Souder, Timothy Stickney & Patrick Coker in Coker's Something Familiar. Photo by Isobel Chang.

Sounds of a Summer Night 2016 continues on Wednesday evening, July 27, with a special collaboration between 35 dancers from NJDTE and a live performance by renowned electric violinist Valerie Vigoda. Ms. Vigoda, on a national tour, will be performing selections from her new CD, "Just Getting Good." The performance will be held entirely in the Azalea Garden.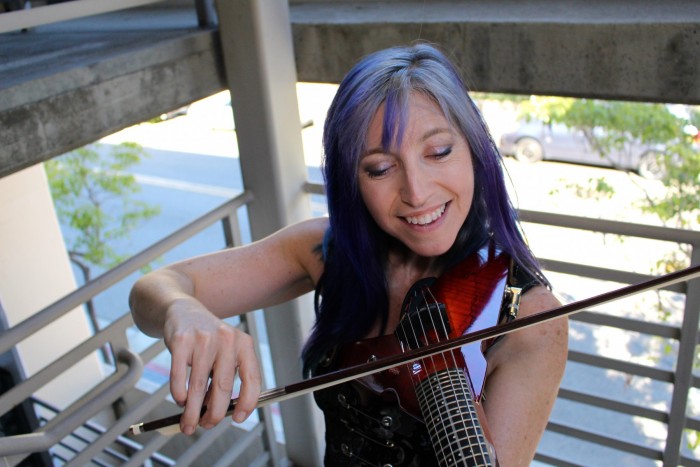 Violinist Valerie Vigoda. Photo by David Rodwin.
More info:
Visit The Dance Enthusiast's listings
HERE